As 2021 comes to a close, it feels like 2020 is ending all over again. There are still general supply chain shortages and a global pandemic lurking at every turn. Although not as important in the grand scheme of things, I think this was an incredible year for Chromebooks. And it paved the way for an even better next 12 months when it comes to Chrome OS laptops. Looking back, it was actually difficult to pick my 2021 Chromebook of the year.
Part of the reason is that there were more good Chromebook choices than no-so-good ones. At least in my opinion.
Prior Chromebook of the year winners
Speaking of opinions, my 2021 Chromebook of the year is simply that. As I mentioned in my picks for 2019 and for 2020, this doesn't mean my selection is the best Chromebook for everyone. I've previously explained that there is no such mythical beast as the "best Chromebook" because people have different budgets and different use-cases for their devices.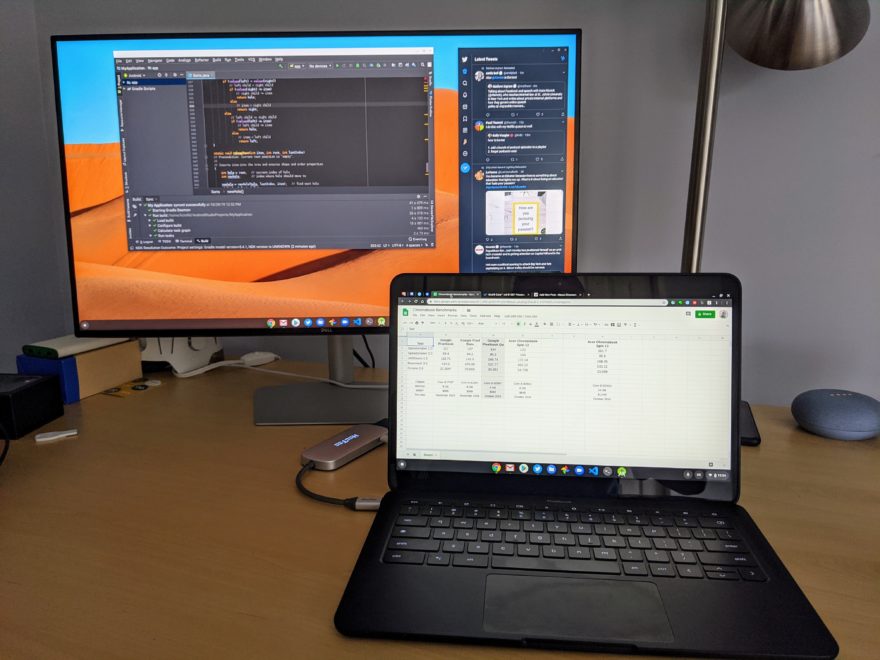 In 2019, I selected the Pixelbook Go mainly because it was light, thin, had an outstanding display and speakers, plus had a fantastic keyboard. People were rightfully disappointed that this wasn't a convertible model, but I still felt it offered a good bang for the buck. At least up to a point: I would say the $849 Core i5 configuration was the one to get.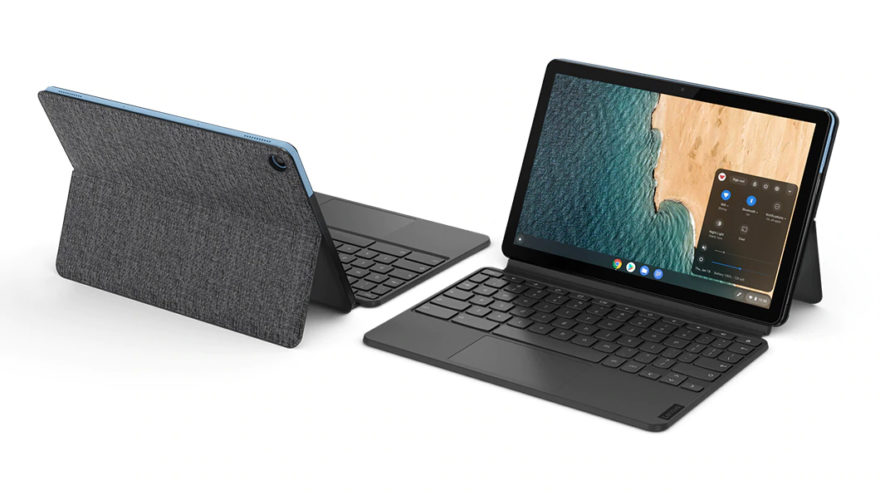 Last year, I strongly considered some more mainstream devices but chose the Lenovo Duet Chromebook as my annual pick. It's far too small and underpowered for my needs, yet Lenovo showed the market that a low-cost, very portable Chrome OS tablet is desirable. Based on how many readers here have picked one (or more) of these up, I'd say it was very desirable. Simply put: It was an incredible value.
2021 had many contenders
Some devices this year also offered a tremendous value for their price. The Lenovo IdeaPad 5i Chromebook with Pentium Gold processor is a prime example and was in the running. For a tad over $400, the performance is surprisingly peppy, leaping past my old Acer Chromebook Spin 13 with an 8th-generation Intel Core i5 and 16 GB of RAM.
So too are both the latest Chrome OS tablets, depending on if you can catch one on sale, that is.
The HP Chromebook x2 11 at $599 doesn't meet the value bar. But that device with its recurring $399 sale price? Yup, that's a good deal and makes up a little for any quirks or dislikes. Likewise, the $499 Lenovo Duet 5 Chromebook gets you a lot for your money: A bright 13.3-inch OLED display, USB Type-C ports on each side, and slightly better performance than the HP.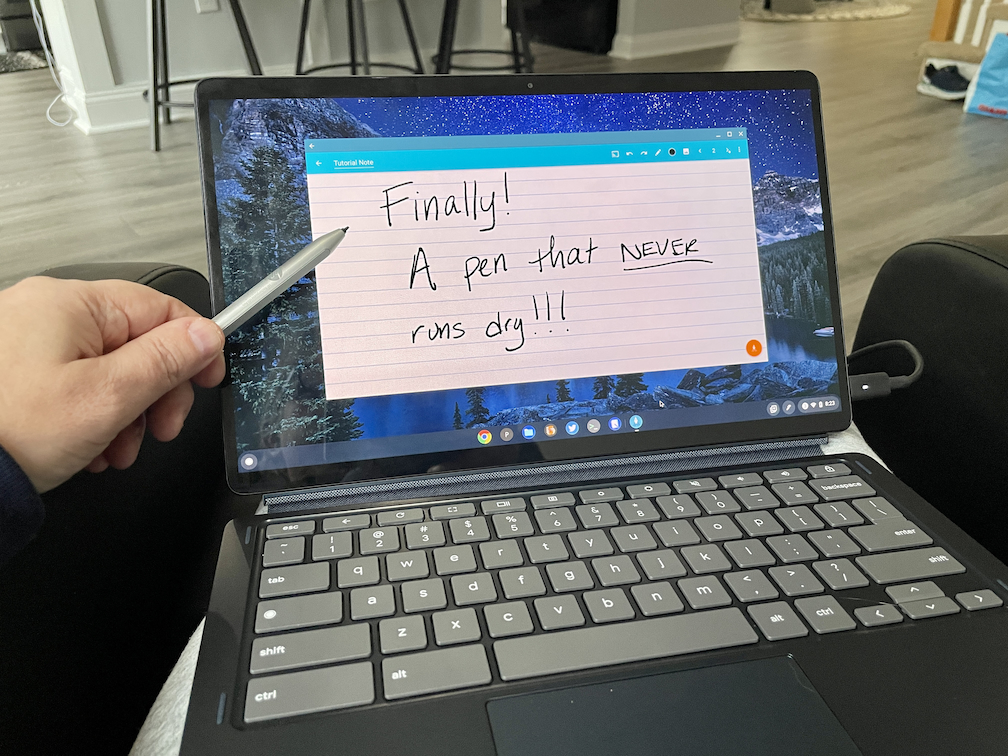 I'd argue that the HP Chromebook x2 11 is better as a pure tablet due to its 3:2 display but the Duet 5 Chromebook beats it in any laptop use case. Either way, both ARM-based devices showed off the potential for the next iteration of Chrome OS tablets in 2022.
Other manufacturers offered solid choices this year as well.
Asus introduced some new high-end models that stand out, particularly the Asus Chromebook Flip CX3 that I'm currently reviewing. It's nice to have a Core i7 choice and even better when it's fanless.
Samsung addressed battery life issues on the 2019 Galaxy Chromebook with a successor at a lower price point. And it offered an everyday device with an LTE radio coveted by some in the Galaxy Chromebook Go for less than most Wi-Fi-only models.
HP updated its lineup with some marginal improvements this year too. Then again, when you start with a good foundation, making minor tweaks is all you have to do.
And Acer debuted a slew of new choices as well. Some, like the Acer Chromebook Spin 513 didn't impress me much but the company makes a Chromebook for just about every budget and need.
My pick for 2021 Chromebook of the year
And that segues right into my pick. It's the 2021 Acer Chromebook Spin 713.
In 2020, Acer took the Spin 13 that I own (not mine, but the line in general!) and updated both the internals and the exterior design at a lower price point.
This year, Acer did the same thing with the same device: Updated the chips to 11th-generation silicon and further refined the design. It did see a price bump of $70 over the prior model for the Core i5 model with 8 GB of memory. But the additions and upgrades made that worth paying.
The result? For $699, the Acer Chromebook Spin 713 offers the performance and quality of Chromebooks that cost $1,000 or more just a year or two ago. And you can sometimes find it on sale for under $600, boosting the value proposition even more.
Sure, the included stylus from the 2020 model disappeared this year. But not everyone needs a stylus. And if you want one, any USI pen will work with this convertible Chromebook.
However, you gain Thunderbolt support for speedy data transfers to supported external drives. You jump up to 256 GB NVMe M.2 of fast storage over 128 GB of the prior year. And you still get that excellent 2256 x 1504 resolution display in a 3:2 aspect ratio for productivity.
Having said all that, I want to repeat that I'm not suggesting the Acer Chromebook Spin 713 is the right device for every Chrome OS user. It's far better suited for folks that want to push their Chromebook beyond using a few browser tabs.
This is for those who rely on Linux as much as Chrome OS or run multiple Android apps alongside their 20+ browser tabs at the same time. It's simply my choice because of what it provides for the price and how complete of a package it offers.
As always, my Chromebook of the year pick is arguable. That's why I didn't title this post the best Chromebook of 2021. So let me know what you think of my choice or which is your 2021 Chromebook of the year.
About the author
Kevin C. Tofel has covered technology since 2004. He's used ChromeOS since Google debuted the CR-48 in 2010, reviewing dozens of Chromebooks since then. He worked for Google's Chrome Enterprise team from 2016 to 2017, supporting the launch of Android app support. In his free time, he uses Chromebooks to learn software engineering at
Launch School
. In 2019, Kevin joined the CS Curriculum Committee at his local community college.
Liked this content? Subscribe for the free, weekly newsletter