Now available: New Acer Chromebook 514 with MediaTek Kompanio 828
Announced in October, the Acer Chromebook 514 with MediaTek Kompanio 828 is now available. Acer's U.S. store shows this ARM-based Chromebook in stock and priced at $429.99.
First, this isn't the new Chromebook with MediaTek's faster Kompanio 1380 processor that Acer announced last month at CES. We'll have to wait a few more months before that one goes on sale. And it may be worth the wait based on the capabilities of that more advanced chipset.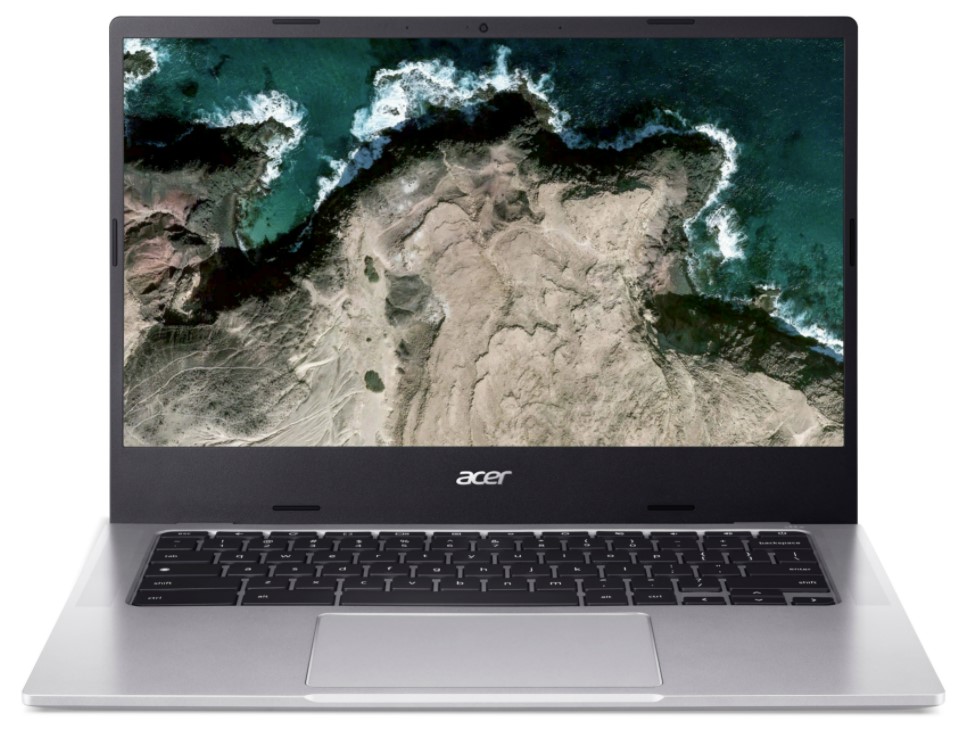 However, some people were waiting for updated laptops that used this MediaTek 8192 chipset. This is the slower of the two Kompanio 800 series chips for Chromebooks. The other is the MediaTek 8195.
Strangely, Acer lists this as the 8192T, which is odd since chips with a "T" are designed for tablets The Acer Chromebook 514 product page says this chip has four cores, capable of running at 2.60 GHz.
Either way, I'd expect a reasonable speed bump in this Acer Chromebook 14 compared to devices that used the older MediaTek 8183 chip. The Lenovo Duet Chromebook is probably the best-selling device with that processor, currently called the Kompanio 500.
As expected from the "14" in the model number, the new Acer Chromebook 514 has a non-glare, 14-inch IPS touch display. It's a widescreen aspect ratio with 1920 x 1080 resolution. Alongside the MediaTek Kompanio chipset is the 4 GB of memory and 64 GB of eMMC storage. You can't expand that with a microSD card though; there's no slot.
You also get a pair of USB Type-C ports, one on each side, and a USB Type-A port. WiFi 6 and Bluetooth are along for the ride. The trackpad is built with Gorilla Glass and the keyboard is backlit, so you can check those boxes off. The chassis is likely plastic as Acer points out this model has a metal cover.
With the ARM chip inside, the Acer Chromebook 514 is expected to run for up to 15 hours. That's just a claim under specific test conditions though. Still, I'd expect 11 to 13 hours for typical use.
Here are the full specs of this line: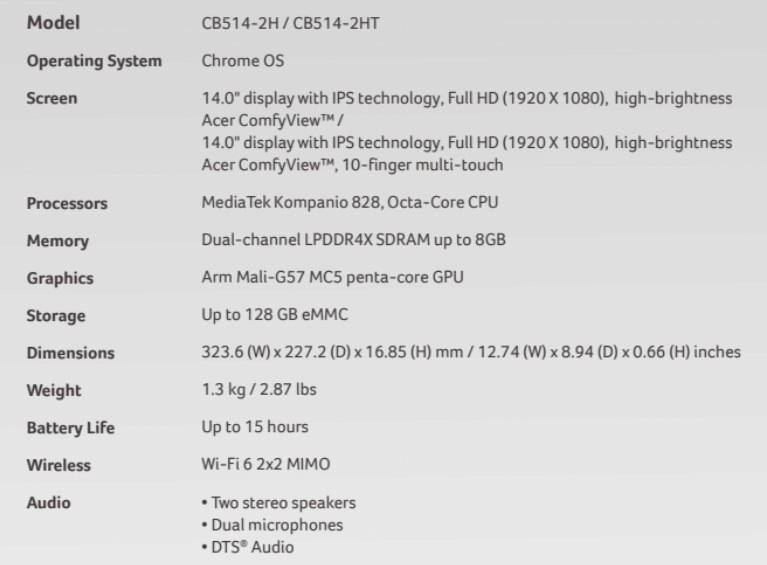 Although I haven't used this new Acer Chromebook 514, I'd consider holding off on the purchase. Within two months a few months, the Acer Chromebook Spin 513 using MediaTek chips built on a more recent architecture will be available. Unless you must have a Chromebook now and this model is expected to meet all of your needs, it's probably worth waiting on the 513 until June.
Remember that model has a 3:2 aspect ratio though. So if you're averse to a taller display, maybe you take the plunge now.