Been holding out to play PC games on your Chromebook? Sure, you can stream them to just about any Chrome OS device, but I'm talking about native, local gaming. We know Project Borealis will bring Steam gaming on Chromebooks to scratch that itch. You'll likely need a fairly new Chromebook with at least a Core i5 chip though.
This is based on a 9to5 Google report on some updated Chrome OS code that will enable Steam gaming on Chromebooks.
Right off the bat, the code has new parameters for which Chromebooks are "allowed" to run Steam. Essentially, these are Steam hardware requirements for Chromebooks.
As it stands now, you'll need an 11th-generation Intel Core i5 or i7 inside your Chromebook, along with at least 8 GB of memory.

Intel first released the 11th-generation of Core i5 and i7 chips in late 2020, meaning if you bought a Chromebook prior, it won't likely run Steam games. At least not initially.
As 9to5 Google notes, Chromebooks with 10th-gen processors have been internally tested by Google. So perhaps they'll get added to the supported device list.
Older devices though? I'd say it's not likely. Maybe I'll have to upgrade my daily driver from a 2018 model, after all.
There's also a little more information on the process to check if your Chromebook will have Steam gaming support.
From what I can see, users will be able to test this on their devices. The following messages will appear, based on the list of supported Chromebooks: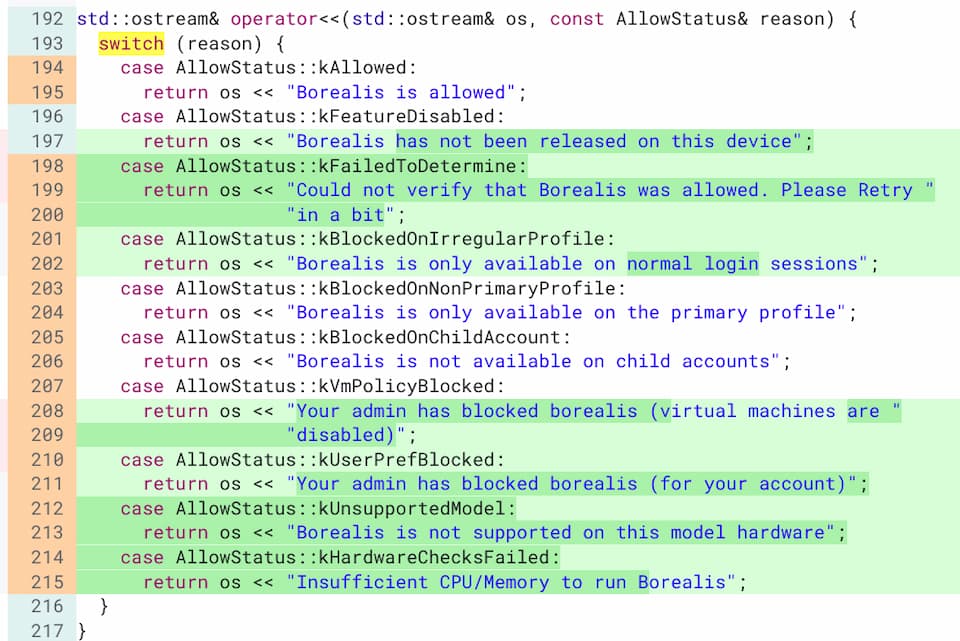 Aside from checking the device name and memory requirement, Steam gaming on Chromebooks probably won't be available on child or Guest accounts. If you have a managed Chromebook, your Chrome OS admin can also block access, even on supported devices.
Although this might be disappointing news to many existing Chromebook owners, I'm not surprised by these hardware requirements.
Today's PC games are massive programs using the latest video rendering technologies such as ray-tracing. The latest Steam game I downloaded was more than 60 GB in size. I remember when a top-tier game fit on a few 1.44 MB floppy drives. Yes, I'm that old.
Kidding aside, modern PC games are more like theatrical, interactive experiences with budgets higher than most blockbuster movies. The investments in money and cutting-edge technology have expanded dramatically over the years.
And keep in mind that the CPU is only half of the gaming equation (at most). Current Chromebooks are limited in the GPU department by integrated graphics processors that aren't really up to snuff when compared to high-end dedicated graphics chips.
I play some Steam games on a Windows laptop that has an 11th-gen Core i7, 16 GB of memory, and Nvidia RTX 3060 Ti GPU, for example. The MSRP is $1,999, although I got it at a decent sale price. Even at that price, this configuration provides an average gaming experience for some of the most currently demanding titles.
Steam gaming on Chromebooks with an integrated GPU won't even be able to do that. The best case will be a good experience on older titles and a playable experience at greatly reduced video settings. We'll have to wait for Intel's improved graphics or Chromebooks with dedicated GPUs for a Steam gaming experience that compares reasonably with gaming laptops and PCs.
About the author
Kevin C. Tofel has covered technology since 2004. He's used ChromeOS since Google debuted the CR-48 in 2010, reviewing dozens of Chromebooks since then. He worked for Google's Chrome Enterprise team from 2016 to 2017, supporting the launch of Android app support. In his free time, he uses Chromebooks to learn software engineering at
Launch School
. In 2019, Kevin joined the CS Curriculum Committee at his local community college.
Liked this content? Subscribe for the free, weekly newsletter