How to use Proton VPN on a Chromebook without Android or Linux
Regular readers know that I'm on a journey to protect my online privacy and adopt open-source software. That's partly why I use the Sidekick browser on my Chromebook as it adds privacy protection while making me more productive. And it's why I switched from Gmail to the secure open-source ProtonMail service a few years back as well. I also use Proton VPN on a Chromebook but I don't want to use the Android or Linux versions. Turns out there's a simple solution that uses fewer of my Chromebook's resources.
You can use Proton VPN with Android or Linux on a Chromebook
Before sharing the simple approach, I should note that you can use Proton VPN with either Android or Linux on a Chromebook.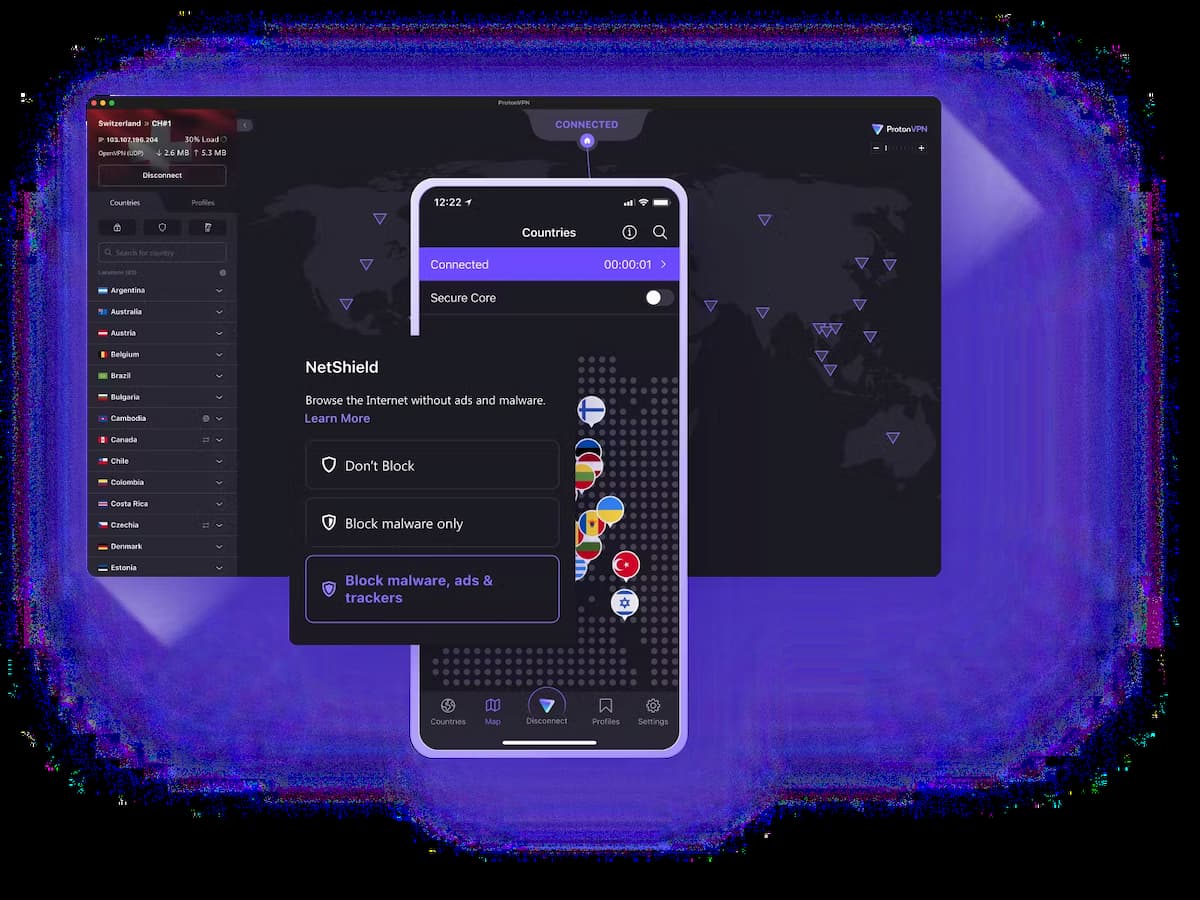 The former is implemented in the Proton VPN app for Android that you can find in the Google Play Store. The latter option is available for Linux although it requires more configuration.
Both of these are viable options but there's a reason I'd rather not use them. Additional hardware resources are required for both. Running Android apps, for example, keeps a slim version of Android running on your Chromebook. So more often than not, I have the Google Play Store disabled on my Chromebooks. Android is never running in the background this way.
The same goes for running Proton VPN in Linux since any desktop app runs a Linux container inside a virtual machine on a Chromebook. I don't mind that when I'm running other Linux apps since I need those services to be running anyway. Opening up a Linux app just to browse the web over a VPN though? That seems wasteful from a hardware resource and performance perspective.
Install the Proton VPN extension instead
The solution then, at least for me, is to install the Proton VPN extension.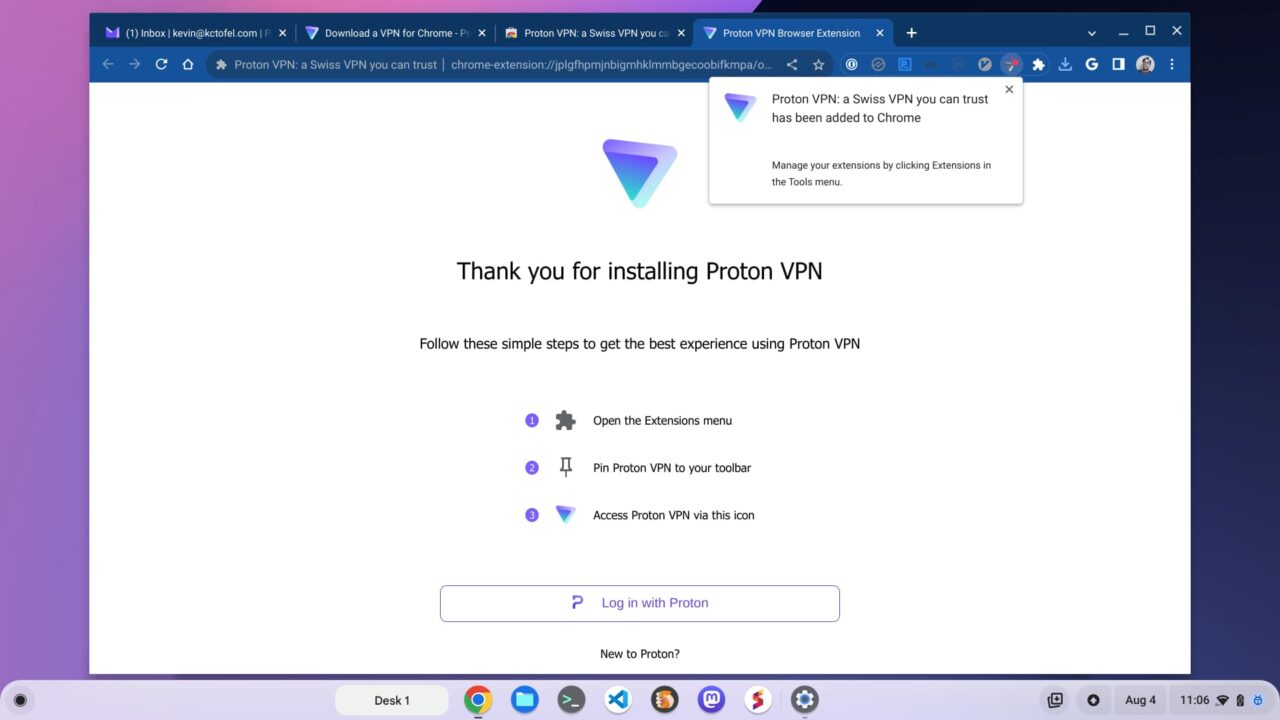 This way, I'm not requiring my Chromebook to run Android or Linux and I have more CPU and memory resources available for browsing. And I can do that by browsing while protecting my IP address and browsing activity.
With the Proton VPN extension installed, I have an interface that's similar to the Android version right in my browser. And to prove that it works, I chose a Phoenix, Arizona VPN server to connect to and then checked my IP address.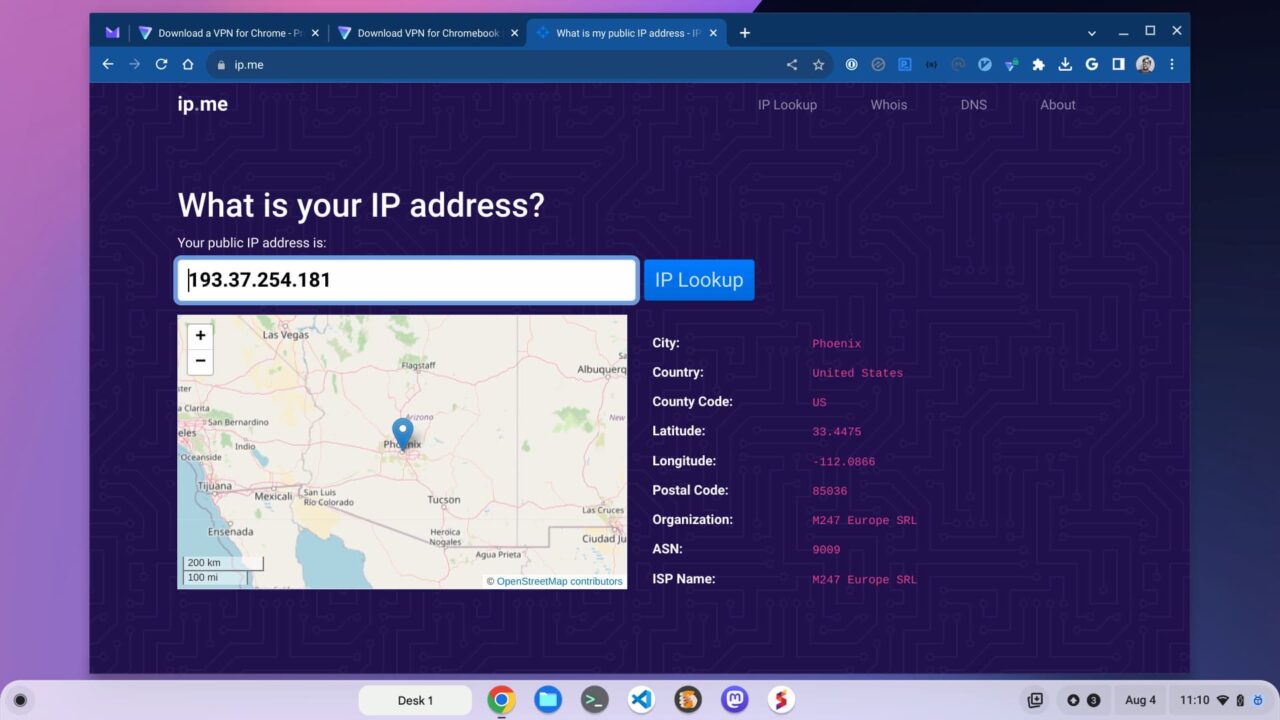 Sure enough, I'm passing all of my web browser traffic to Arizona through Proton VPN on a Chromebook. My browser activity is fully encrypted so no one can determine what I'm looking at, searching for, or downloading.
Why use a VPN on a Chromebook?
That gets me to why you should consider using a VPN on a Chromebook. If you don't, your browser activity can be sold to third parties, typically resulting in targeted advertisements. I see this happen all the time through my ISP or internet service provider, for example.
If I simply use the native browser on my Chromebook, which appears to be changing soon, to do some searches, my wife starts seeing ads on those topics. How is that possible when she's using another computer? My ISP sees the browser searches coming from my home and sells that information. Advertisers then bid on showing ads to all browsers coming from my home's IP address. And my wife is suddenly blasted with ads for the things I was searching for.
That's my main reason for using a VPN, although it's not the only one. I try not to give up more data than I need to for my online activities. I prefer to remain a little more private in that regard. Obviously, VPNs are useful to mask some… let's say "slightly less than legal" online activities as well. I don't partake in those but I can't ignore such uses.
If you don't use a VPN on a Chromebook, you might want to. There are plenty of options out there and Proton offers a free version right here. Since I pay for a Proton Mail annual account, I have the full-service Proton VPN product as well. I'm not recommending ProtonVPN because it's a sponsor or I get a kickback; I'm simply a very happy, paying customer.
I like that the company offers many servers in a wide range of locations for paid customers and it supports many streaming services too. You also get ad-blocking built in over the VPN connection. Again, there are other options to consider and any of them that engages in third-party privacy audits and no data logging practices are well worth it.