Earlier this year there were references to a "Click to call" feature for Chromebooks and it appears that Click to call will arrive in Chrome OS 78. Code changes targeted for the next Stable Channel version of Chrome OS show some of the user interface, particularly when you don't have an Android phone connected to your Chromebook.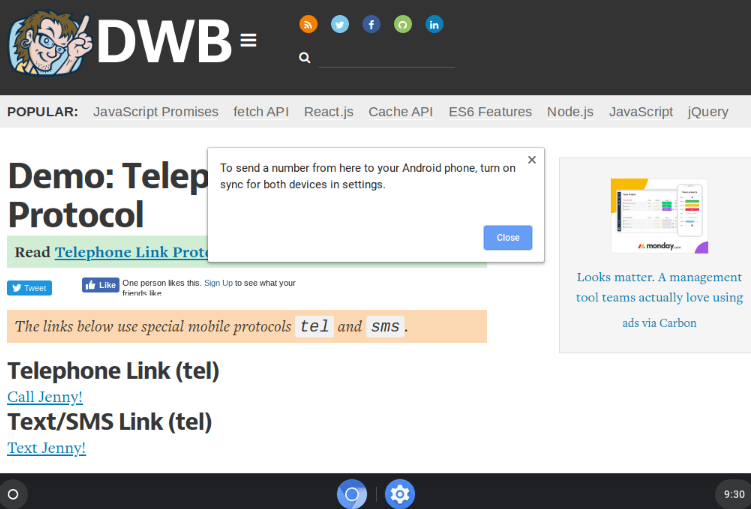 With Click to call, you'll be able to tap a phone number hyperlink on your Chromebook, which will automatically place the call on a supported Android phone.
It looks to me like users may not have to do anything new on the Android side to enable this feature: If you've already connected an Android phone in the Chrome OS settings for Instant Tethering, for example, this could just work. I say "could" because the above error message indicates that both the Chromebook and Android phone must have synchronization settings enabled.
Regardless of the implementation, I think most Chromebooks users will find Click to call very handy. Sure, there are third-party apps, services, and web extensions to place calls over the web in a similar fashion. And those can be just as handy. But sometimes, you need to place a phone call on an actual phone and walk away from the Chromebook.
By the way, if you click on a telephone link today, you get the above rather odd popup to use a Contacts app. It looks like the "plumbing" to do something with a hyperlinked phone number has been around for a while.
About the author
Kevin C. Tofel has covered technology since 2004. He's used ChromeOS since Google debuted the CR-48 in 2010, reviewing dozens of Chromebooks since then. He worked for Google's Chrome Enterprise team from 2016 to 2017, supporting the launch of Android app support. In his free time, he uses Chromebooks to learn software engineering at
Launch School
. In 2019, Kevin joined the CS Curriculum Committee at his local community college.
Liked this content? Subscribe for the free, weekly newsletter