Full Lenovo ThinkCentre M60q Chromebox specs appear online
Back at the IFA show in September, Lenovo showed off a 12th gen Intel powered Chromebox with limited details. Today I noticed the full Lenovo ThinkCentre M60q Chromebox specs online and see much to like. Well, if you're looking for a ChromeOS desktop computer, that is.
Lenovo previously said the ThinkCentre M60q Chromebox would arrive in February 2023 with a $323 starting price. It wasn't clear what you'd get for your money though. It's typical for ChromeOS device makers to provide a base model price and a range of specifications. For example, Lenovo noted this Chromebox can be had with "Up to 12th Generation Intel Core™ i5 processors." That's not exactly helpful if you're looking for the entry-level model.
Lenovo ThinkCentre M60q Chromebox chipset choices
With the full Lenovo ThinkCentre M60q Chromebox specs available, we can now see what the base model configuration looks like. In fact, here are the specs of the lowest configuration.
From a CPU and GPU perspective, this Chromebox can be configured with an Intel Celeron 7305, Core i3-1215U, or Core i5-1235U chipset. Below are the capabilities of each option:

Clearly at $323, you're getting an Intel Celeron 7305 with Intel UHD graphics in the ThinkCentre M60q. Regardless of the CPU and GPU configuration, this Chromebox has impressive display output capabilities. All models support the following display settings on the required external monitor:
4096×2304@60Hz(DP)
4096×2304@60Hz(USB-C with DP function)
4096×2304@60Hz(HDMI)
Note that I recently questioned the purpose of Intel's P-Series chipsets. Slotted between the low-power U-Series and the H-Series that require more power, the P-Series doesn't offer much benefit to laptops. There's little performance gain over the U-Series and you lose some battery life. That isn't an issue with a ChromeOS desktop, so I would have thought perhaps the P-Series chipsets would find their way into a Chromebox.
Memory and storage options in this Chromebox
In terms of memory and storage, there are two memory slots in every model and the maximum memory supported is 32 GB. The base model will use one of those slots occupied with a 4 GB memory module although there is another Celeron-model with 8 GB. The higher priced configurations will be available with 8, 16 or 32 GB of memory pre-installed.
Storage for the entry level Lenovo ThinkCentre M60q Chromebooks is a scant 64 GB of eMMC 5.1. Even if you opt for the 8 GB Chromebox with the Celeron, you'll get the same local storage capacity. The Core CPU options boost you to one of two M.2 SSD drives. The two SSDs are for different SSD standards: M.2 2242 and M.2 2280. The latter is a PCIe 4 drive with 256 GB while the former uses a slower PCIe 3 interface with 128 GB of capacity.
Similarities between all models of the Lenovo ThinkCentre M60q Chromebox
All models use the Intel AX211 chip for Wi-Fi 6E and Bluetooth 5.1. And they all have the same port configurations with plenty to use. Here's a list of the front and rear ports shared by all models: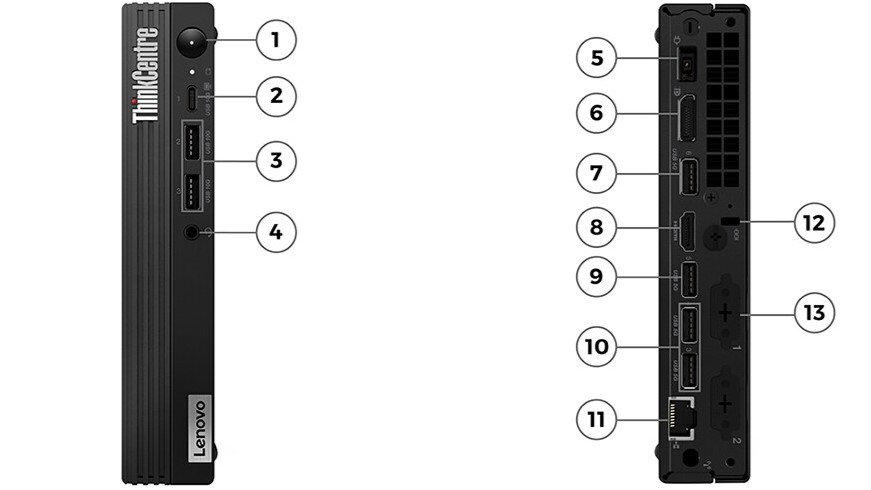 Front Ports
2x USB 3.2 Gen 2
1x USB-C 3.2 Gen 2 (with DP 1.4)
1x headphone / microphone combo jack (3.5mm)
Rear Ports
4x USB 3.2 Gen 1
1x Ethernet (GbE RJ-45)
1x HDMI-out 2.1 TMDS
1x DisplayPort 1.4
Each of these Chromebox models can stand alone or be mounted to a monitor using a 100mm VESA mount. And they all come with an included wired keyboard and mouse.
At a $323 starting price, the base model is likely capable enough for typical daily ChromeOS usage. And by "typical" I mean mostly for web work provided you can keep the amount of open tabs to around 8 or so. Basic Android apps should be fine but more intense Android games might be a challenge. So too could any heavy Linux desktop apps.
But there is a wide "typical daily ChromeOS usage" audience: Folks who just want to get online with a monitor they may already have. For around $300, or less when discounted, the base Lenovo ThinkCentre M60q Chromebox could be just the thing to meet those needs.