Google Chrome OS 100 is coming soon: New Launcher, GIF creation, and more
It's not yet available but Google Chrome OS 100 is heading to Chromebooks, Chromeboxes, and Chromebases soon. Rather than wait for the official rollout, Google on Wednesday shared details of the software update on its blog. There are plenty of new features, although I've shared some of them prior, that you'll see in the Stable Channel version of Chrome OS 100.
The Chrome OS Launcher is vastly improved
I've been using Google's Chrome OS productivity launcher feature for quite a while now and I love it. And it finally addresses my complaint from 2020 that the Chrome OS Launcher needed a usability update.
Prior to Chrome OS 100 you needed to enable an experimental flag for this experience. You won't have to after your next software update. And once you have it, you'll appreciate the improved layout and automatic, or custom, organization.
But the new Launcher isn't just eye candy, according to Google:
Before, Launcher would show you a short preview of your search result. Now, it will show even more information — so you can check the weather or find that celebrity name, all without leaving Launcher. You can also quickly search for Chromebook shortcuts, like how to take a screenshot or turn on caps lock.
Editing text with Dictation
If you use the native Dictation feature of Chrome OS, you know you can speak instead of type for input. Chrome OS 100 adds the editing of text via voice as well.
I haven't tried it yet so I can't tell how well it works. However, this is definitely a feature that can save a ton of editing time, depending on the implementation.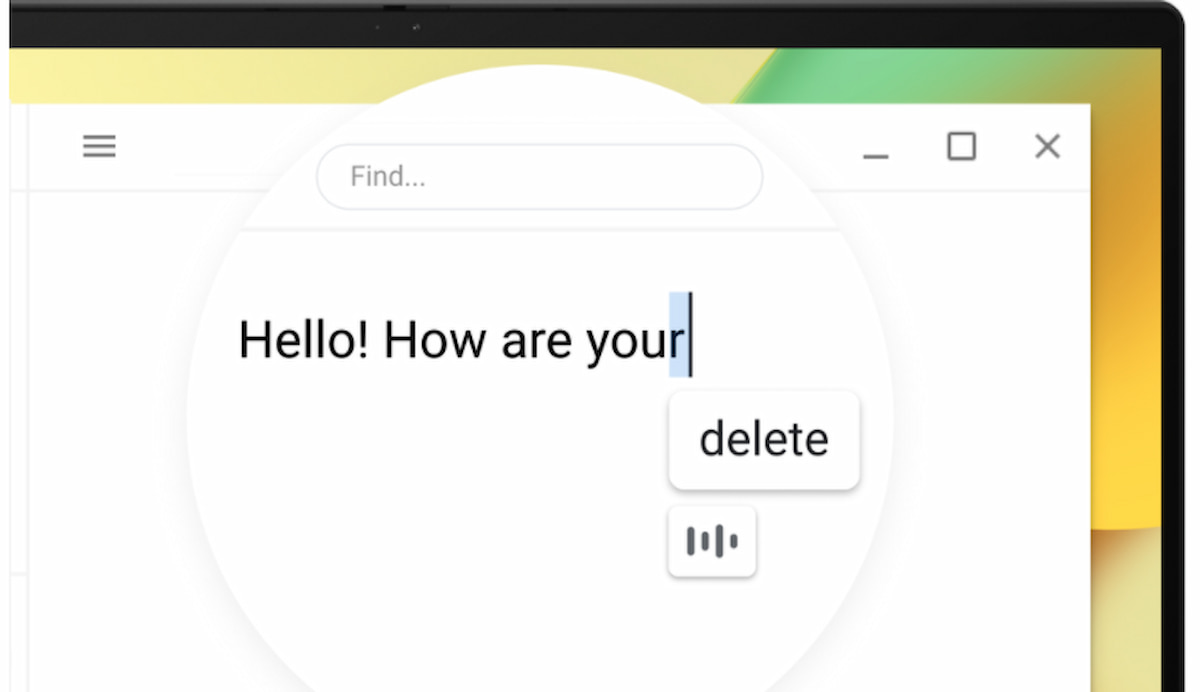 GIF creation in the Chrome OS 100 Camera app
I personally have no need for this next feature but I think many will find it fun. The Camera app has a new photo mode for creating animated GIFs in Chrome OS. You can record a five-second animation to share with your friends and family.
An updated Android VM is coming soon
On ChromeOS.dev, Google mentioned an update regarding Android apps on Chrome OS devices:
The latest version of ARC, ARCVM, launched in 2021 with Android 11 and is currently rolling out to devices. As you may guess from the name, it uses virtual machines (VM) to enhance the isolation of the Android environment in order to improve security and maintainability.
What that means is a major change to the underlying Android runtime environment that Chromebooks have used in the past. Here's a graphic illustrating the change.

The new ARCVM adds the same VM technology used for Linux on a Chromebook and places Android apps in their own virtual machine.
By removing Android patches to the Chrome OS Kernel under the old method, Android can quickly and easily be patched or updated. The approach is similar to how Google Chrome is getting unbundled from Chrome OS itself.
But wait there's more in Chrome OS 100
These are the highlighted features from Google's perspective, along with the new Family Link for school accounts. However, if you've followed my Chrome OS release news articles in the past, you'll know there are typically a bunch of other features included.
Many of these are experimental, such as the animated screen savers in Chrome OS 100 that I'm using. Oh and there's the Calendar quick events feature I mentioned prior as well.
So once Google Chrome OS 100 is released to the Stable Channel, I'll do my standard roundup of features that I find. Stay tuned!