After using the HP Chromebook x360 14b with MediaTek K1200 silicon, my first impressions still hold. I'll share why in my HP Chromebook x360 14b review but the long and short of it is this. The MediaTek K1200 chipset is a solid step forward for ARM laptop performance, which is great. The materials and other internals HP surrounded it with simply holds it back from being a great $449 Chromebook overall.
Inside the HP Chromebook x360 14b
Overall, this is a nice package of parts. The 13.3-inch multi-touch display with 1080p resolution is nice. Brightness is average so this isn't a Chromebook I'd use outdoors or next to a window. I tried. It didn't work out that well. The screen is certainly nice enough for watching high resolution YouTube videos or other streaming content. And the B&O tuned speakers under the keyboard are surprisingly loud and have more bass than I would have thought.
The star of the show is the MediaTek K1200, which I'll get to in a bit from a performance and power-efficiency standpoint. You get either 4 GB of memory or 4 GB of memory. Meaning: That's it. It's nice to see a fast NVMe SSD inside with 128 GB of capacity though. For $30, you can double the storage.
Here are the full specifications:
CPU
Octa-core MediaTek K1200, 4 Cortex A-78, 4 Cortex A-55,
Clock speed up to 2.6 GHz, fanless
GPU
5 cores, Mali-G57
Display
13.3-inch IPS 1920 x 1080 touch display, 16:9 aspect ratio,
250 nits brightness
Memory
4 GB memory
Storage
128 GB NVMe M.2 storage (256 GB option available)
microSD card reader
Connectivity
802.11ax (2×2) WiFi 6, Bluetooth 5.2
Input
Non-backlit keyboard, multi-touch trackpad,
720p wide view webcam with temporal noise reduction, dual-array microphones,
privacy shutter
Ports
2 USB Type-C 3.2, 1 USB Type-A, headphone/microphone jack
Battery
2-cell battery, 47 WHr capacity,
claimed runtime of up to 15 hours
Weight
2.95 pounds
Software
ChromeOS automatic updates through June 2030
Surrounding the internals is a nice design, even if it's not terribly inspiring.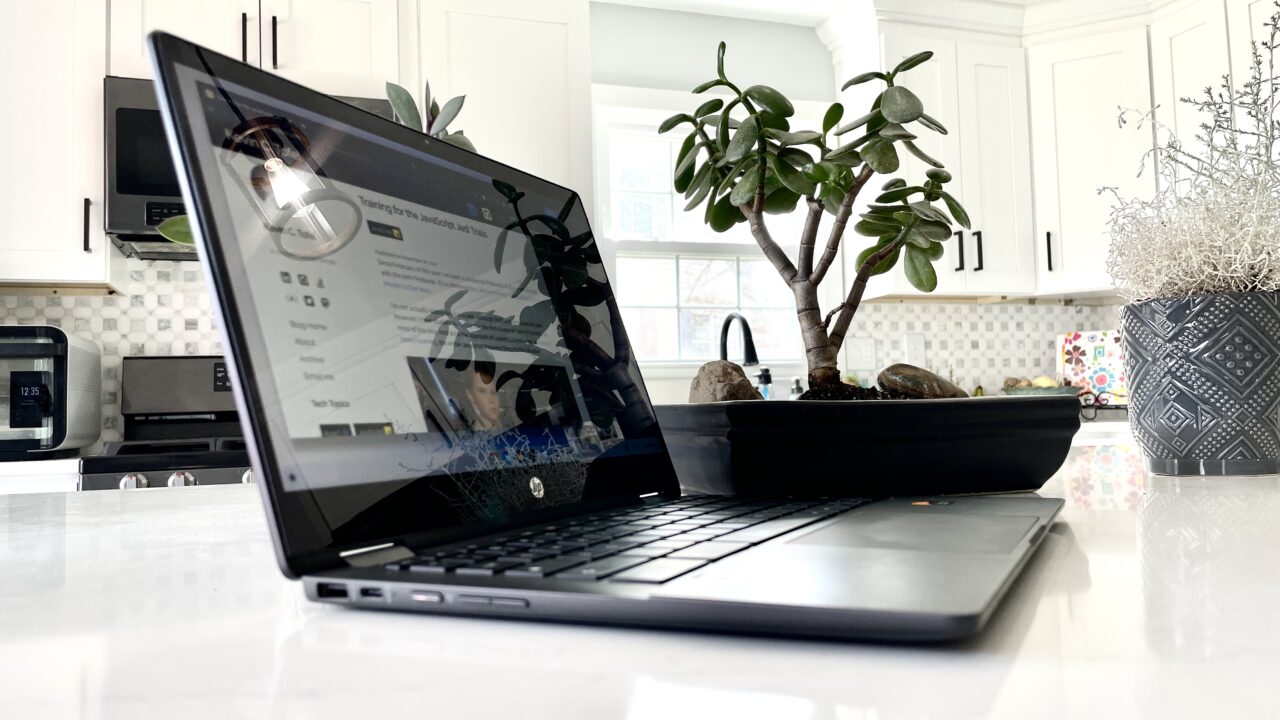 Having used many HP Chromebook x360 models, I can almost tell this one just by looking at it.
I will say it has a nice upgrade or two compared to older ARM-based laptops. You get a USB Type-C port on each side, which is great. There's also a single USB Type-A port and a microSD card reader, plus you standard mic/headphone jack, power button and volume rocker. Earlier ARM-based Chromebooks and ChromeOS tablets had fewer ports.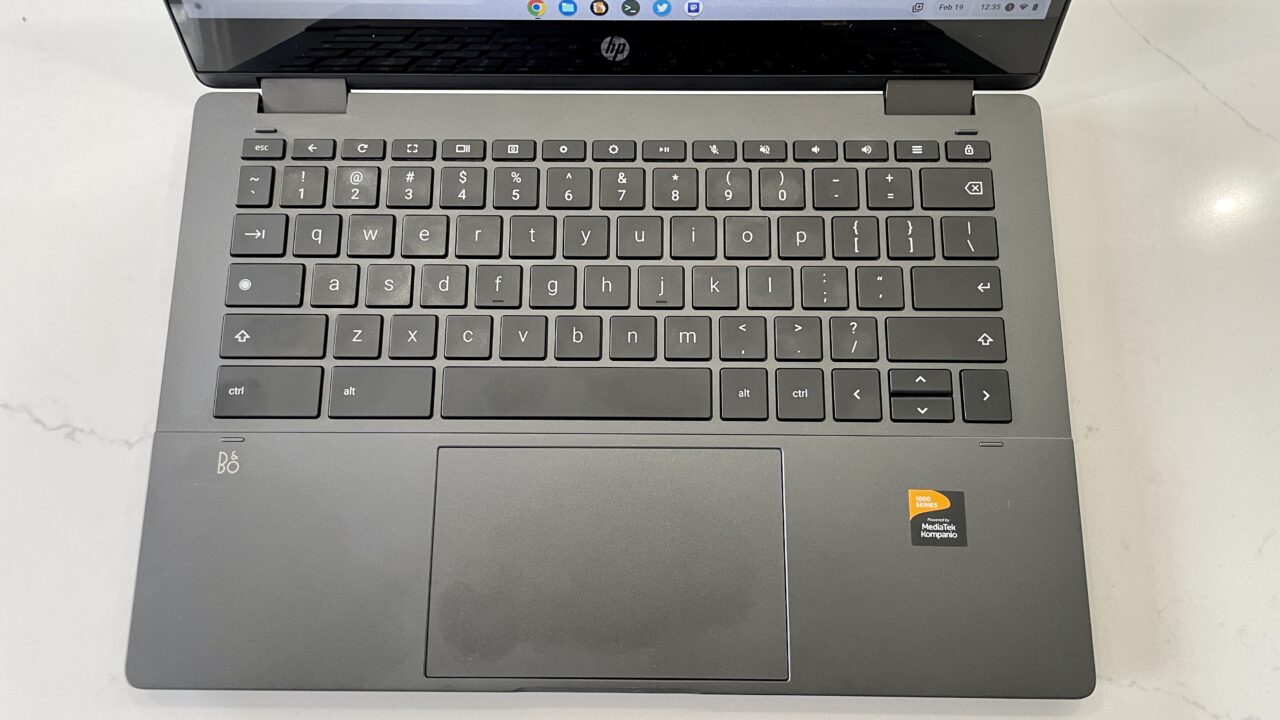 I find the keyboard a bit shallow but it's perfectly serviceable and comfortable to use.
There's even some extra top-row hardware keys, which I appreciate. I like the "hamburger" menu key so I don't have to use the trackpad as much. Tapping it opens the Quick Settings area of ChromeOS. The trackpad experience is good, save for an issue based on the chassis design and/or materials HP used. More on that in a bit.
MediaTek K1200 performance and power efficiency
To illustrate the improved performance of MediaTek's K1200, here are benchmark scores between it and three other ARM-based ChromeOS devices.
While you'd expect the K1200 to show a performance boost thanks to a newer design, I didn't expect this much of a relative boost.
Test
HP Chromebook 14b
MediaTek K1200
Lenovo Chromebook Duet
MediaTek P60T
HP Chromebook X2 11
Snapdragon 7c
Lenovo Duet 5
2nd-gen Snapdragon 7c
Speedometer 1.0
140.5
48.59
90.93
93.31
Speedometer 2.0
81.55
29.52
51.4
55.0
JetStream 2
99.34
37.65
58.25
61.55
Basemark 3.0
495.22
210.02
276.69
269.97
Octane 2.0
31,320
10,518
22,314
24,152
Higher numbers are better
Keep in mind that most ARM-based ChromeOS devices still aren't using the latest and greatest ARM designs. So we're not talking about Apple M1 or M2 performance here. Instead, think of the HP Chromebook x360 14b offering 10th gen Intel Pentium-like power. It's unfortunate because more modern ARM designs provide more power and use less energy. Those chips simply haven't found their way into Chromebooks or ChromeOS tablets yet.
It's like there's a two-year lag between the latest and greatest ARM designs and ChromeOS. Remember, the MediaTek K1200 was officially announced as the MT8195 back in November of 2020. It's taken this long to get the chip inside Chromebooks.
Still, I find the MediaTek K1200 performance to be quite good for my own day to day tasks and I think most typical Chromebooks users will too.
In fact, after using the HP Chromebook x360 14b full time for several weeks, I didn't feel like the processor limited me much at all. The only time I wanted a little more "oomph" was doing some development work with JavaScript and NodeJS in Linux. But even then, I was still productive; just a little slower when doing certain things that hit the processor heavily.
A good summary take is this. If you're worried about performance for daily browsing and Android apps, even Android games, don't be.
The chipset inside the HP Chromebook x360 14b isn't going to let you down. No, you're not getting what I'd call premium performance but you're not paying a premium price either. And you're getting a fanless Chromebook with excellent battery life.
On that front, HP says you'll get "all day battery life", or about 15 hours, from this Chromebook. And this is one of the rare times a manufacturer's battery life claim rings more fact than fiction.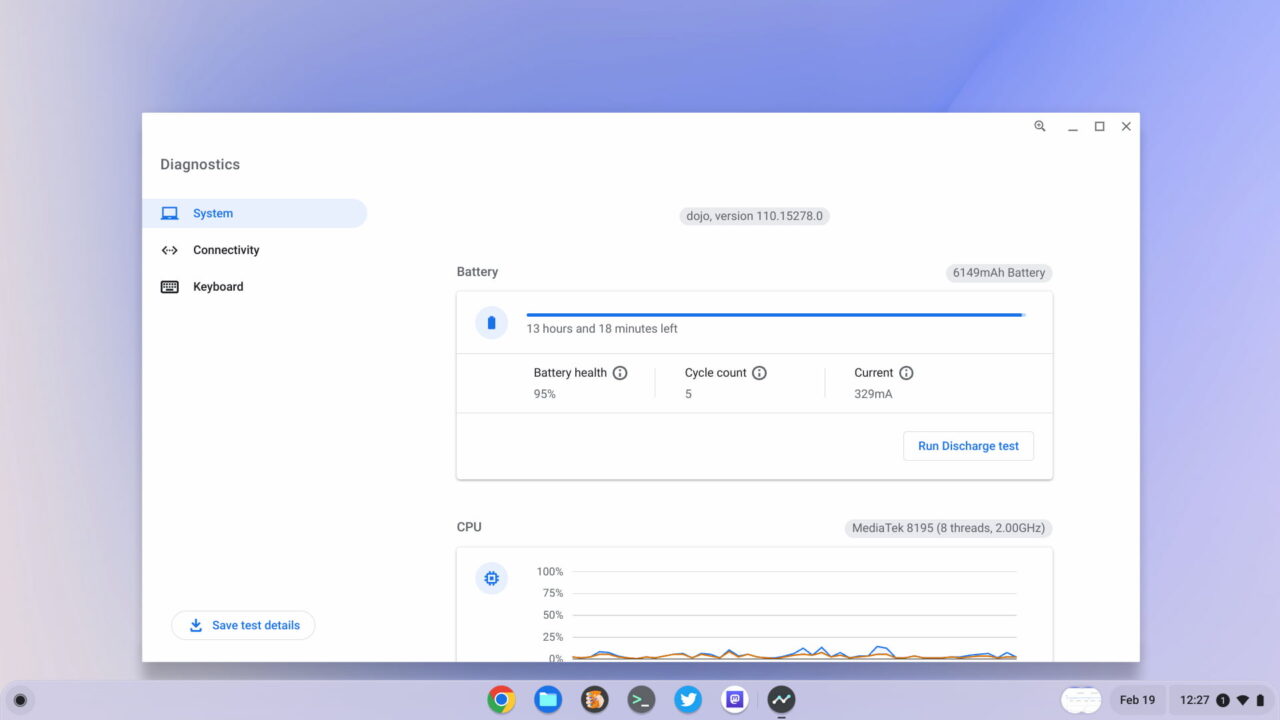 I can use the x360 14b for 10 hours and still have some gas in the tank.
One night I decided not to recharge it and I worked for 1.5 hours in the morning before the battery ran out of juice. This is highly dependent on your use case, of course. For my day to day activities though, I can easily get through a full day and then some. Having a CPU/GPU combination that sips, instead of guzzles, power helps here.
Should you buy the HP Chromebook x360 14b?
After touting the positive processing power of the MediaTek K1200, you'd think I'd be recommending this Chromebook. But I can't at full price nor if certain aspects are important to you. And these have nothing to do with MediaTek. It's where HP's choices bring the let-downs.
The 720p webcam for example, isn't even what I'd call average. It's fine for occasion use with family or friends, although they may disagree. Clarity just isn't there, nor is speed, so when you move the camera can't really show that motion without blurriness. You also need really good lighting conditions.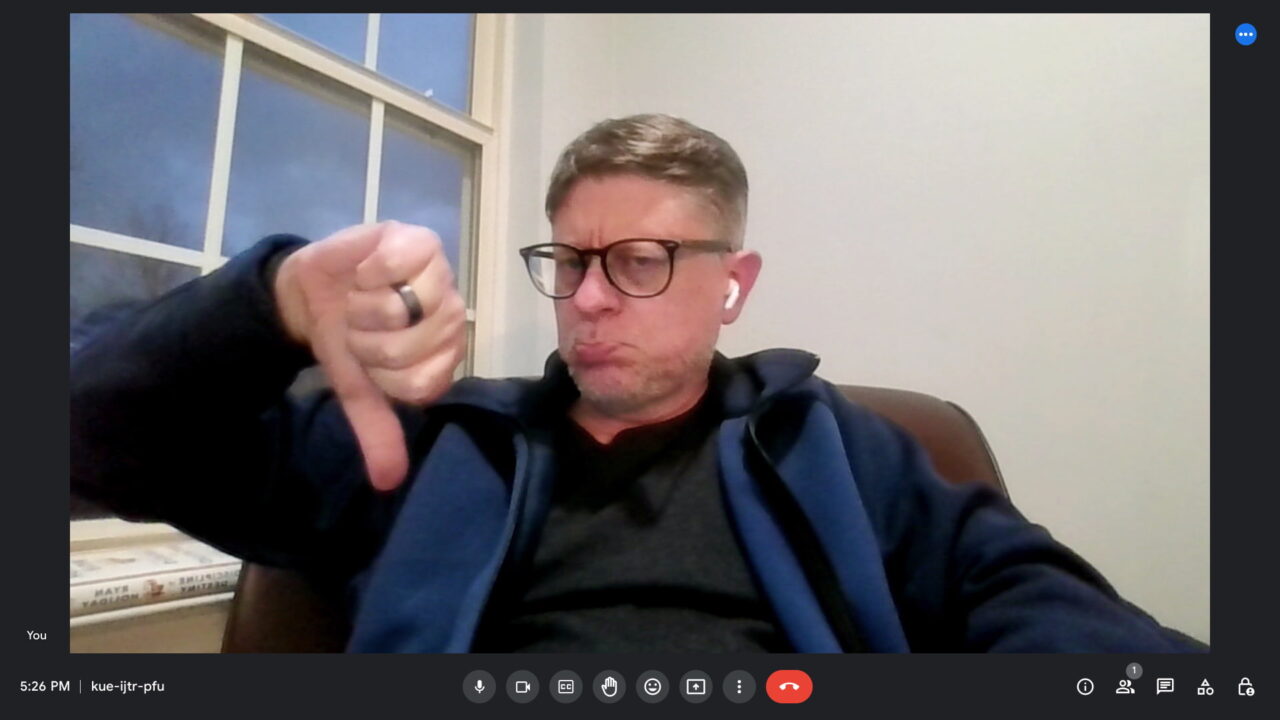 While the device design is nice, the keyboard chassis is flimsy. I can see that on a super-thin detachable ChromeOS keyboard but that's not acceptable on a laptop. At least not to me.
The chassis is fine on a perfectly flat surface. Use this laptop on your… you know, lap… and your palms can easily press down hard enough to enable a trackpad click. Even when flipping the 360-degree display for tablet mode makes that trackpad click. That's disappointing.
And it's a no-go for me, personally. I like to use my devices in any situation or scenario. The flimsy chassis holds me back from doing that.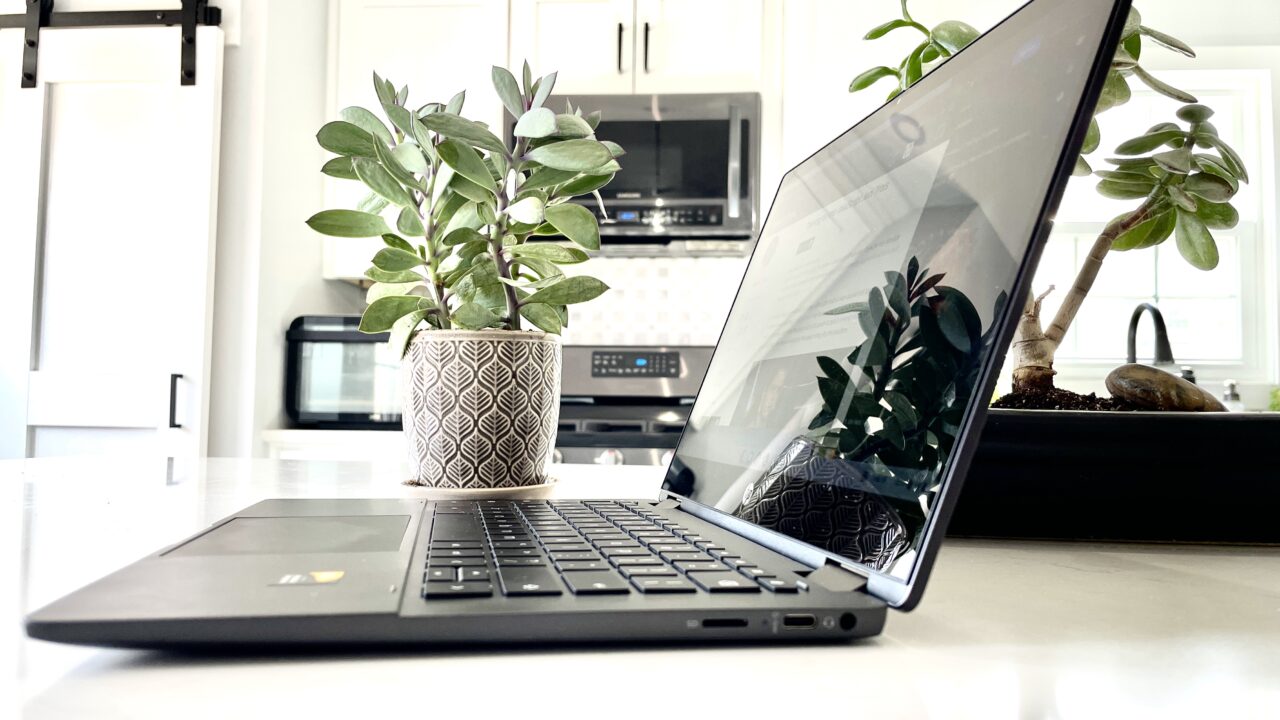 I also wish there was a model with 8 GB of memory because I think any Chromebook is better suited with 8 compared to 4. I wouldn't say the 4 GB of RAM lets down the device. However, it wouldn't hurt. And more Chromebooks, even entry-level models, are including or giving the option of 8 GB of memory. More are coming with backlit keyboards too while my review unit doesn't have that option. You'll pay $30 extra for that.
In summary, if you don't care much about the webcam and you're going to be using this device primarily on a desk or table, then you'll be happy. If not, I think there are better options in the same price range although they may not have the same battery life. Look to Lenovo's slightly more expensive but often on sale Chromebook Flex series, for example, or spend a little extra on the more powerful Acer Chromebook Vero 514.
Honestly, I could get over the poor camera on the HP Chromebook x360 14b by adding a better external one. However, I have a hard time recommending a Chromebook with such a flimsy chassis for most people, no matter how much of a champ the MediaTek K1200 is.
About the author
Kevin C. Tofel has covered technology since 2004. He's used ChromeOS since Google debuted the CR-48 in 2010, reviewing dozens of Chromebooks since then. He worked for Google's Chrome Enterprise team from 2016 to 2017, supporting the launch of Android app support. In his free time, he uses Chromebooks to learn software engineering at
Launch School
. In 2019, Kevin joined the CS Curriculum Committee at his local community college.
Liked this content? Subscribe for the free, weekly newsletter