Lenovo IdeaPad Flex 5i Chromebook Plus: The best $499 ChromeOS laptop I've used
After nearly two weeks of using the Lenovo IdeaPad Flex 5i Chromebook, I'm impressed. So much so that I can confidently say it's the best $499 Chromebook I've ever used. Even more impressive to me is that as a ChromeOS power user, I could easily use this laptop on a daily basis. Most of the extra goodies that come with the Chromebook Plus platform aren't that compelling to me. Even so, most people would still be happy with the Lenovo Flex 5i Chromebook Plus at this price, which is found at Best Buy.
Of course, there are several other Chromebook Plus models available. And some start as low as $399. I haven't used them all but given the slight differences between the hardware on those and the Flex 5i, I'd say really you can't go wrong with any of them. I like a bit more horsepower though, so I'd spend the extra $100.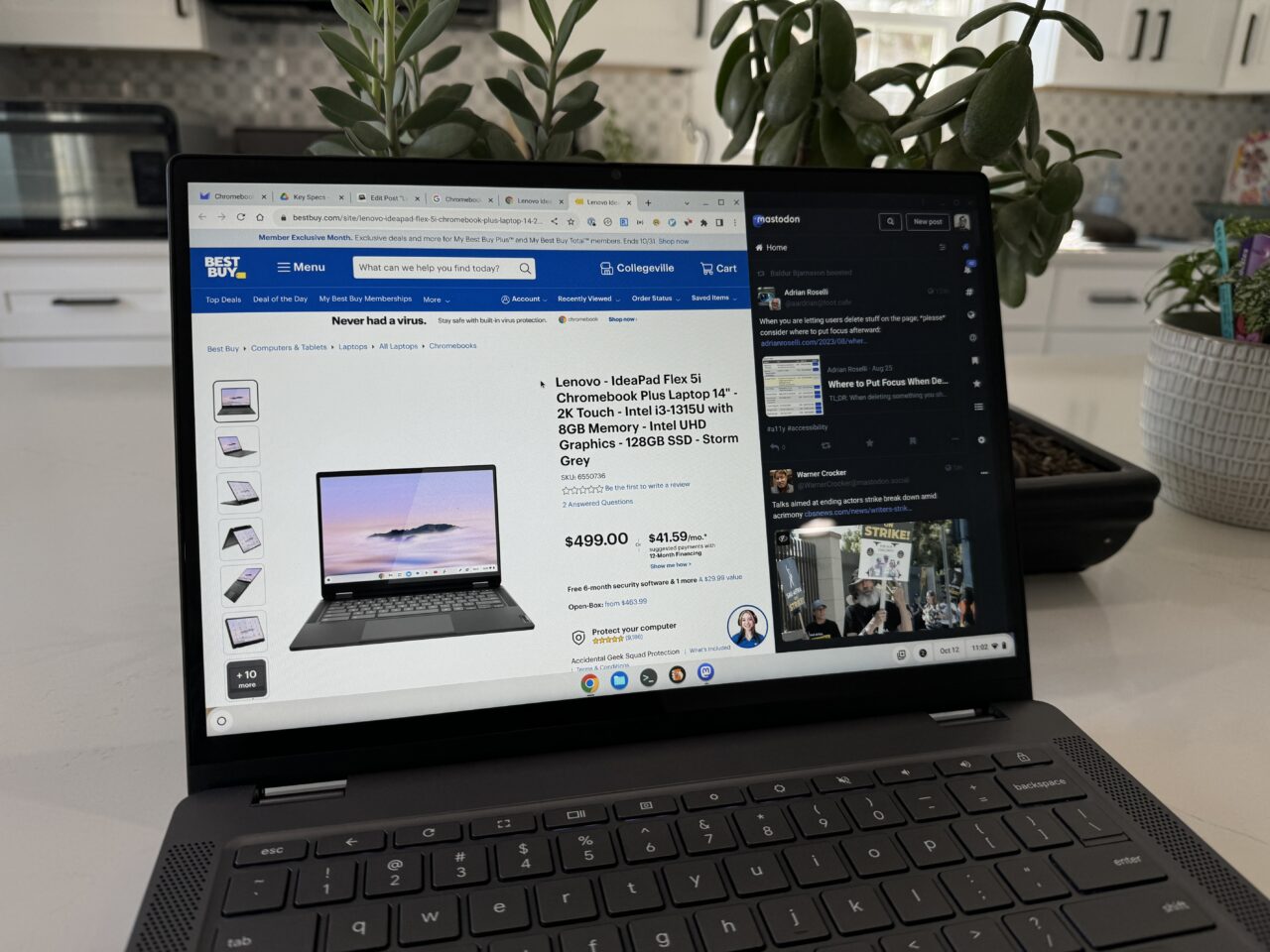 I say this because the Lenovo IdeaPad Flex 5i Chromebook Plus handles my tasks and workflow as well as my 2022 Acer Chromebook Spin 714. And the Lenovo option is priced much lower than last year's Acer. Yet, whether I'm coding in a Linux desktop application, running the occasional Android app, or researching online with 20 tabs open, the Flex 5i keeps up just as well as the Spin 714.
My suspicion on how this happens is related specifically to the 13th-gen Intel Core i3 processor in the Lenovo. For reference, I have a 12th-gen Core i5 in the Spin 714.
And yet, day-to-day work happens just as quickly with the Core i3. Synthetic benchmarks bear this out as well. Running various tests on the two devices shows a virtual tie.
In some, the Spin 714 narrowly edges out the Flex 5i. In others, the Lenovo device "flexes" its muscle and comes out ahead. Neither device scores higher than the other by more than eight percent in a given test. Given fewer cores in this CPU, the fan runs a bit more on the Flex 5i compared to my own Chromebook. I don't find the fan obnoxiously loud though.
Considering the MSRP of this year's Spin 714 is $699, I think you can understand why the Flex 5i impresses me. Even on sale right now, the Spin 714 is $60 more expensive than the newer Lenovo, although it does offer double the local storage and a 13-gen Core i5 CPU. The Lenovo Flex 5i Chromebook Plus matches it with 8 GB of memory and adds a microSD card slot at the cost of the Acer's HDMI port.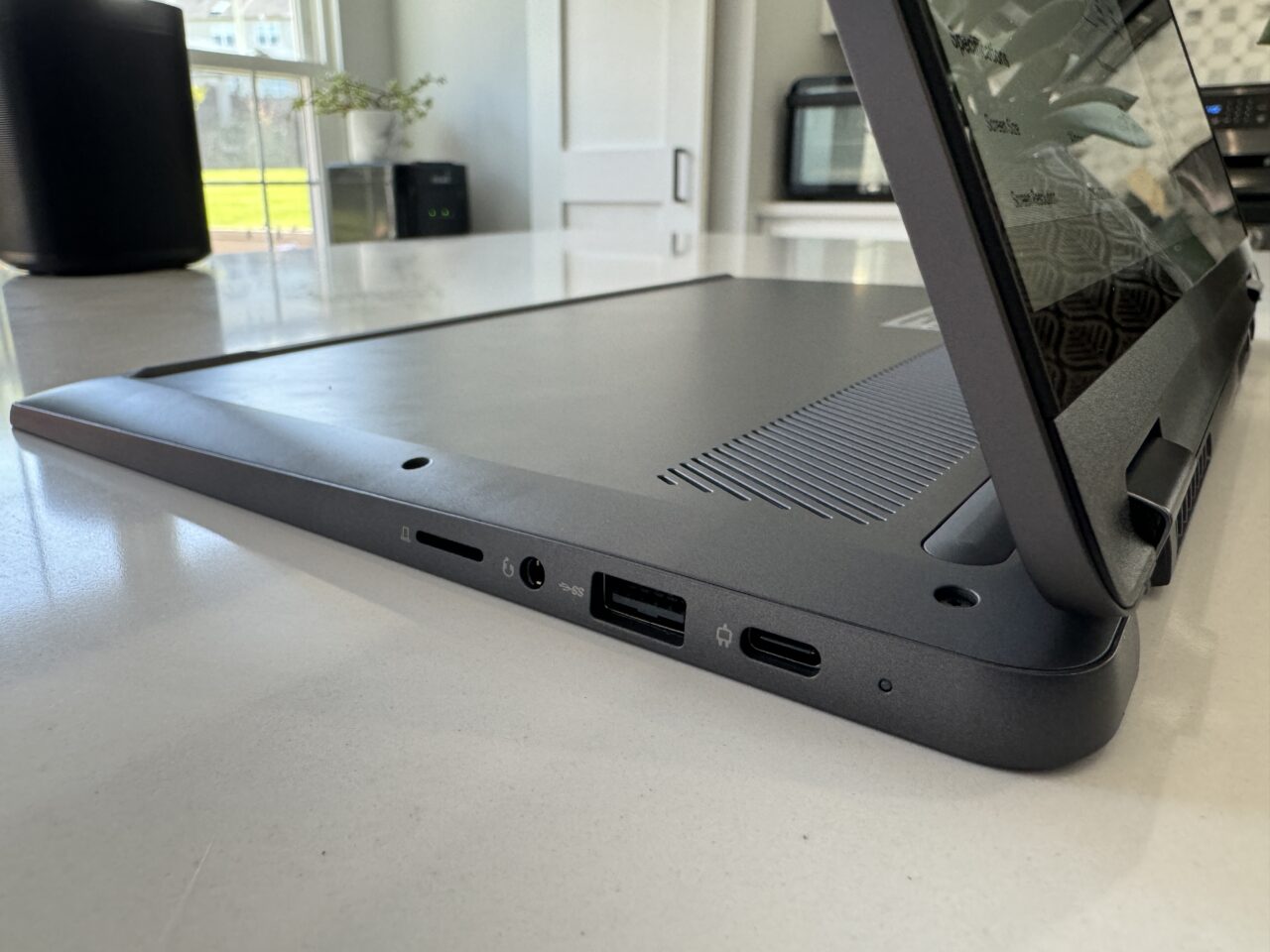 The point is, that most people using Chromebooks for typical daily usage don't need a Core i5 CPU. They'll get an excellent ChromeOS experience with the chipset in the Flex 5i without having to spend more money. Nor will they sacrifice build quality or the "feel" of the laptop itself.
Here are the rest of the specs of this laptop, although every Chromebook Plus device meets or exceeds certain minimum hardware requirements:
CPU
13th-gen Intel Core i3-1315U Processor, up to 4.5 GHz,
6 cores / 8 threads
GPU
Intel UHD,
Core i5 model uses Intel Iris Xe
Display
14-inch IPS 1920 x 1200 display, 16:10 aspect ratio,
300 nits brightness, 45% NTSC color gamut
Memory
8 GB LPDDR4x, 4266 MHz
Storage
128 GB eMMC 5.1 storage,
(higher configurations use NVME SSD),
MicroSD card slot
Connectivity
802.11ax (2×2) WiFi 6E, Bluetooth 5.0
Input
Backlit keyboard, multitouch trackpad, USI stylus support
1080p FHD RGB webcam, dual-array microphones,
fingerprint sensor
Ports
1 USB Type-C 3.2 (Gen 2), 1 USB Type-C 3.2 (Gen 1),
1 USB Type-A 3.2, 1 combo microphone/headphone jack
Battery
Claimed run-time up to 10 hours
Weight
3.57 pounds / 1.62 kilograms
Software
Chrome OS automatic updates through June 2032
Lenovo has done a great job designing and building its Flex 5i series in the past. The Chromebook Plus edition is no different. The chassis has a small bit of flex but otherwise, the computer feels solid and premium. There's practically no screen flex, for example.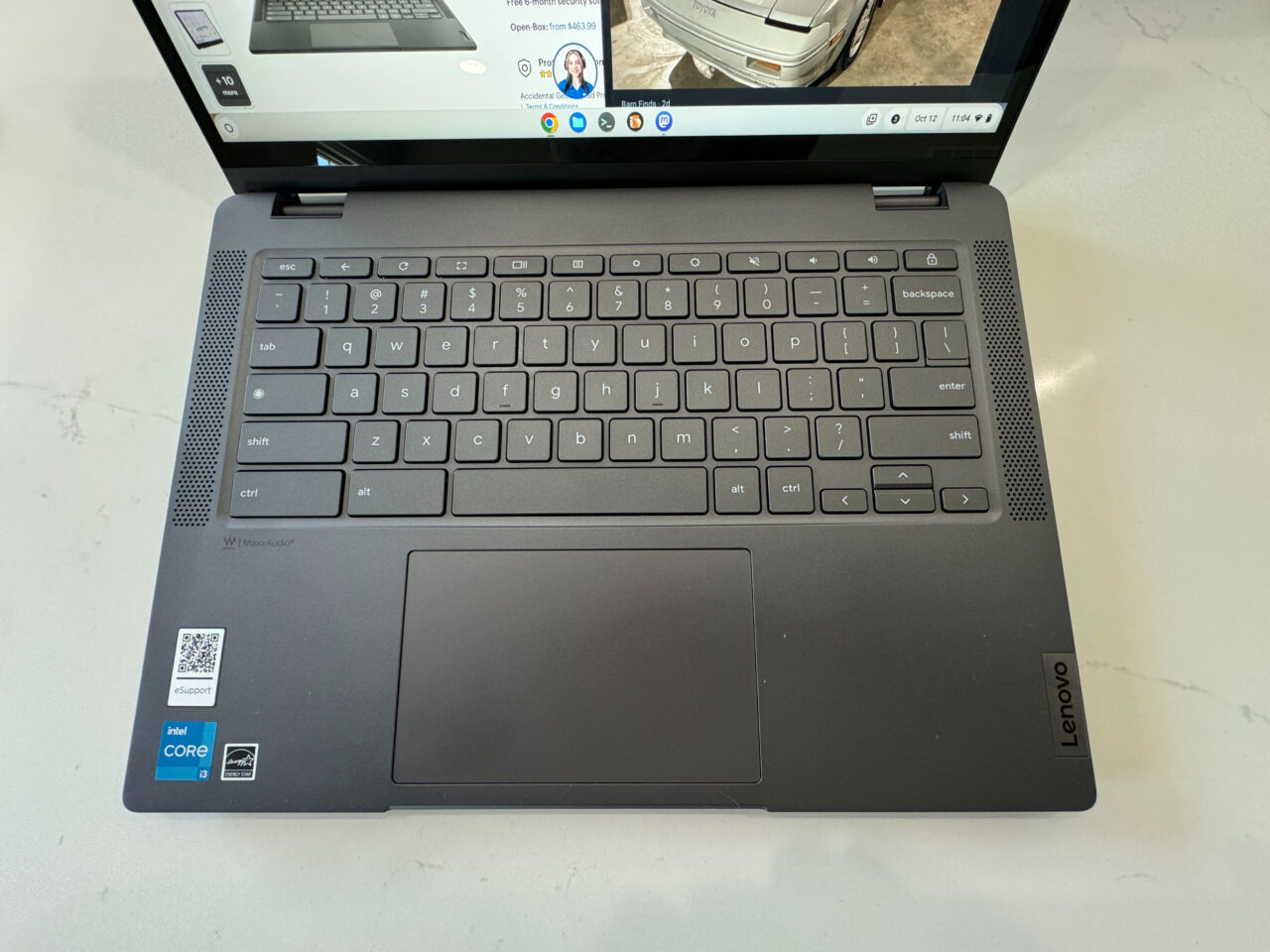 The backlit keyboard is comfortable to use as is the trackpad. I found the default trackpad speed a bit too fast, which is rare for me. Slowing it down one level in the Settings was an easy tweak though. The overall design is pleasing, at least to me, with comfortable rounded corners.
Dare I say it's a more attractive laptop than my Spin 714? I called that Chromebook a bit of an ugly duckling that's a pure workhorse. The Flex 5i is a better-looking, similar-performing workhorse. Again, for less money. No, you don't get the premium design of an HP Elite Dragonfly Chromebook. If you want that, you have to double your spending budget.
The Flex 5i Chromebook Plus also excels in some other areas too. Output from the 1080p webcam with temporal noise reduction is very crisp. Using some of the new video background capabilities is fun but not my cup of tea. However, they work well. Like most new laptops these, days, there is a camera shutter switch for privacy on the Flex 5.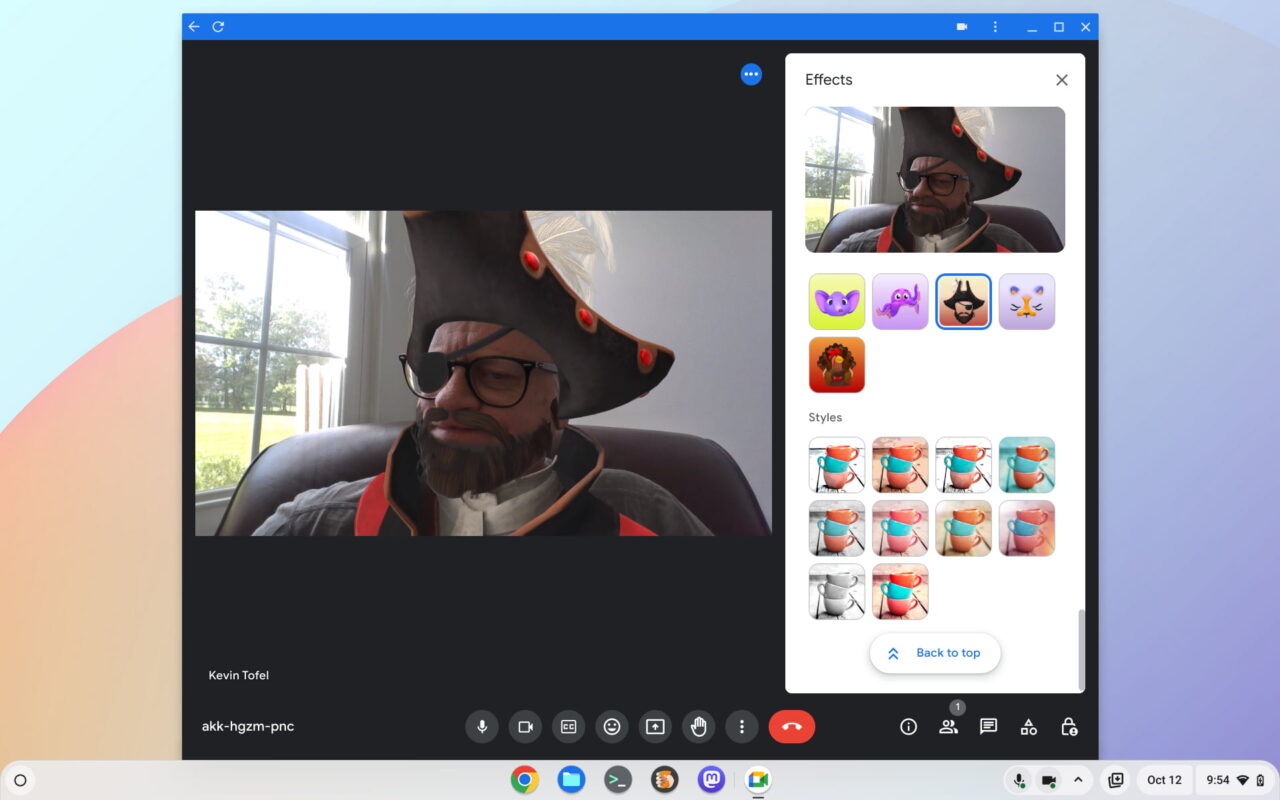 The upward-firing side speakers are above average to my ears, both for spoken voice and watching movies. I did note that I have to have the speaker volume up to around 40 percent before I can actually hear the content. I wonder if the output needs a little tweaking with a software update.
That aside, when paired with the 300 nit, 1920 x 1200 resolution touch screen, I've enjoyed watching videos on this laptop. Viewing angles are good all around. Since this is a Flex model, you can rotate the screen by 360 degrees for various viewing modes. While the Chromebook is compatible with any USI stylus, one isn't included for you note-takers out there.
Using Google's standard battery tests, Lenovo says the Flex 5i Chromebook Plus should run for 10 hours. I didn't achieve that metric in my daily use but I did average between 6.5 and 7.5 hours on most days. More run-time is always better of course. However, I find the battery life to be more than acceptable.
One thing that can hurt battery life on any device is additional background features. That's why I tend to go mean and lean, not using many Chrome extensions. I generally skip screen savers too. But Chromebook Plus devices have new, exclusive screen savers, and I will say they're nice to look at.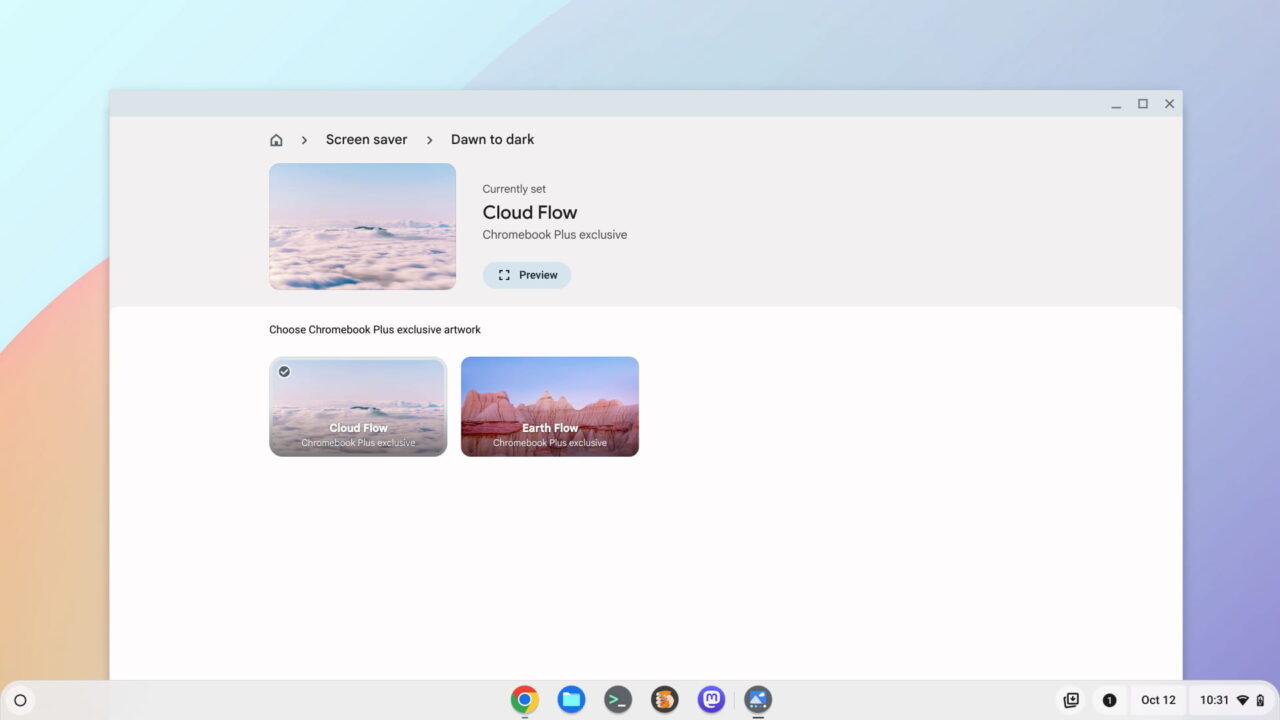 Both the Cloud Flow and Earth Flow screen savers are animated, giving a bit more life to the display. I'd rather look out a window to see moving clouds if it saves me battery life though.
My own personal preferences aside, the Lenovo Flex 5i Chromebook Plus is a superb ChromeOS laptop for $499. It's a big step up from the entry-level Chromebooks in the $250 to $350 range. And it's not too far behind if at all, those priced in the $600 and above range.
Call it a solid mid-range Chromebook with hints of premium features and performance. Looking at it from that perspective, know that you're getting an excellent laptop with the Lenovo IdeaPad Flex 5i Chromebook Plus. Like I said, I'm a ChromeOS power user. And if I can be happy with the Flex 5i for my daily use, most of you probably can be too.