As the first 12th gen Intel Chromebook available, the HP Elite Dragonfly Chromebook sets a high bar. With the excellent build quality and unique features, this ChromeOS laptop is very appealing. I liken it to Apple's MacBook line of laptops: Very nice machines that command a premium price compared to similar competing options. Read on to find out why in my HP Elite Dragonfly Chromebook review.
[saswp-review id="review"]
Internal hardware and HP Elite Dragonfly Chromebook specs
For reference, I'm testing a model of the HP Elite Dragonfly Chromebook provided on loan from HP. This particular configuration isn't available but would cost around $1,400 to $1,500 if HP offered it. I have a full listing of the available configurations and their suggested retail prices here.
Currently, HP is only offering the base model with a $1,149 MSRP, which has a few downgraded components from my review unit. Notably, it uses a Core i3 instead of the Core i5 in my test model. Local storage is half of what the test unit has as well: You'll get 128 GB of SSD. And you don't get the 2256 x 1504 resolution screen with 400 nits of brightness as the model I'm reviewing. You'll have a 1920 x 1280 display with the same brightness. Gone too is the Intel Iris Xe GPU; the base model uses Intel's UHD graphics.
The base model is currently on sale direct from HP for $979.99 if you're interested in it.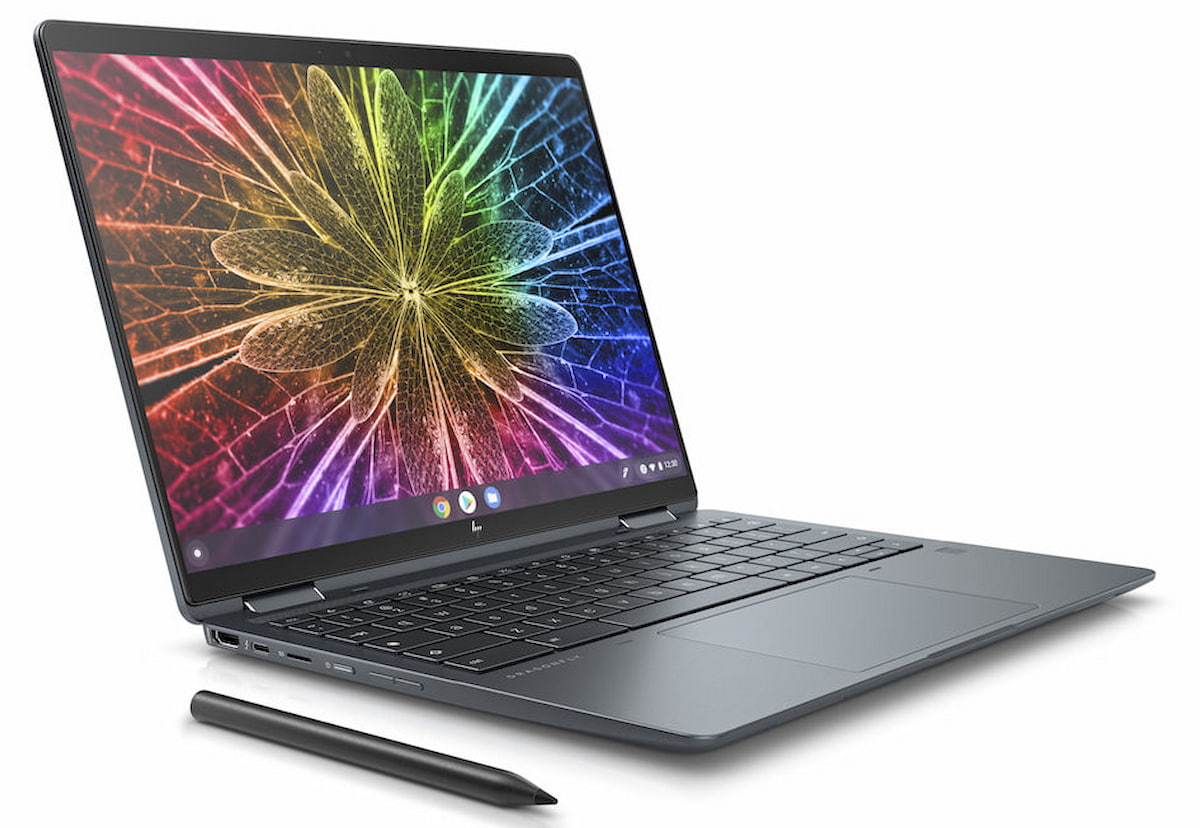 Although I don't have that base model for testing, I'm comfortable saying that you won't give up that much if you choose it. I wouldn't expect there to be a noticeable performance difference for traditional Chromebook usage, for example. And other than the items mentioned above, you're still getting everything else: The same amount of memory, the haptic trackpad, ports, and even the fingerprint sensor are all there.
Having said that, here are the specs of my HP Elite Dragonfly Chromebook review unit:
CPU
10 core (12 threads) Intel Core i5-1245U CPU (3.3 GHz E-cores / 4.4 GHz P-Cores)
GPU
Intel Iris Xe graphics
Display
13.5″, QHD+ (2256 x 1504 resolution), IPS,
400 nits
Memory
8 GB LPDDR4-4266 MHz memory
Storage
256 GB SSD M.2 PCIe NVMe
Connectivity
802.11ax (2×2) WiFi 6, Bluetooth 5.2
Input
Backlit, textured keyboard, haptic trackpad
1080p webcam with privacy shutter, dual-array microphone, fingerprint sensor
Ports
2 USB Type-C 4.0 / Thunderbolt ports, 1 USB Type-A SuperSpeed port,
1 HDMI, microSD card reader,
headphone/microphone combo jack
Battery
4-cell, 50 WHr capacity
Weight
2.8 pounds
Software
ChromeOS automatic updates through June 2030
Enough about the internals. Let's turn to the outside of the HP Elite Dragonfly Chromebook.
Fantastic design, materials, and quality
When I first unboxed the HP Elite Dragonfly Chromebook review unit, my mind immediately thought of an Apple laptop. And that's not a bad thing unless you don't like Apple's MacBooks.
Visually, the HP has many design similarities and the same premium feel as what Apple offers. The 13.5-inch display has minimal bezels on the side and reasonably small ones on the screen's top and bottom. There's a generously-sized trackpad, which (like Apple) uses haptics. This thin Chromebook weighs a low 2.8 pounds thanks to the premium materials used: HP says it's a magnesium alloy.
My first impressions still hold true. Build quality is impeccable on my HP Elite Dragonfly Chromebook review unit as well. Everything is where you'd expect or want it to be as well. There's a fingerprint sensor to the right of the haptic trackpad. Top-firing speakers are above the keyboard at the top of the chassis and there are two front-firing ones closest to you. If you get the option HP stylus, it magnetically attaches to the right side of the chassis. It's secure, out of the way, and wirelessly charges there as well.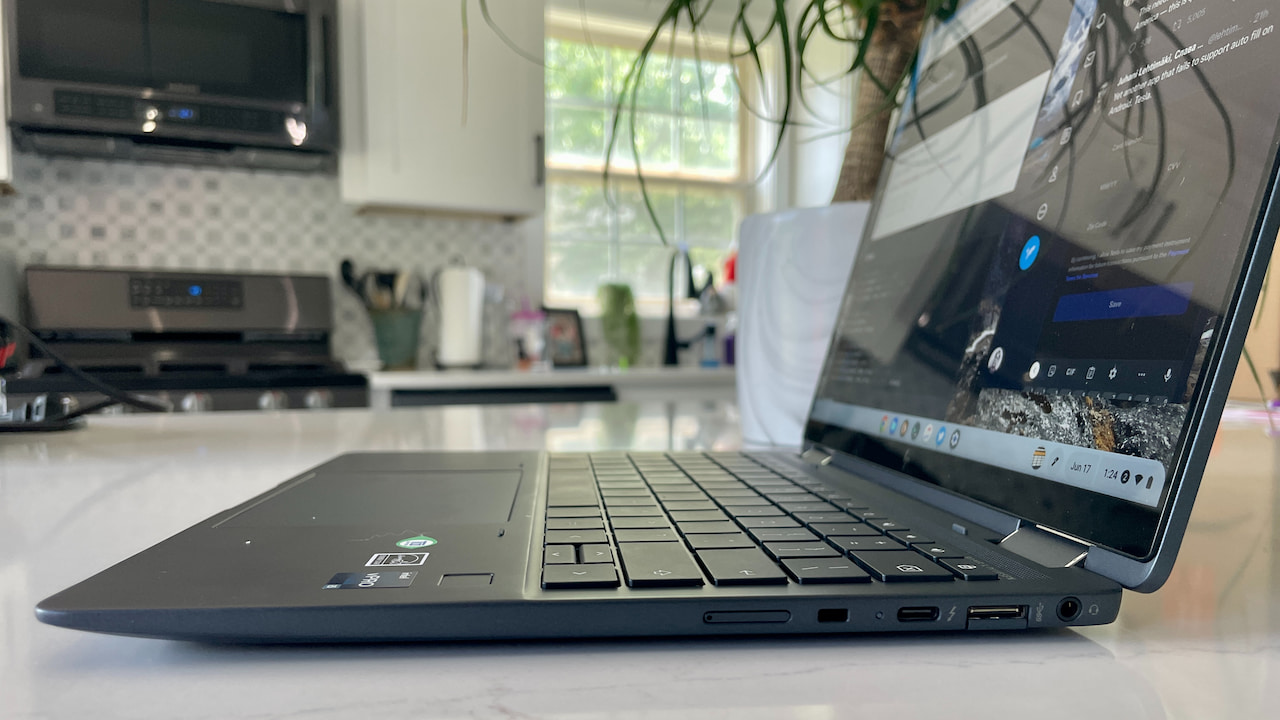 Unlike Apple's laptops, you've got a wide range of ports on both sides of the chassis. A USB Type-C 4 / Thunderbolt 4 on each side, for example. HDMI output on the left and USB Type-A on the right. Plus a microSD card slot and, on my review unit, an optional SIM card slot for LTE support.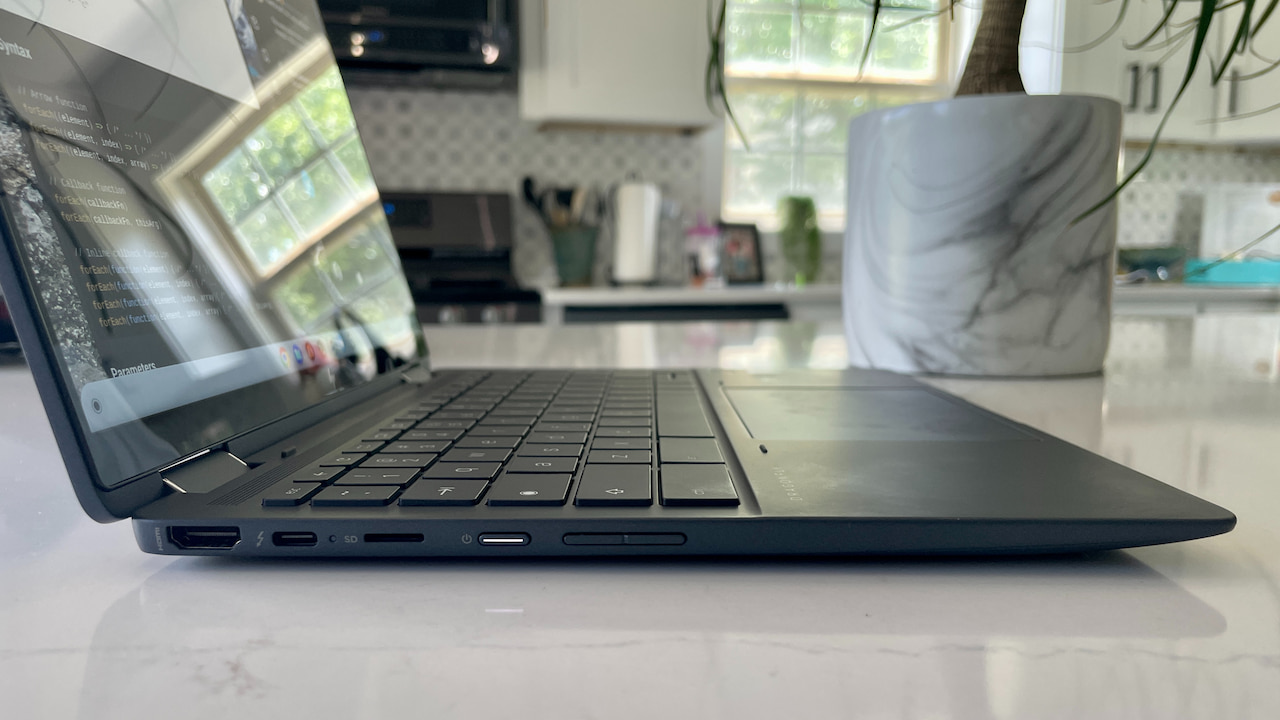 There are air intake grilles under the HP Elite Dragonfly Chromebook. Given that every configuration uses a 12th gen Intel U-series processor, they all need a fan to move heat from the CPU. And yes, you will hear that fan running. In my usage, however, I hear it less often than I do on my 8th gen Intel Core i5 Chromebook from 2018. When it does run, it's also quieter than on my daily driver.
HP Elite Dragonfly Chromebook performance is excellent
Clearly, anytime you move up a processor generation, you'd expect a performance boost. And of course, there is one.
The performance jump from my 2018 Chromebook with Core i5 and 16 GB of RAM can easily be seen. That ol' Acer Chromebook Spin 13 has served me very well but its age is becoming apparent. By comparison, I can see the clear performance gains in the HP Elite Dragonfly Chromebook. And having tested several 11th gen Intel Chromebooks recently, I can see it there too. Just not as much.
I'll share some synthetic benchmarks to illustrate and then discuss how the HP Elite Dragonfly Chromebook performs for my tasks.
Test
HP Elite Dragonfly
12th gen Core i5
Flip CX3
11th gen Core i7
Flex 5i
11th gen Core i3
IdeaPad 5i
11th gen Pentium
Acer Spin 13
8th gen Core i5
Speedometer 1.0
412
251
311
249.8
179.9
Speedometer 2.0
240
145
176
144.0
99.6
JetStream 2
222.375
141.03
151.88
130.35
94.436
Basemark 3.0
1,387.51
1,161.99
1,179.9
1,032.8
594.18
Octane 2.0
77,747
38,880
55,360
47,152
35,116
Higher numbers are better
As you can guess by the benchmark results, I've never seen a more capable ChromeOS laptop than the HP Elite Dragonfly Chromebook when it comes to raw performance.
The results bear out in my typical usage, which is comprised mainly of general web work with up to two dozen open browser tabs, Linux apps for programming, the occasional Android app, plus some online video watching and video conferencing.
Even with 8 GB of memory instead of my preferred 16 GB, this Chrome OS laptop is more than capable of my daily workload. In fact, it performs so well, that I'm thinking that I can make do with an 8 GB RAM configuration for my own next purchase. I've shied away from that in the past because I typically have at least one Linux app running all day. It's VS Code if you're curious.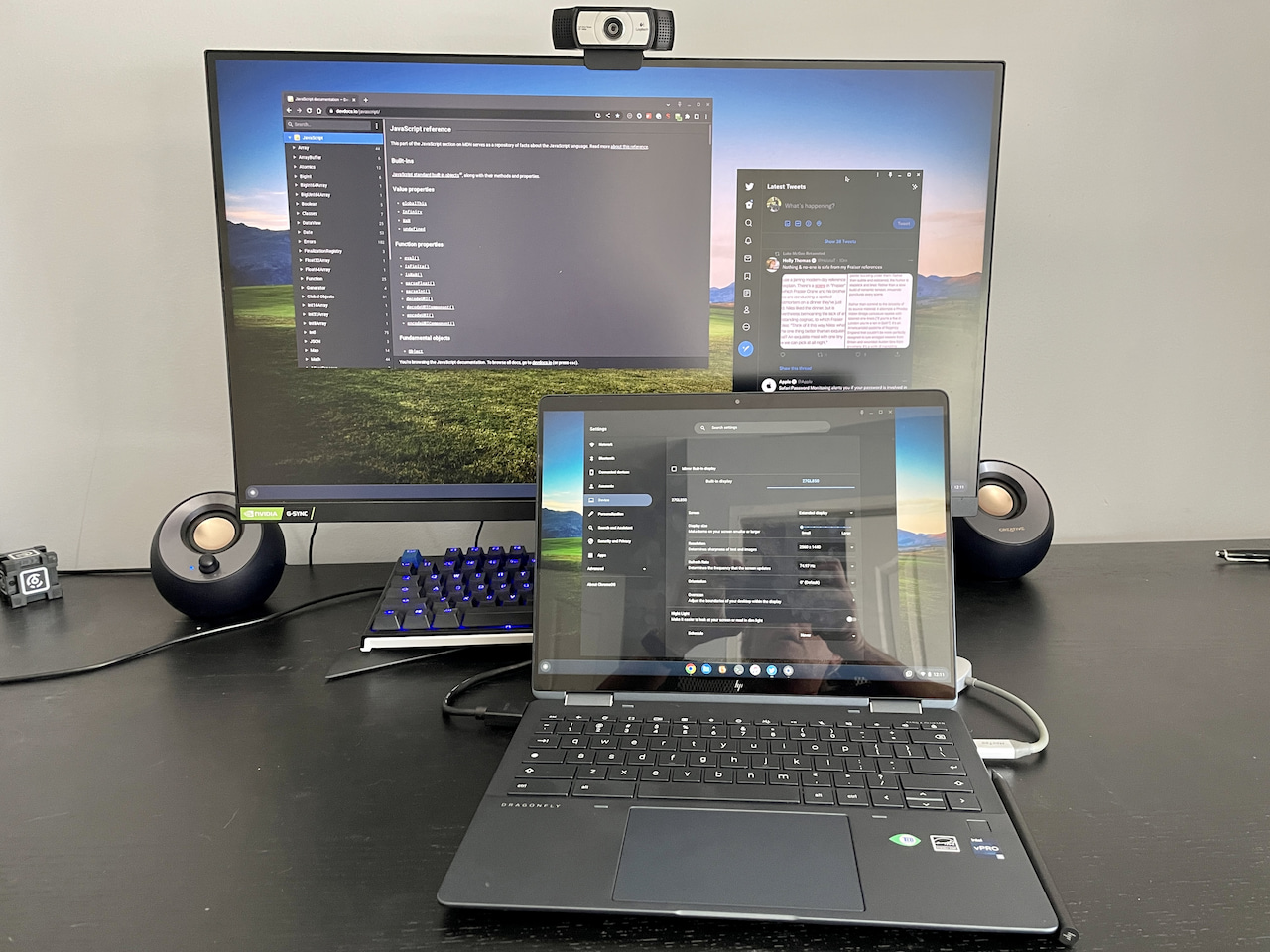 Simply put, every activity happens instantly. Whether it's opening or running a web app, it just happens. Firing up a Linux app when the Linux container is running? It might take two seconds if that. Switching between Virtual Desks or jumping into Overview mode to split two active windows across the screen? Nary a lag.
It's definitely a big step up from my everyday Chromebook that's now four years old. Maybe two steps. It's more like a half-step up from a comparable 11th gen Core processor, however. So unless you have money to burn, I don't think I'd upgrade from a recent 11th gen Chromebook.
Other experiences with this ChromeOS laptop
I wanted to mention a few other specific aspects about the HP Elite Dragonfly Chromebook, so here are they are in no particular order.
I've seen more vibrant displays on other Chromebooks, such as the Acer Chromebook Duet 5, which has an OLED screen. Even so, the color saturation, viewing angles, and brightness is better than average on the HP.
Speaking of displays, I tested my 1440p, 144Mhz external monitor with the HP. Over HDMI, it had no issues displaying the full 2560 x 1440 screen resolution at 75 frames per second.
It's nice to have a Chromebook with a 1080p webcam. I wouldn't say the visual output is stellar, but you can see the higher quality image it captures compared to most Chromebook webcams.
Participants on video calls said the microphone input was good but not great. It's surely good enough for this activity.
The B&O tuned speakers get fairly loud for a laptop of this size. The bass is a little light. However, I enjoyed watching movies and appreciate the two front-firing speakers that help with stereo separation and front-to-back sounds.
The fingerprint sensor has worked without fail.
Battery life is decent. There were days when I was really pushing this Chromebook with many activities and a high brightness level on the display. On those days, the battery was good for around 6 hours. Most of my normal days with everyday tasks saw the battery last closer to 8 hours. You might be able to eke out 9 hours. However, the HP Elite Dragonfly Chromebook does recharge relatively quickly. I'd probably carry the USB charger with me when leaving home.
I like the typing experience of the keyboard. There's plenty of travel and feedback. And I'm a huge fan of haptic trackpads, having used them on other Apple laptops. The trackpad doesn't move; instead, it provides small vibrations for your clicks and when you move windows offscreen or navigate to a virtual desk. I didn't think HP could meet the Apple experience on this. I was wrong.
A stylus was included with my HP Elite Dragonfly Chromebook review unit and it works well in general. It's not going to fix notetaking software that's not up to snuff, but with the right app, it's great.
Should you buy the HP Elite Dragonfly Chromebook?
Let's be frank. I thought this device could potentially be the best Chromebook of 2022. And as of now, it is. HP has delivered on its implicit promise of a superb, high-end, no-compromise ChromeOS laptop. That comes, however, with a cost.
As I recently noted in my 12th gen Intel Chromebook comparison, there are similar offerings from other brands that have lower suggested retail prices. Like, a lot lower, given the starting price begins at $649. And I haven't had a chance to test those models from Acer, Asus, and Lenovo. So I can't say with certainty that you're getting more, at least from a performance standpoint, with the HP.
However, if you have to have all of the features that are found only in the HP Elite Dragonfly Chromebook and both your use case and your wallet fit it, you'll be happy with the purchase.
I'm still leaning towards seeing how the Acer Chromebook Spin 714 pans out at $749. No, there's no haptic trackpad but the stylus is included and the base model has a higher-powered Core i5 than the base HP model. The displays are similar although Acer is using a dimmer 320 nit panel, which I can live with. The materials, design and build quality may not quite be on par with HPs but for me, I'm not sure those are worth the premium price difference.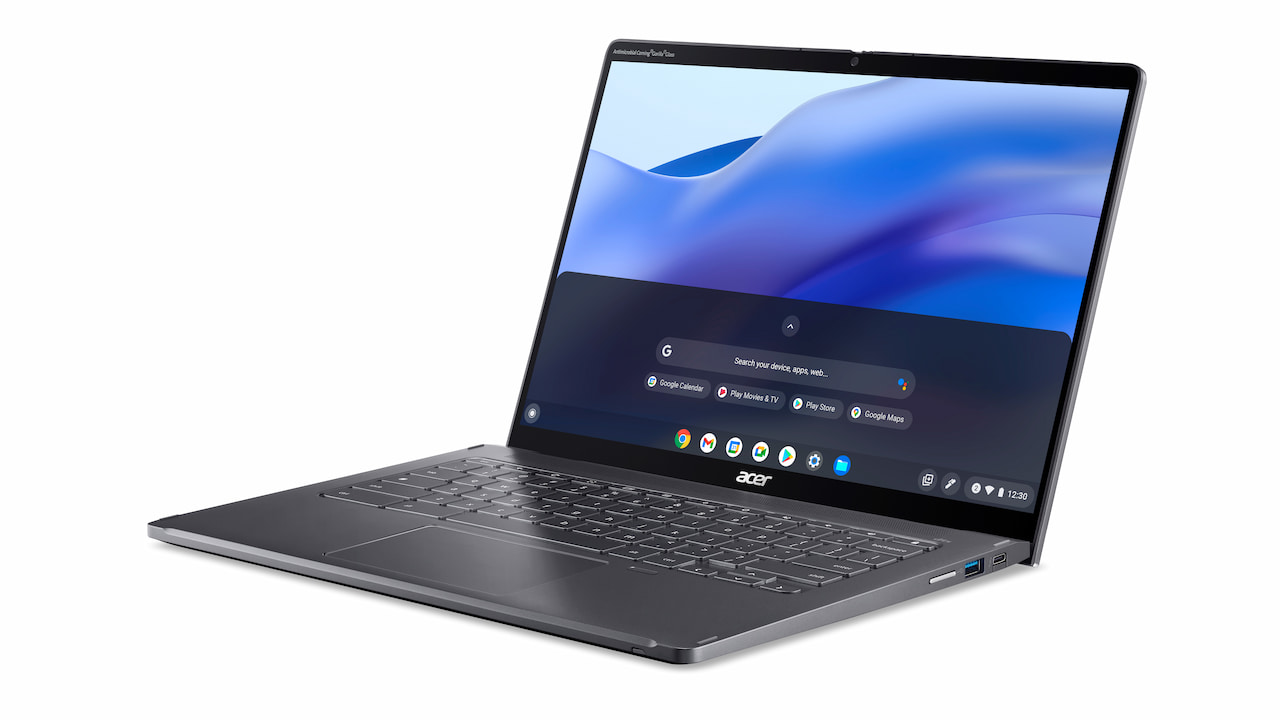 And that gets me back to my original thought.
I look at the HP Elite Dragonfly Chromebook and see the Apple business model. Use great design and quality to command a premium price over similarly configured laptops that cost hundreds of dollars less. If you're OK with or want that, the HP Elite Dragonfly Chromebook fits the bill. In the end, I may purchase this device. For now, I'm going to wait and see how the competition stacks up.
About the author
Kevin C. Tofel has covered technology since 2004. He's used ChromeOS since Google debuted the CR-48 in 2010, reviewing dozens of Chromebooks since then. He worked for Google's Chrome Enterprise team from 2016 to 2017, supporting the launch of Android app support. In his free time, he uses Chromebooks to learn software engineering at
Launch School
. In 2019, Kevin joined the CS Curriculum Committee at his local community college.
Liked this content? Subscribe for the free, weekly newsletter