The 2022 Consumer Electronics Show doors haven't opened yet and already there's some interesting news to share. The Acer Chromebox CXI5 and a 24-inch companion monitor to dock the desktop called the Add-In-One debuted on Tuesday. The new Chromebox will come with up to a 12th gen Intel Core i7 processor and can support up to four external displays. With a modular approach, the two products offer more flexibility than a traditional Chromebase.
Acer Chromebox CXI5: Powerful potential
As far as ChromeOS desktops go, the Acer Chromebox CXI5 is what you'd expect to launch in 2023. Like the Lenovo ThinkCenter M60q Chromebox, it has the latest Intel processors available.
All models have Wi-Fi 6E, 2.5Gbps ethernet support and a slew of input/output options. There are four USB Type-A 3.2 ports and a pair of USB Type-C ports. These are USB 4.0, so data transfers can approach 40 Gbps. They also support external monitors. Two HDMI 2.1 output jacks add up to two more screens.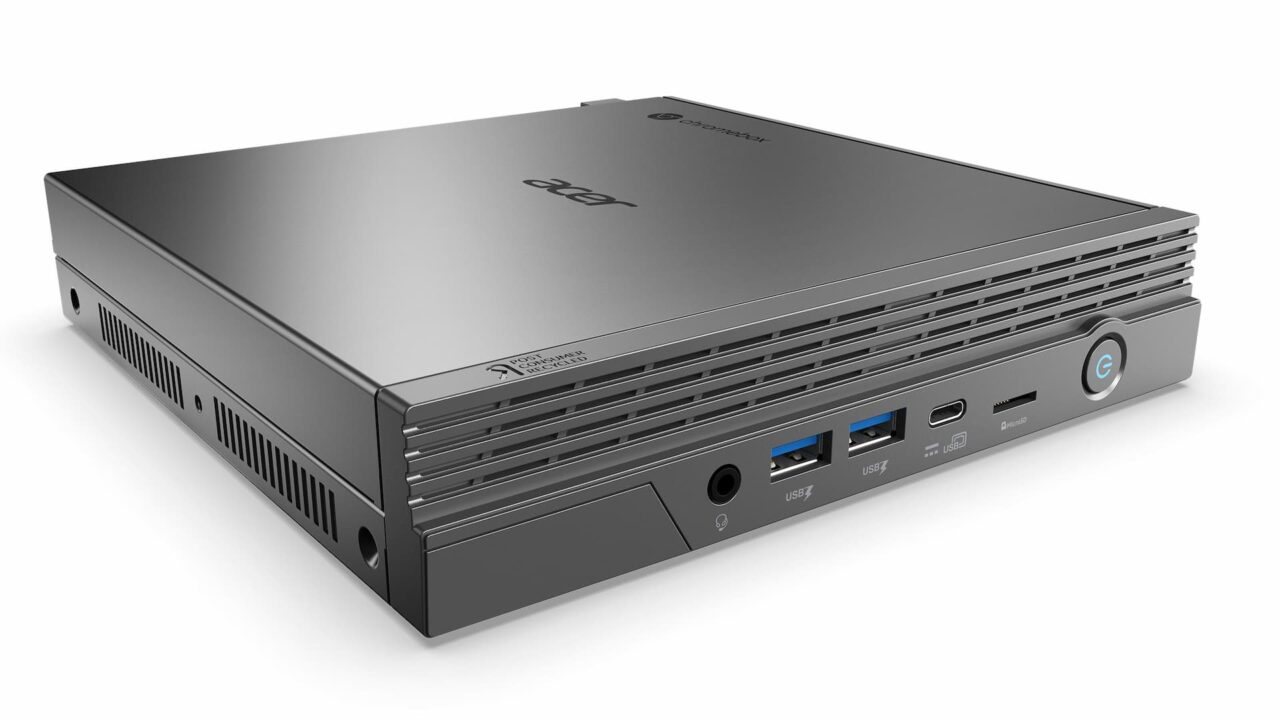 For the workplace, there will be an Acer Enterprise Chromebox CXI5, which includes a Chrome Enterprise license. Prices will range on the internal configuration with a starting price of $289.99 in the U.S. and 349 Euros in EMEA markets.
Given that the official specs start with an Intel Celeron 7305 and a scant 32 GB of storage, that's the likely configuration for the sub-$300 model.
My hope is that all of the configuration options below are eventually offered because you can get a pretty powerful Chromebox with some of these choices.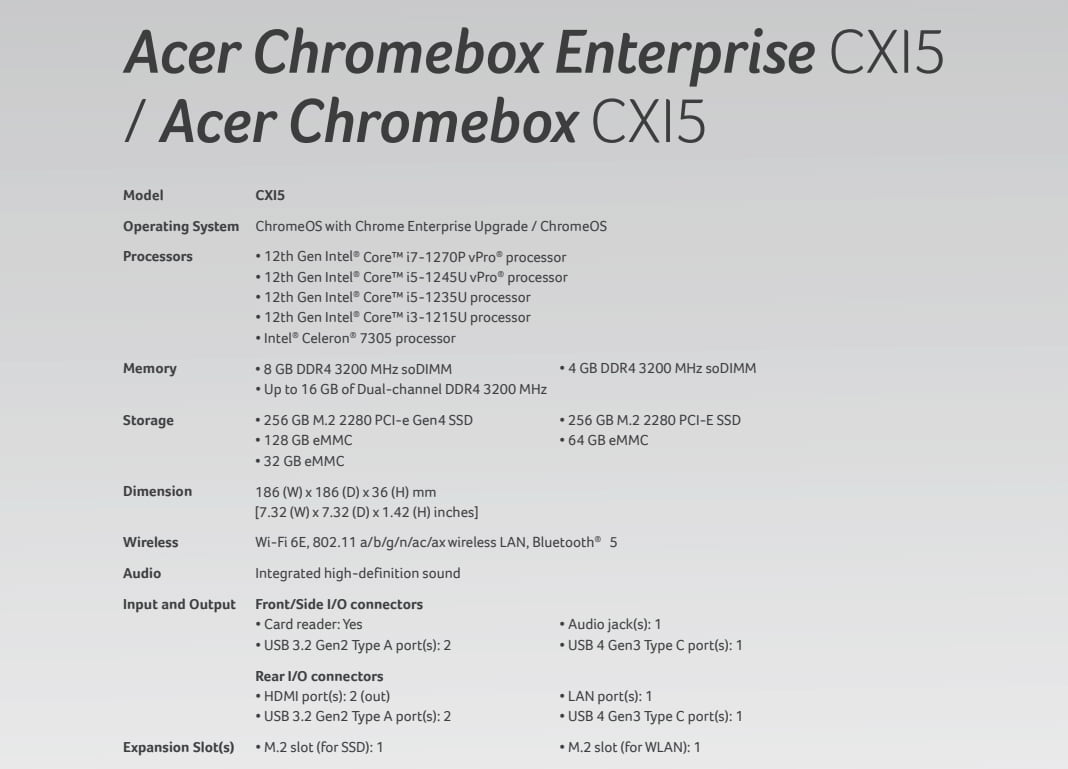 Look for Acer Chromebox CXI5 sometime in the first quarter of 2023 in the U.S. and in March for EMEA regions.
Acer Add-In-One 24: Smarter than a Chromebase
A little more interesting to me is the Acer Add-In-One 24. Rather than build a Chromebase that houses its components inside, the Add-In-One 24 is, to me, a smarter solution. This modular monitor accepts the Chromebox CXI5 in a mount behind the display.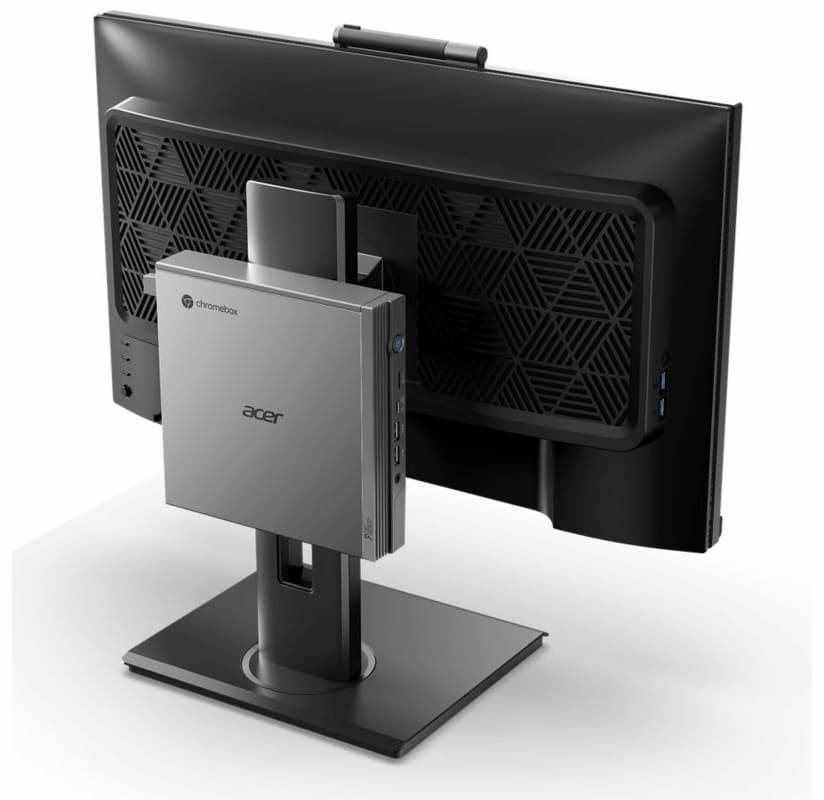 This turns the Add-In-One 24 into an all in one of sorts. And presumably, you can upgrade to future Acer Chromebox models with a VESA mount.
Acer's Add-In-One 24 uses a 24-inch, IPS panel with 1920 x 1080 resolution and touch options available. A 5 megapixel, wide-angle camera is integrated into the top along with a privacy shutter. Dual array microphones and speakers round out the package for those video calls.
The Acer Add-In-One 24 includes a Chromebox CXI5 and starts at $609.99 when it arrives in the U.S. this quarter. EMEA regions will see this product available in March, starting at 799.99 Euros. Again, at those prices, I expect the Chromebox will be more entry-level than mid-range.
About the author
Kevin C. Tofel has covered technology since 2004. He's used ChromeOS since Google debuted the CR-48 in 2010, reviewing dozens of Chromebooks since then. He worked for Google's Chrome Enterprise team from 2016 to 2017, supporting the launch of Android app support. In his free time, he uses Chromebooks to learn software engineering at
Launch School
. In 2019, Kevin joined the CS Curriculum Committee at his local community college.
Liked this content? Subscribe for the free, weekly newsletter