Asus Chromebook Flip CX3 review: Not the Core i7 laptop you were looking for
I've used the $979 Asus Chromebook Flip CX3 as a daily driver for several weeks. And in that time, I've been confounded by the device. Not the build quality, design, or other physical aspects. They're mostly good, save for at least two design choices that miss the mark. I'm confused by the performance. After all, this is nearly a $1,000 Chromebook with an 11th-generation Intel Core i7, 16 GB of memory, and a 512 GB SSD. So why doesn't the performance reflect that? I explain in my Asus Chromebook Flip CX3 review.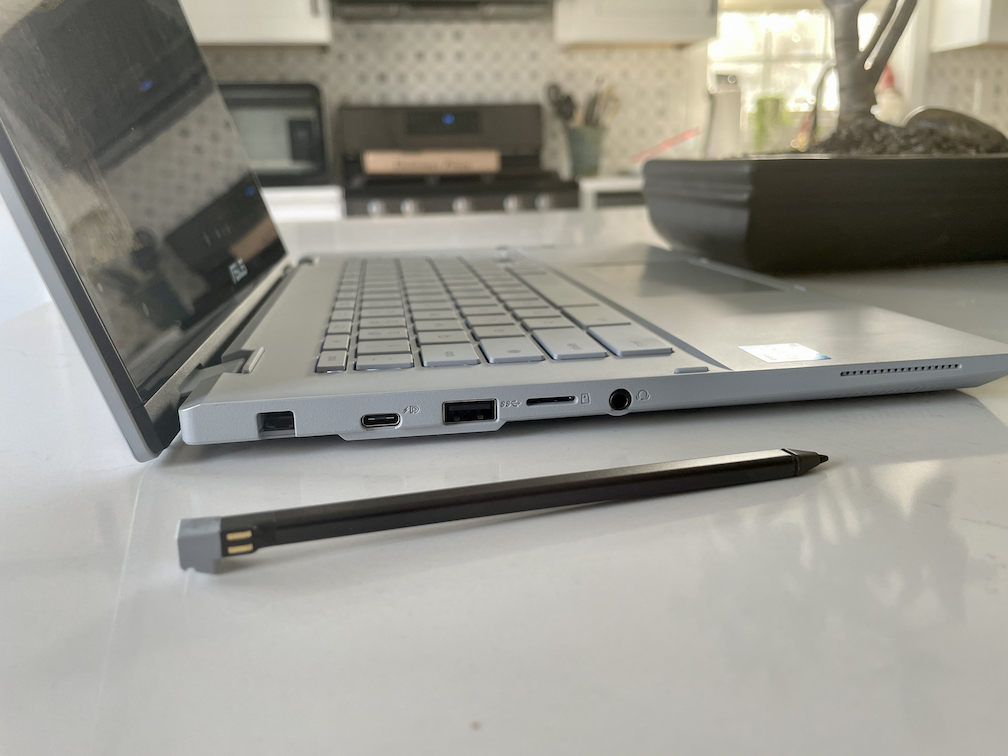 Let's tackle that first by looking at the specs and following up with benchmarks, comparisons, and the performance experience.
Asus Chromebook Flip CX3 specifications and hardware
As you can guess by the price and the fact that I mentioned the key hardware components above, you're getting a high-end model here. And although the specs don't tell the full story, here they are:
CPU
Four-core (eight-threads) Intel Core i7-1160G7 CPU (1.2 GHz / 4.4 GHz)
GPU
Intel Integrated Iris Xe Graphics
Display
14-inch IPS 1920 x 1080 touch display with USI stylus support, glossy finish,
16:9 aspect ratio, 250 nits brightness, NTSC gamut: 45%
Memory
16 GB DDR4x MHz memory
Storage
512GB SSD M.2 PCIe 3.0×4 NVMe,
microSD card slot for expansion
Connectivity
802.11ax (2×2) WiFi 6, Bluetooth 5.2
Input
Backlit keyboard with 1.5mm travel, muli-touch trackpad,
720p webcam with physical privacy shutter, 5 MP world-view camera,
garaged USI stylus
Ports
2 USB Type-A 3.2 (Gen 1), 2 USB Type-C 3.2 (Gen 1)
supporting power delivery, data, and DisplayPort,
headphone/microphone combo jack
Battery
50 WHr, expected run-time up to 11 hours
Weight
3.64 pounds
Software
Chrome OS automatic updates through June 2029
Frankly, this sounds like a developer's dream Chromebook or a convertible that any Chrome OS power user would love to have. And overall, I'd agree.
However, there's a key concession you make and it has to do with the processor as not all Core i7 chips are alike.
The one inside the Asus Chromebook Flip CX3 is the Intel Core i7-1160G7, which I discovered last June. It's part of the low-power UP4 architecture Intel is using to deliver faster processors with more cores in a fanless chipset. And that's the concession: Because there's no fan, you get a silent experience. So yay! However, this processor is limited in terms of how long it can run at a higher clock speed, due to heat.
For reference, here's the chart of Intel UP4 processors I shared in June:

You can see that the second Core i7 is what's inside the CX3. And in regular usage, the system keeps the clocks around 1.2 GHz, which is the speed that chrome://system data shows me on this device. Yes, all of the cores can boost up to 2.1 GHz when needed, while one of the four cores can jump to 4.4 GHz. However, that's always dependent on the processor's heat at the time.
For example, I ran the native CPU Stress Test in the Chrome OS diagnostics app. At least 90% of the time, the CPU speed was under 2.0 GHz and mostly around the 1 to 1.2 GHz mark. A few times near the end of the test, the CPU clock speed hit 2.75 GHz but only for a second or two. And I never saw any clock speeds higher than that.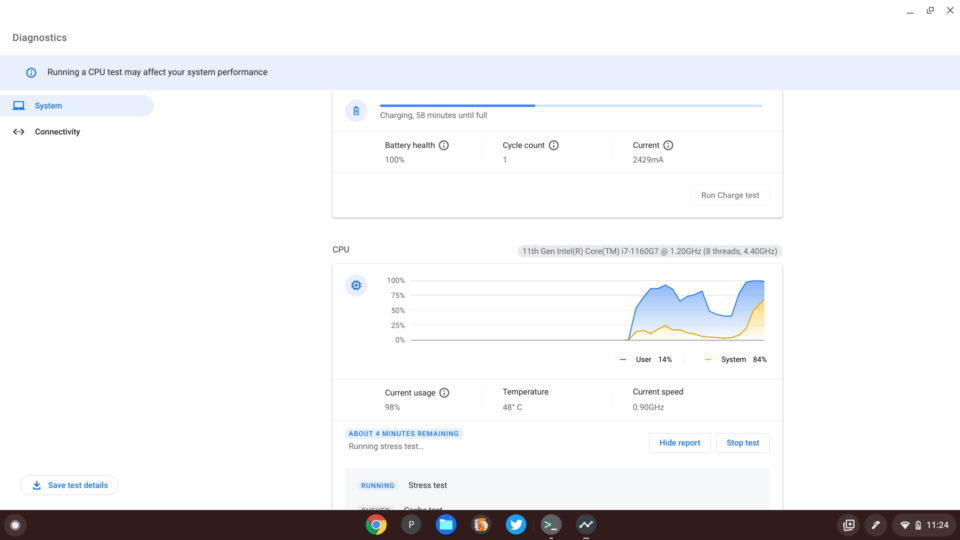 So before even getting to benchmarks and performance, it appears that the Asus Chromebook Flip CX3 is "tuned" to keep temperatures down at the sacrifice of clock speed. Indeed, the processor temperature maxed out at 50 degrees Celsius during the test.
So what does that mean when it comes to performance? Let's look at the artificial benchmarks and then follow up with my usage experience.
Asus Chromebook Flip CX3 benchmarks: OK but lower than expected
Test
Flip CX3
11th-gen Core i7
Flex 5i
11th-gen Core i3
IdeaPad 5i
11th-gen Pentium
Flex 5
10th-gen Core i3
Acer Chromebook Spin 13
8th-gen Core i5
Speedometer 1.0
251
311
249.8
207
179.9
Speedometer 2.0
145
176
144.0
118
99.6
JetStream 2
141.03
151.88
130.35
113.87
94.436
Basemark 3.0
1,161.99
1,179.9
1,032.8
528.1
594.18
Octane 2.0
38,880
55,360
47,152
42,429
35,116
Higher numbers are better
The numbers here tell the story of the chipset limitation. Essentially, I saw higher test results on the Lenovo Chromebook Flex 5i and its 11th-gen Intel Core i3. Even the newest Pentium Gold in the Lenovo IdeaPad 5i turned out quite comparable numbers. And remember, these devices cost between $400 and $500 or so.
Now that isn't to say the Asus Chromebook Flip CX3 is always slower or about the same as those devices. There are times when it was more responsive and generally faster than those less expensive Chromebooks during regular use.
But most of the time? Not so much. Again, it will depend on what you're doing and how warm the processor is. I think the CX3 is helped in this regard by having much more memory to work with and a fast solid-state disk drive. But that's not enough to boost the performance over a laptop with a traditional Core i7.
Don't misunderstand me. I can and did use this Chromebook for everything I normally do.
That includes tons of browsing with many tabs open, the occasional Android app, and a few hours of coding in a Linux environment. Here's the thing though: I can get most of the same experience and performance by spending $400 to $500 less. Or I can save $300 and go with my Chromebook of the year for 2021: The Acer Chromebook Spin 713.
The only "wins" here are a fanless device that's completely silent and a little more battery life than you might expect from a Core i7 Chromebook. Asus claims up to 11 hours of runtime and I routinely got between 9 and 9 and a half. That's nice to have. Again though, with any of the less expensive Chromebooks mentioned above, I can typically get at least 8 hours.
What about the rest of it?
Honestly, everything else is fine. Not $979 fine, but what you'd expect from at least a mid-range Chromebook.
The 14-inch 1080p touch display has decent color reproduction but nothing to write home about. Viewing angles are great. Brightness at 250 nits is average. The webcam and speakers are average and above average respectively. And there's a lot of plastic; again not what you might want to see for the price. The trackpad is a little harder to press than I'm used to, however, that could just be me. The typing experience is really good with long key travel. It's not the best Chromebook keyboard I've used but it's up there.
About those two design misses. One is a big one and one is less so.
The light silver keyboard keys are very hard to read in any lit area. Backlighting them doesn't help; it almost makes it worse. There's just not enough contrast between the key color and letter designation. This isn't the first time Asus made this choice. It didn't work well last time and it still doesn't.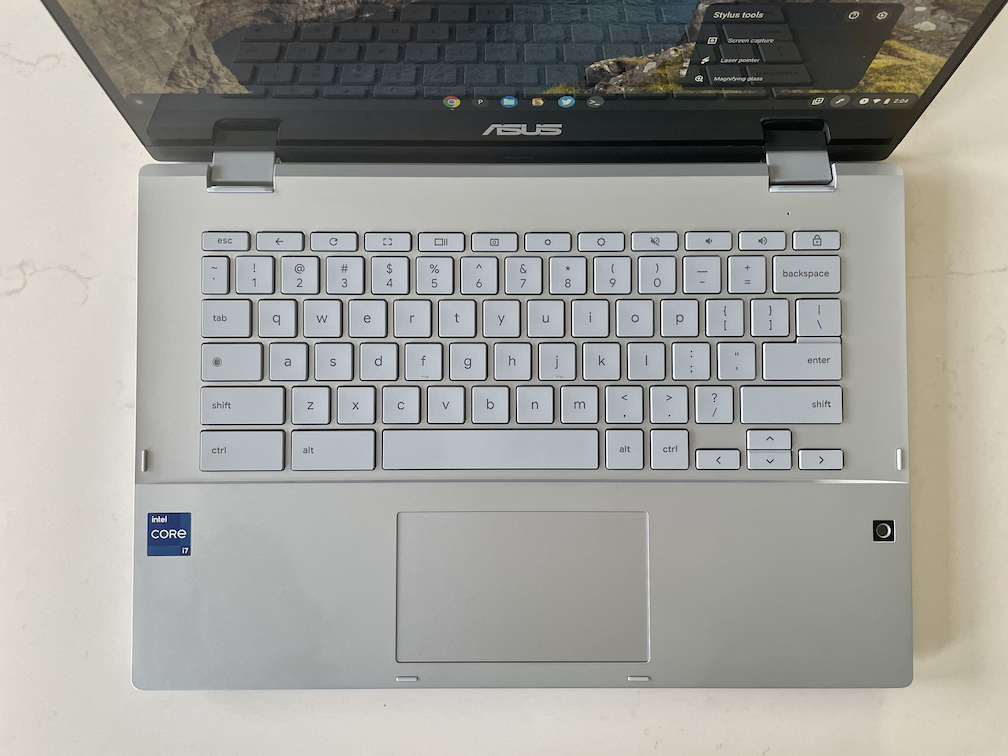 The second issue is the inclusion of a "world-view" camera on the right palm rest. Surely there would be more value to have a fingerprint reader in place of a camera that few people will ever use. If you use these types of cameras: More power to you. But I bet you type a password to log in to your Chromebook far more often than you snap pictures from a keyboard deck.
One very positive aspect is the port selection and placement and another is the inclusion of the garaged USI stylus. You have one USB Type-A and one Type-C on each side of the CX3 chassis. That's handy both for peripherals and for charging.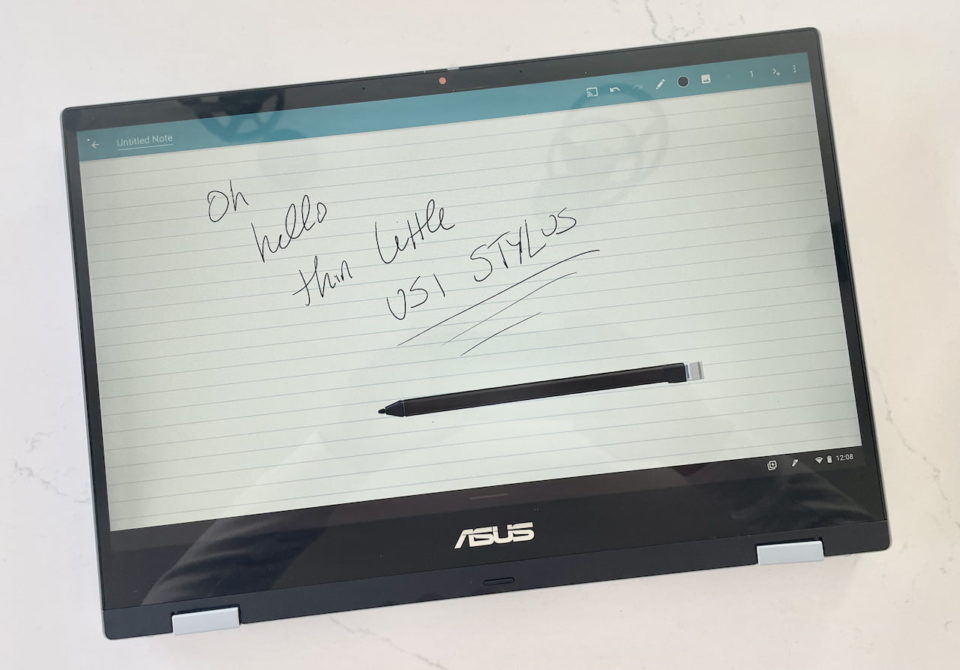 The USB stylus is small and thin but gets the job done. I don't find it any different from other USI pens I've recently tested. Depending on the app you're using, it can be a good or an average experience.
Should you buy the Asus Chromebook Flip CX3?
Unless you fully understand the performance shortcomings of this particular Core i7 and really want a fanless Chromebook experience, I'd say pass. At least at this price.
Personally, I'd have to see a sale that brings the cost down to between $600 and $700 to make the concession. And even then I'd be hesitant because I'll take performance over a moderate amount of fan noise any day. There just isn't enough here to justify the $979 price tag for most people, or for me.