HP Dragonfly Pro Chromebook review: The Pixelbook of 2023?
The HP Dragonfly Pro Chromebook was the star of CES in January. And why not, with its haptic trackpad, brilliant 1200 nit touch display panel, fingerprint sensor and impeccable build quality. But that was a demo unit that we saw. My $999 HP Dragonfly Chromebook review verifies if this device is the real deal as a Pixelbook-like device in 2023 or not. And I try to clarify the mysterious battery life experiences others have had with this Chromebook.
Top-tier specs, design, features and build quality
Let's start by judging this Chromebook by its cover as well as what's inside. I'm not sure I've seen a device built this nicely since either the Google Pixelbook or Pixelbook Go. Yes, I thought last year's HP Elite Dragonfly Chromebook was in this category but it had a different vibe. It reminded me in many ways of an Apple MacBook that just happens to run ChromeOS.
This year, the HP Dragonfly Pro Chromebook has the same quality materials, design and built as last year's Elite Dragonfly. It feels more Pixelbook-like to me. Meaning: It's rather spartan looking but sleek and stylish.
It's available in two colors: black or white; I prefer the former. There's no HDMI port, no USB Type-A ports, no microSD slot, even a microphone jack. Instead you have to live in the future of USB Type-C / Thunderbolt 4 and you have four of those ports to use. It's a forward-thinking approach that not everyone will like. Personally, I do.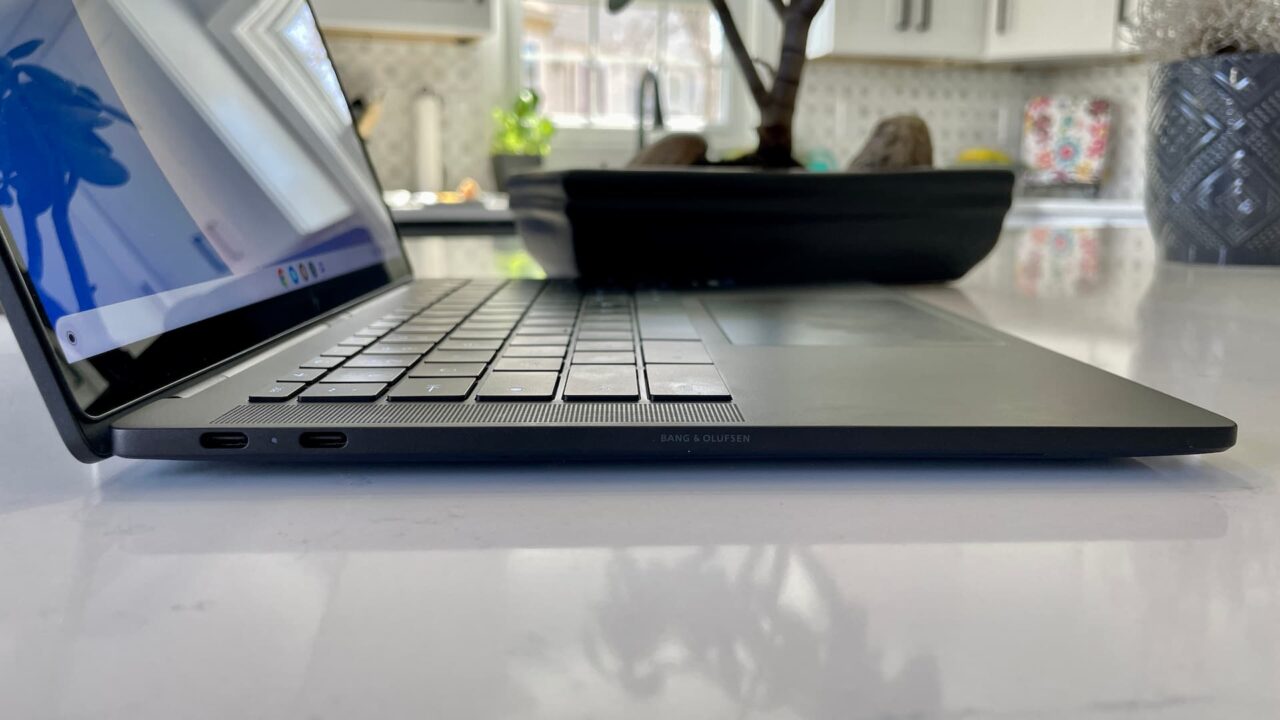 There are both top and side firing speakers, which are among the best I've heard on a Chromebook. Seriously, this is a loud laptop with excellent sound quality. Just at 50% volume, the four speakers are as loud as most other Chromebooks at 100%. And with better audio quality. There's more bass than you'd expect and noticeable stereo separation too. I have thoroughly enjoyed watching movies on this Chromebook.
Colors pop on the IPS display and of course you can really pump the brightness levels up with a 1200 nit touch screen. I do find the screen to have a pinkish tinge compared to some other Chromebooks though. And brightness levels drop off quicker than I expected when viewing the display at an angle.
Images from the 8 megapixel webcam are crisp and the sensor does a decent job at compensating for brightness. It's not the fastest to adjust to changing lighting conditions. However, it's still good based on photos I've taken and various video calls.
The fingerprint sensor is on the keyboard itself and works excellent. And that keyboard: It's really, really good. Not to beat a dead horse on the theme, but it's Pixelbook good.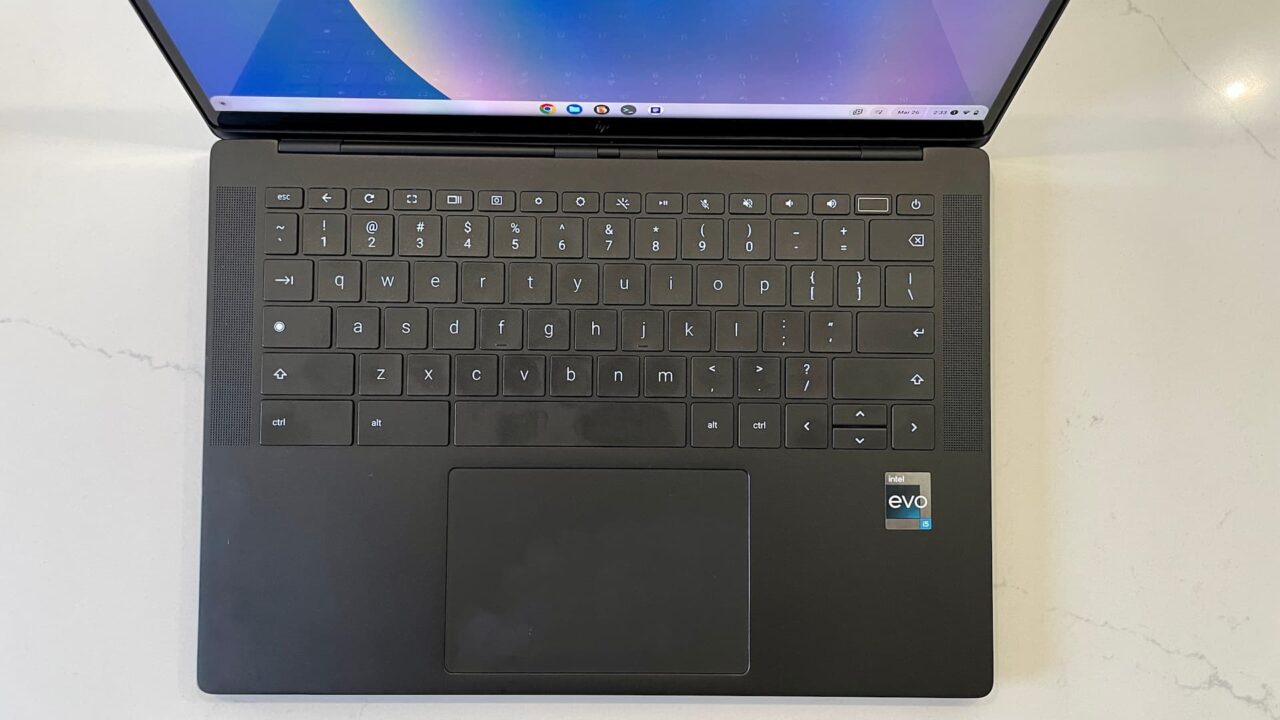 Typing is comfortable with great feedback and travel for a chiclet-style input. Best of all, there is zero light bleed from the backlit keys, which are RGB with some customization options. Personally, I can't stand seeing light bleed from under the front of backlit keys. No such problem here. The colors also change based on your Chromebook wallpaper, which is slick. Of course, you can choose from a select number of RGB color scenes as well.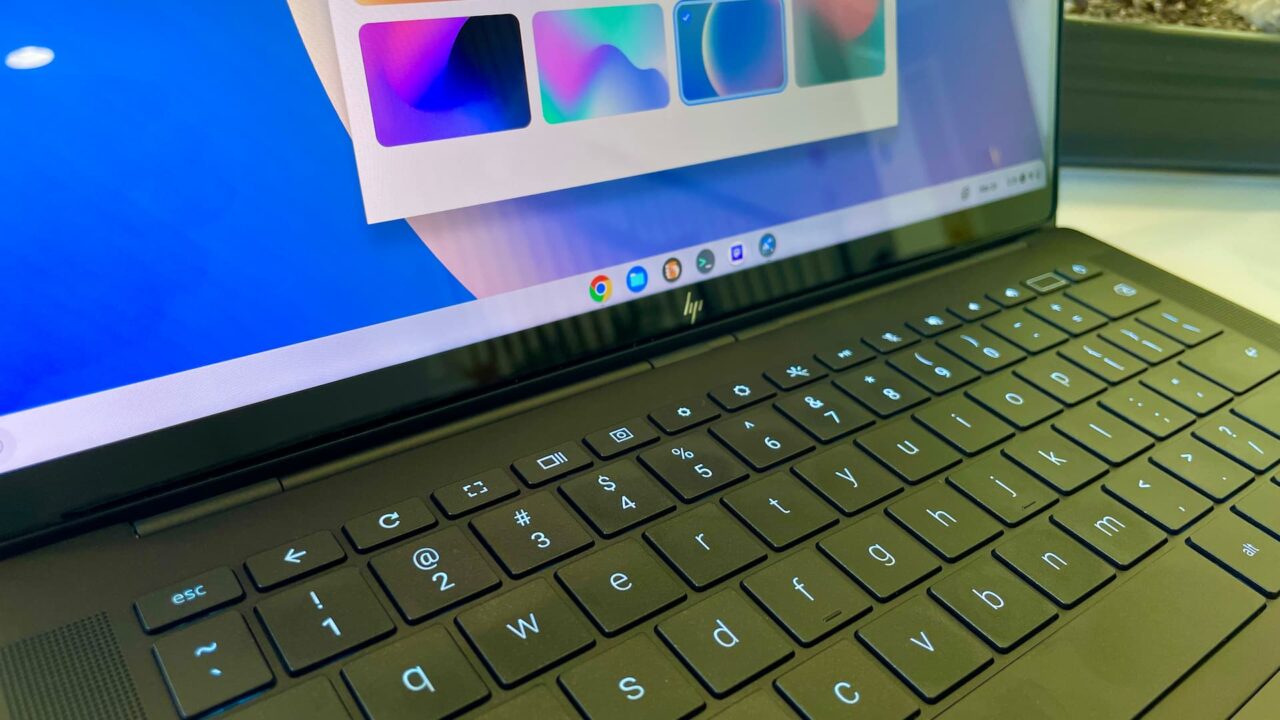 The haptic trackpad also returns to this year's model and it's just as good. Plenty big enough and super responsive. First timers might find a haptic trackpad to feel odd, of course. Trust me, you'll get used to it and I doubt you'll want to ever use a mechanical trackpad again.
One last bit about the topic of a premium experience. HP includes a very speedy 96W charger and a 6-foot (1.83 meter) braided USB cable with the Dragonfly Pro. A nice touch that I appreciate. That charger pumps enough juice to go from 0 to 50% battery in 30 minutes.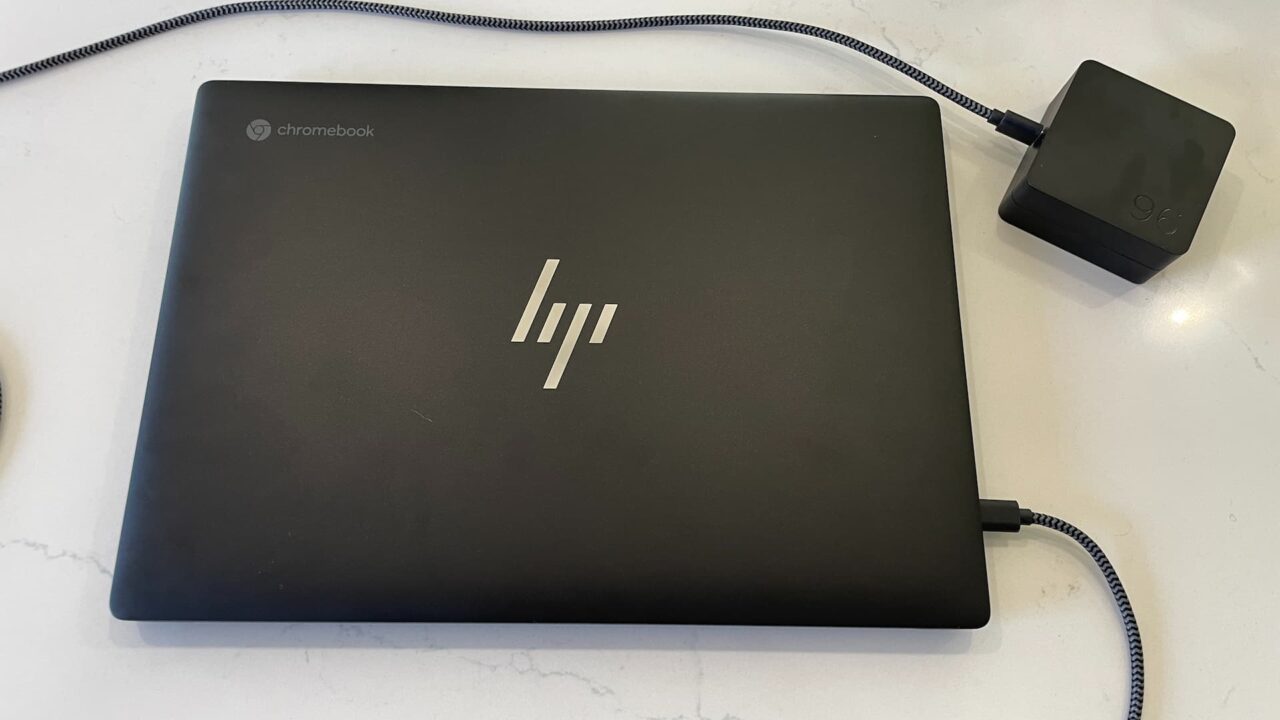 Here's a full rundown of the HP Dragonfly Pro Chromebook specs to both recap what I've mentioned and note anything I didn't:
CPU
12th-gen Intel Core i5-1235U Processor, up to 4.4 GHz,
10 cores / 12 threads
GPU
Intel Iris Xe
Display
14-inch IPS 2560 x 1600 display, 16:10 aspect ratio,
1200 nits brightness, 100% sRGB color gamut
Memory
16 GB LPDDR5-5200 MHz
Storage
256 GB NVMe M.2 storage
Connectivity
802.11ax (2×2) WiFi 6E, Bluetooth 5.3
Input
Backlit RGB keyboard, multitouch trackpad, built-in USI stylus
1080p (8MP) FHD RGB webcam, dual-array microphones,
fingerprint sensor
Ports
4 Thunderbolt 4 with USB Type-C (40 Gbps data rate (USB Power Delivery,
DisplayPort 1.4, HP Sleep and Charge)
Battery
51.3 Wh battery,
claimed run-time up to 11.5 hours
Weight
3.33 pounds / 1.51 kilograms
Software
Chrome OS automatic updates through June 2030
Note that not mentioned is cellular connectivity. That's because even though my review unit has a 5G radio and eSIM, the models sold at launch will not have this hardware. HP says it's considering a 5G connectivity option for possible release later this year.
HP Dragonfly Pro Chromebook performance is right where it should be
HP chose the same 12th gen Intel Core i5-1235U chipset for the Dragonfly Pro as what's in my daily driver, the Acer Chromebook Spin 714. So, I fully expected the performance to be nearly identical. It is in my everyday usage, which is to say, it's a fast device. Artificial benchmarks back that up as well, showing performance gains over the more power-hungry Core i5-1240P inside the Framework Chromebook.
Test
HP Dragonfly Pro Chromebook
12th gen Core i5
Acer Chromebook Spin 714
12th gen Core i5
HP Elite Dragonfly Chromebook
12th gen Core i5
Framework Chromebook
12th gen Core i5
Speedometer 1.0
484
475
412
453
Speedometer 2.0
282
280
240
253
JetStream 2
247.095
243.476
222.375
234.963
Basemark 3.0
1,449.34
1,406.87
1,387.51
962.94*
Octane 2.0
83,673
82,946
77,747
81,682
* Unknown anomaly
Higher numbers are better
Just like with my Spin 714, there's no sense of UI or application lag. No lengthy waits for web pages to render or web apps to run. Even my Linux desktop apps run neck and neck between the HP and the Acer. As they should.
Frankly, you really can't get a higher performance Chromebook out there than any of the 12th gen Intel Core i5 Chromebooks from HP, Lenovo, Acer, Asus or Framework right now. Sure, there might be some slight performance differences but I'd say you won't notice them. So HP has delivered on the same top-performing experience we've seen with this cycle of CPUs and GPUs.
It doesn't hurt that the HP Dragonfly Pro Chromebook comes with 16 GB of memory standard either. It's fast DDR5 memory as well, and that's not inexpensive these days. Those other models generally have 8 GB of slower DDR4 RAM, which helps cut their cost. But I prefer having 16 GB because I can practically have as many active browser tabs open as I like. You want 50 tabs? Go for it with the HP.
Oh, I almost forgot that this Chromebook does have a fan. In my defense, that's because I haven't heard it run that much. And when it has, it's not obnoxiously loud like some other older Chromebooks. Even better, the fan intake isn't on the bottom of the chassis. So using this laptop on your… you know… lap, won't impede airflow.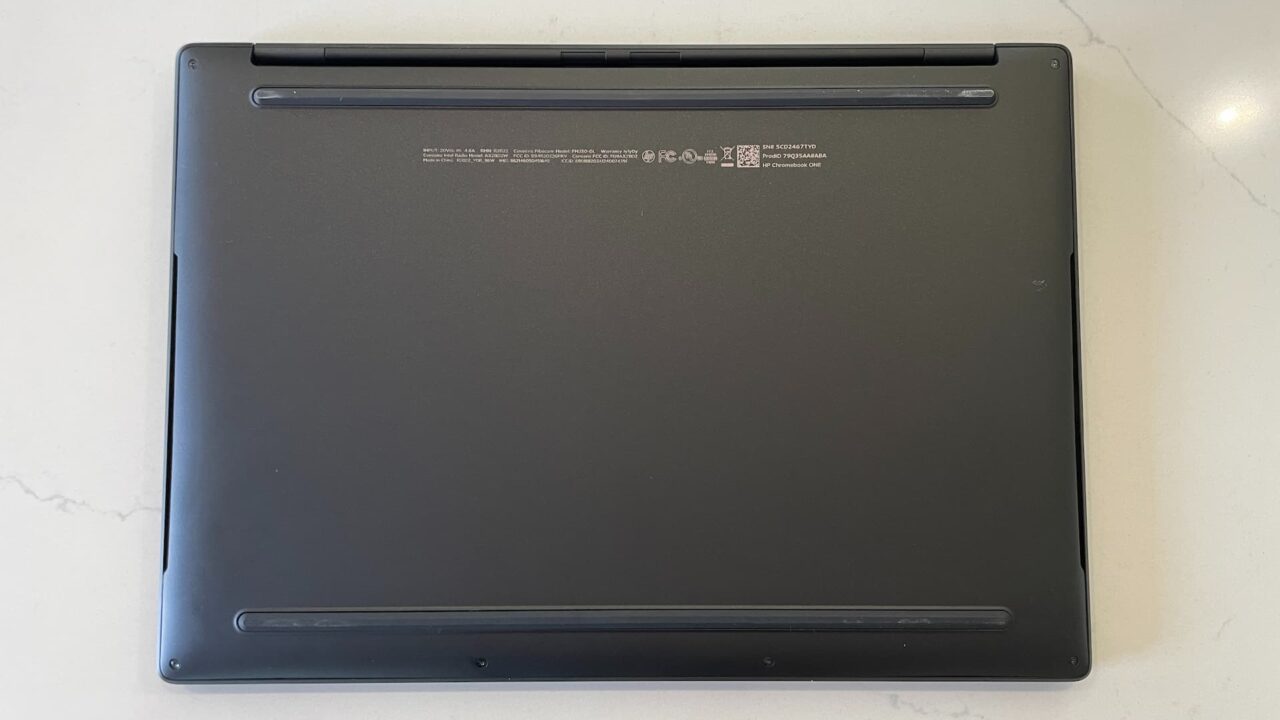 HP Dragonfly Pro Chromebook battery life
There's been much ado over the HP Dragonfly Pro Chromebook battery life in reviews. I don't like naming names so I'll assume you know what I'm talking about. Let's just say some reviews alluded to between 2.5 hours and 5 on a charge for this device. I can't refute those reviews, at least not specifically. Meaning: If someone experienced 2.5 hours of runtime, then I believe them. How can I refute what they saw under a workflow different from mine?
More important is the answer to "why" that could happen. And I think the below two screenshots tell some, if not most, of that story.
The first is with the HP Dragonfly Pro Chromebook with the display set to around 40% brightness. I have no way of measuring the actual brightness in nits. All I can say is that I can comfortably work indoors at this brightness level on this machine. Note that the Chromebook isn't actually doing anything at the time of this screenshot, other than running the Diagnostics app. This is from a fresh boot up and sign in.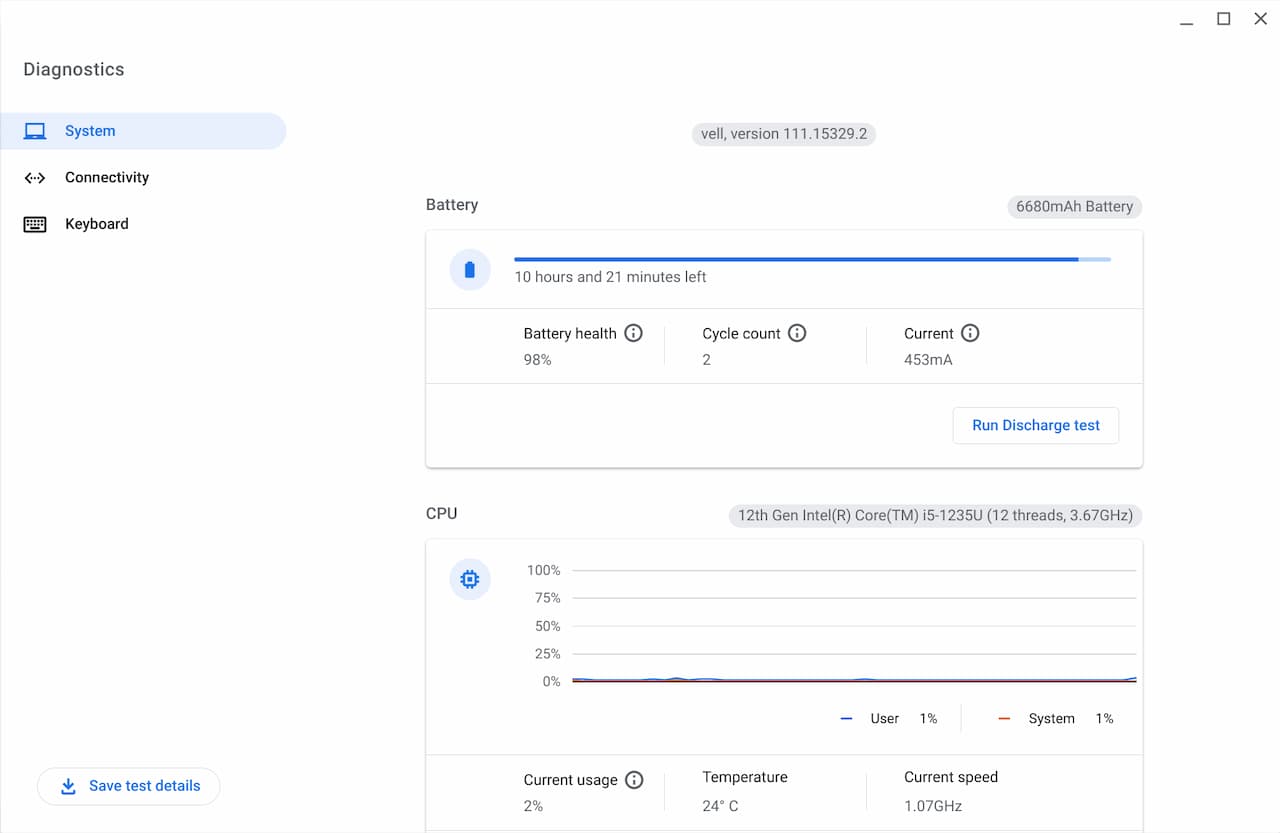 The Diagnostics app shows the battery discharge rate of 453mA and a predicted amount of battery runtime of 10 hours and 21 minutes from the 51.3WHr power pack.
Obviously, the Chromebook will use more energy during actual use and therefore the battery runtime will drop down accordingly. This is simply a baseline to explain the impact of the 1200 nit display panel. And below, here is the same battery information when you boost that brightness to 100%: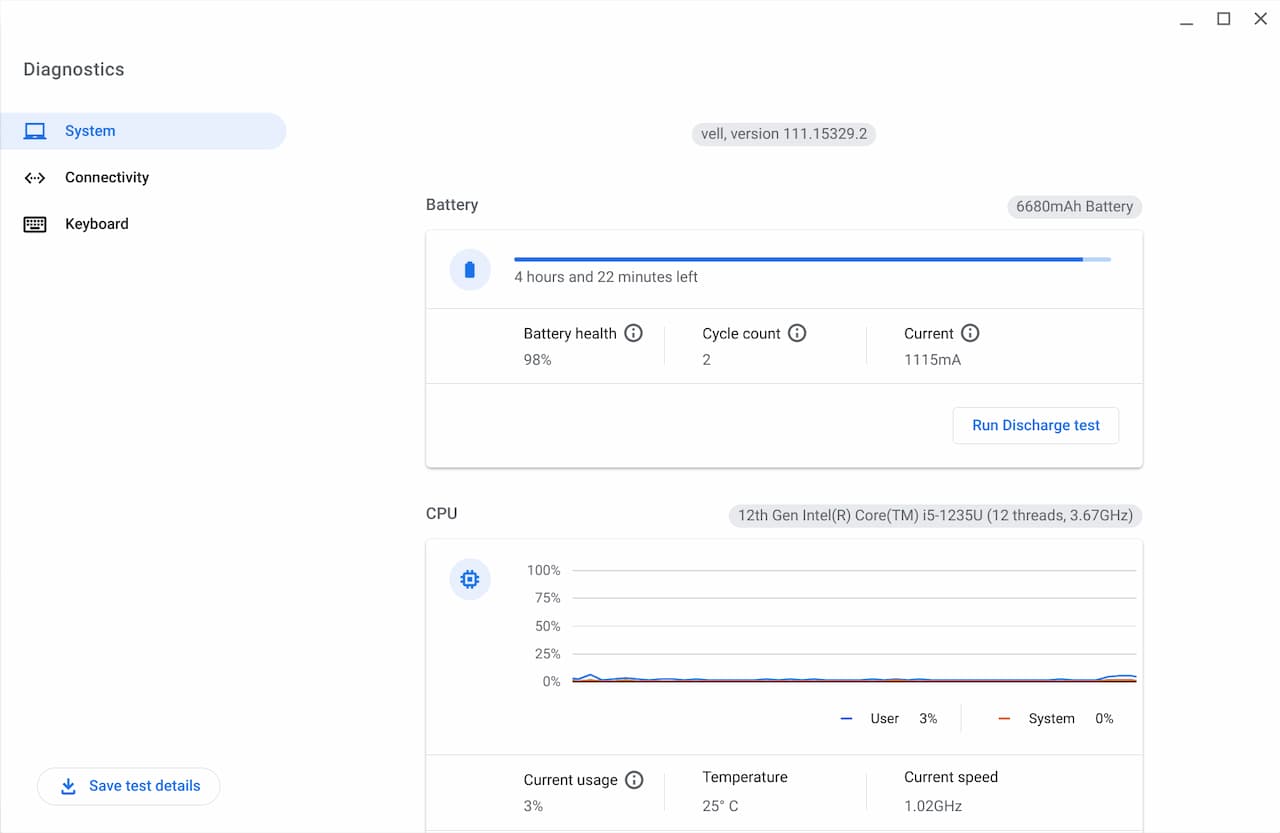 See the predicted battery life with the display brightness at 100%? It's an estimated 4 hours and 22 minutes, which is a massive delta. The power draw is nearly 300% higher because of the screen. And of course, when using ChromeOS the processor will require more energy and those 4-plus hours will quickly deteriorate into the two to three hour range.
My point is this: The longer you keep the HP Dragonfly Pro Chromebook screen at a higher brightness than what I'd call "standard", the quicker you're going to go through the battery. Yes, this is expected and no, this is not news. However, the impact that this particular display has on battery life is. We simply haven't had a Chromebook with a screen this bright before.
Data aside, I found the HP Dragonfly Pro Chromebook battery life to be reasonably good over several weeks of full-time use. My standard workflow is mainly split evenly between the Chrome browser and running Linux desktop apps. Occasionally I'll use an Android app or two but not often. I did mix some in on several days though.
By "reasonably good" I mean I averaged around 6.5 to 8 hours per day on a single charge, depending on activities. I was able to drain the battery in around 5 hours on what I'd call a "heavy duty" workday based on tasks.
And again, this is highly dependent on the screen brightness levels. Use the lowest screen brightness that's comfortable for your eyes and environment and battery life is just fine, in my opinion. A battery champ? No, the HP Dragonfly Pro Chromebook isn't one. A battery chump? It's not that either.
Since I mentioned the similar performance between the HP and Acer Chromebook Spin 714, here's what I said about battery life on that device. I mention it here because internally, these two devices are extremely similar. The main difference from a hardware standpoint is the much brighter screen of the HP Dragonfly Pro Chromebook.
"In terms of battery life, you might hit the expected 10 hours of run time. I did not although I got close, with just nearly 9.5 hours of usage in a work day. Most of my tasks were browser based and not too intensive that particular day. So I'm sure the Spin 714 was leaning on the efficiency cores of the Intel Core i5. On what I'd call heavy duty usage days, the battery lasted between 6.5 to 7.5 hours."
Take the Acer Chromebook Spin 714 and put in a 1200 nit display and guess what: You'd likely get the same battery life as the HP unit. I don't see any "battery-gate" issues here. Just know that your screen brightness will have a huge impact to battery life.
Should you buy the HP Dragonfly Pro Chromebook?
Obviously, this is a premium device with a commanding $999 premium price tag. So if that's not in your budget or you don't need a high performing Chromebook, this is a hard pass.
Still in the mix? Then I'd say the HP Dragonfly Pro Chromebook is worth its $999 price tag when compared to the less expensive 12th gen Intel Core i5 options from other brands. No, you're not really getting much, if any, more performance for the price. Instead you're getting an extremely well built and designed device with some extras.
Those include the 16 GB of faster memory, for example, and a display that you can easily use outdoors. You'll pay a price for that brightness when it comes to battery life, as I've explained above. If battery life is of primary importance, another high-end Chromebook might be the the better choice for you. But you'll then miss out on what I think is the loudest, best sounding Chromebook, the fingerprint sensor some brands don't include and a fantastic keyboard that just happens to have some fun RGB features.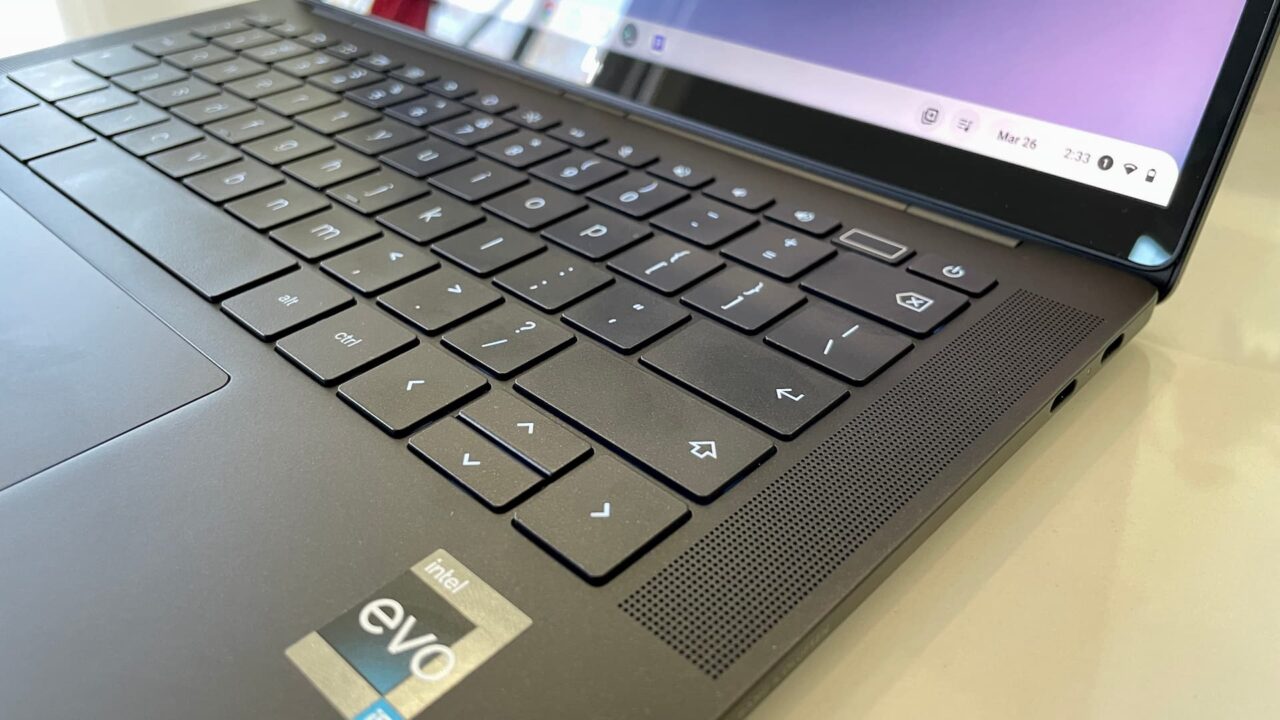 Like all Chromebooks, I would expect this one to see sale pricing in the coming months. HP asked me at CES what I thought the price should be on this device. I said $899 while others said $999. The higher price won out, or was always going to be that figure. Suffice it today, if the HP Dragonfly Pro Chromebook is worth $999, it's going to be an even better value if we see sale prices.
By the way: The Pixelbook Go debuted at $649 for the base model in 2019. Guess how much the Core i5 /16 GB / 256 GB configuration cost at launch?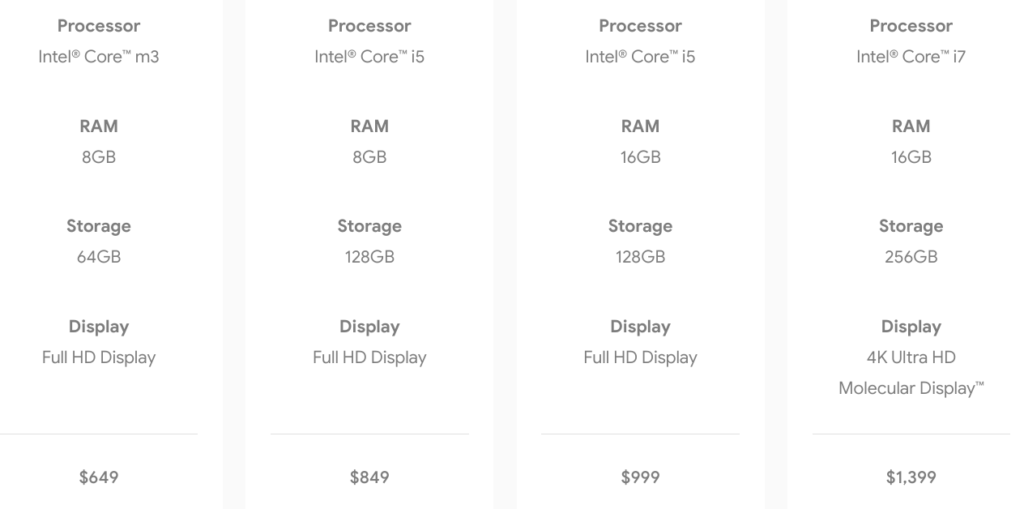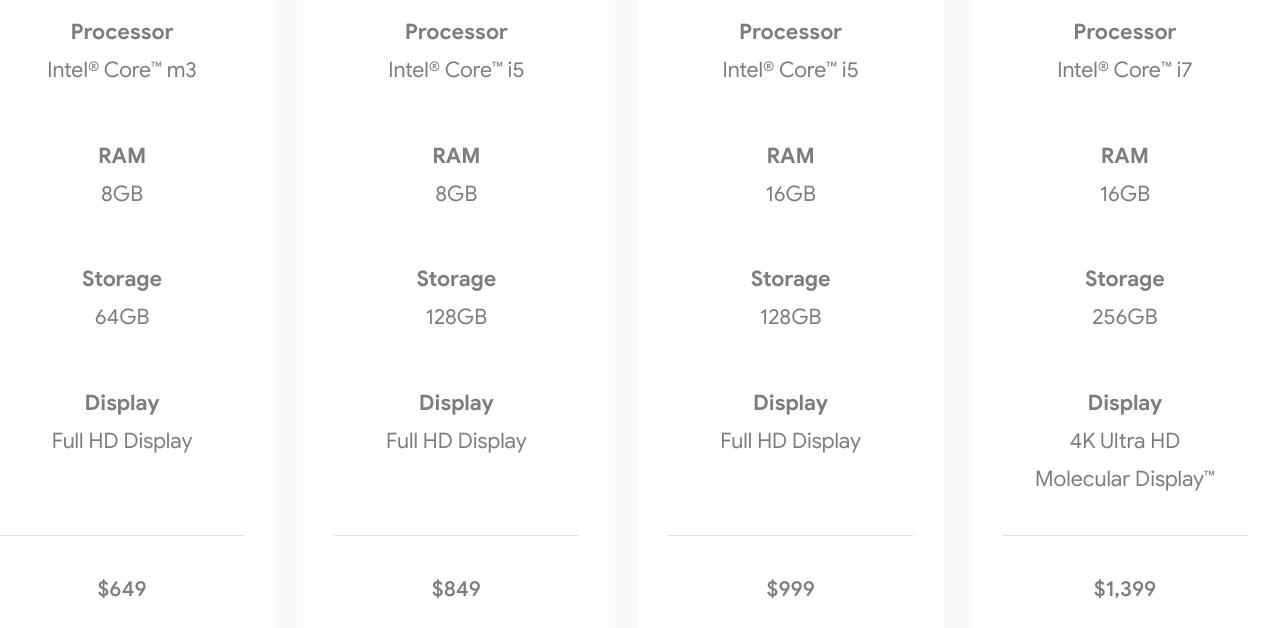 Yup, $999. Keep that in mind when making your purchase decision based on the price. And if it matters to you, HP does include 24/7 Pro Live Support for this particular Chromebook for the first year. There's a pre-installed app for the service, which is fairly unique to Chromebooks.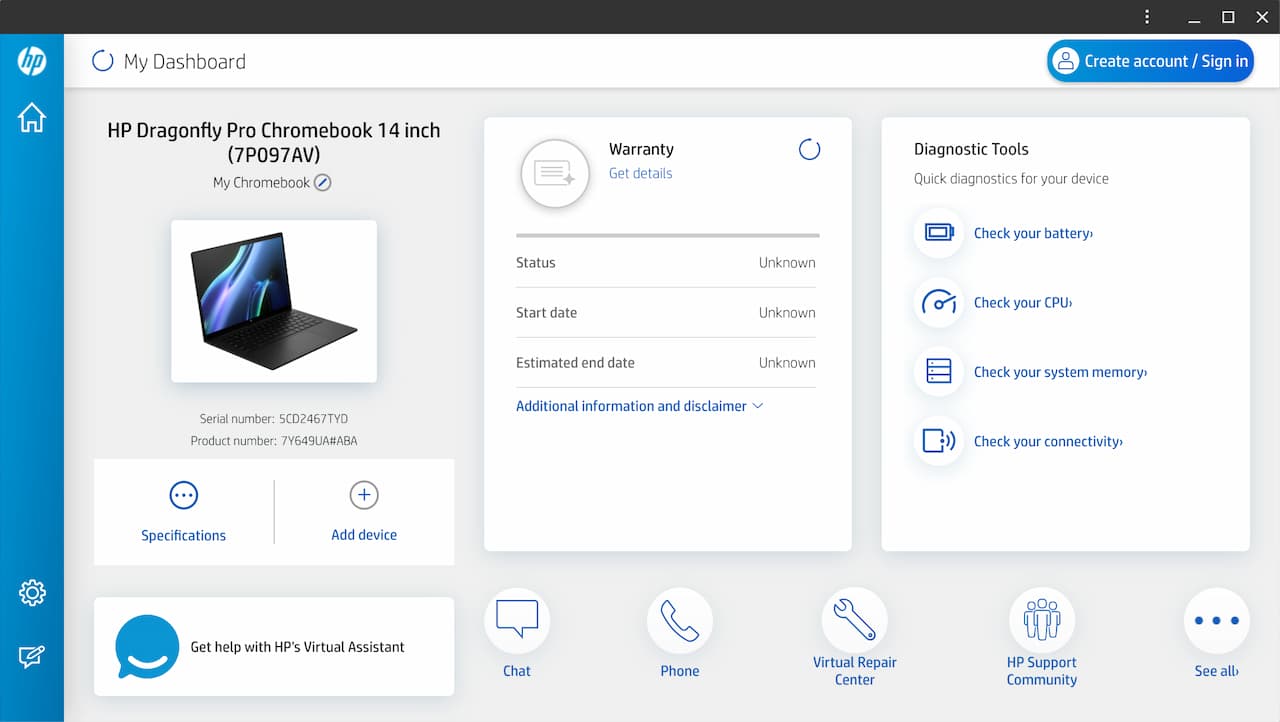 That includes support from dedicated technicians who are trained to support the HP Dragonfly Pro Chromebook. You can also add the "Apple Care"-like device repair / replacement service called HP Care Pack at $10.99 a month, which includes the Pro Live Support as well.