HP Elite Dragonfly Chromebook sale: Base model is $979.99
We already knew the base model of the HP Elite Dragonfly Chromebook starts at $1,149. What we didn't know that is that before widespread availability, this model would be discounted. Today I noticed an HP Elite Dragonfly Chromebook sale price of $979.99 with delivery expected around the end of July.
This sale price is direct from HP and I was able to add the Chromebook to my cart, as shown:
Frankly, I'm a bit surprised, albeit in a good way.
Since the introduction of the HP Elite Dragonfly Chromebook in January, I've said it's likely to cost more than most people expect. And based on the official pricing for all configurations, that thought is justified. The mid-range models are around $1,500. And if you want the best configurations, you're looking at spending more than $1,700.
So this is an early chance to get a capable model with 12th-gen Intel Core i3 processor at a discount. I'm sure there will be more opportunities like this in the future.
Along with the Core i3-1215U process and Iris Xe graphics, the base model packs 8 GB of memory and 128 GB of local storage. Like all models, it has a 13.5-inch touch screen that rotates 360-degrees for tablet mode. This configuration uses a bright, 1080p IPS panel.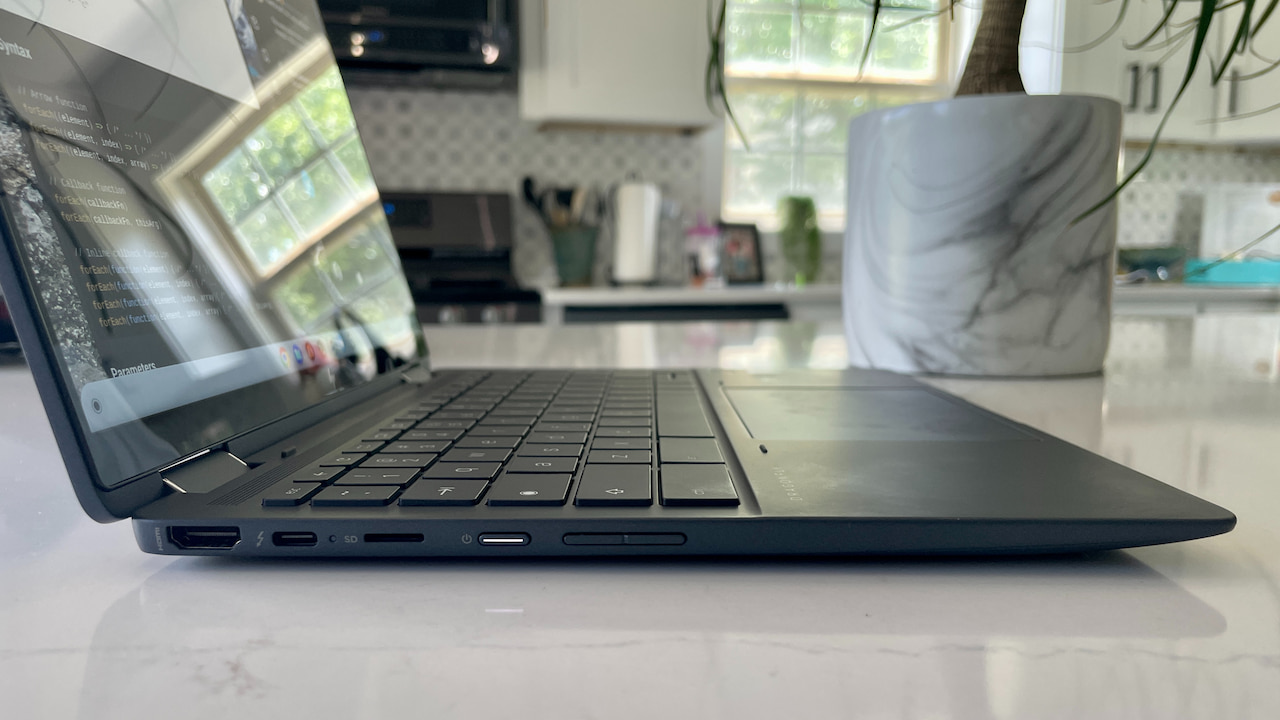 The HP Elite Dragonfly Chromebook base model also shares other features from the range of configurations.
It has a pair of USB Type-C ports that are Thunderbolt 4 capable along with a single USB Type-A port. The 1080p webcam has a privacy shutter and the keyboard is backlit Plus it has both a fingerprint sensor and unique haptic trackpad.
Although I'm reviewing a higher-end model with Intel Core i5, my first impressions of the HP Elite Dragonfly Chromebook have been very favorable. Yes, my review unit will have peppier performance due to the Core i5. But I wouldn't expect the base model to be that far behind.
So far in my usage, there isn't much to complain about. This Chrome OS laptop could well be the king of Chromebooks for 2022. The only potential challenge to that claim is the price when compared to upcoming Chromebooks that will have similar internals. Acer Chromebook Spin 714, I'm looking at you and your $749 starting price.
But $979.99 is closer to $749 than $1,149 is, so any discount on the HP Elite Dragonfly Chromebook helps make the value proposition a little better. And to be fair, you can purchase the HP now. Availability on the Acer isn't expected for at least another month or so.
In any case, early birds who have to have the first Chromebook with haptic trackpad can pull the trigger now at a discount.
Like I said above, I'm sure there will be other sale opportunities, either from HP or resellers. If you're on the fence, waiting on this deal won't likely have you miss out on paying less for the HP Elite Dragonfly Chromebook in the future.