With my CTL Chromebook PX14EX review wrapped up, it's time to move on to the Lenovo ThinkPad C14 Chromebook. I'm going from one extreme to the other here: A $359 education laptop to a $1,019 enterprise-capable device. This Lenovo is more in my personal wheelhouse because I use my Chromebook not just for the web but also coding in Linux. So I appreciate the 12th gen Intel Core i5 inside this laptop. Read on for my Lenovo ThinkPad C14 first impressions.
Lenovo ThinkPad C14 Chromebook specifications
Before sharing some thoughts, here's the configuration of the Lenovo ThinkPad C14 Chromebook I was loaned for review:
CPU
12th-gen Intel Core i5-1245U Processor with vPro, up to 4.4 GHz,
10 cores (2 performance, 8 efficiency) / 12 threads
GPU
Intel Iris Xe
Display
14-inch IPS 1920 x 1080 display, anti-glare finish, 16:9 aspect ratio,
250 of brightness, non-touch screen, 45% NTSC color gamut
Memory
8 GB DDR4x-4266 MHz memory
Storage
256 GB NVMe M.2 storage,
microSD card reader
Connectivity
802.11ax (2×2) WiFi 6E, Bluetooth 5.2
Input
Backlit keyboard, multitouch trackpad with three buttons, ThinkPad pointing nub,
1080p FHD RGB webcam with privacy shutter, Dual-array microphones, fingerprint sensor
Ports
2 USB Type-C 3.2 / Thunderbolt 4 ports, 2 USB Type-A,
HDMI output, headphone/microphone jack, and microSD card slot
Battery
57 WHr battery with Rapid Charge, expected run-time of up to 11 hours
Weight
3.44 pounds
Software
Chrome OS automatic updates through June 2030
The 12th gen Intel Core i5-1245U processor inside the C14 is among the most capable chipsets you can get in a Chromebook right now. Looking at the other choices of 12th gen Intel Chromebooks, you'll see they have fewer cores or opt for a Core i3. In my limited usage, the C14 Chromebook feels a slight bit peppier than its rivals. Further testing will help me determine if that's worth the relatively higher price though.
The C14 Chromebook hardware is mostly premium
When you're paying $1,000 or more for any laptop, you expect a level of premium quality. And upon first glance, you get that with the Lenovo ThinkPad C14 Chromebook.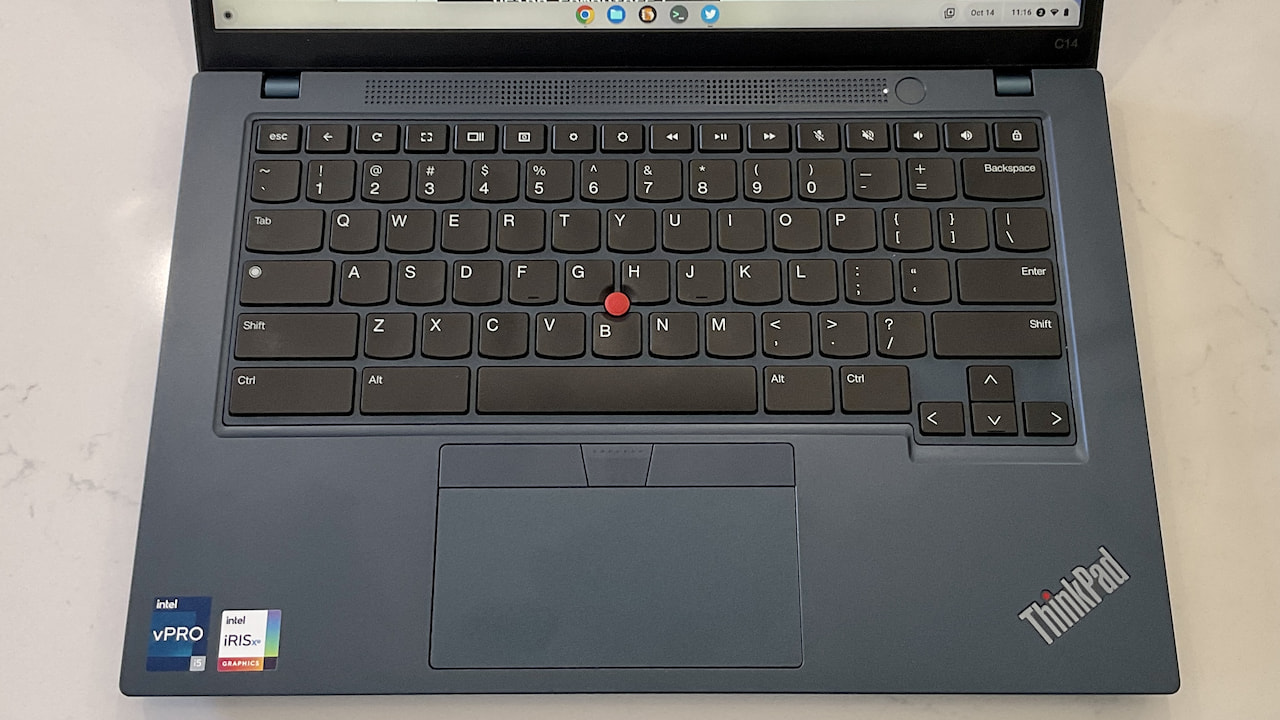 The legendary ThinkPad input is there, for example, and the typing experience is fantastic. The trackpad is quiet and responsive. And even though I don't care for the TrackPoint nub and three mouse buttons, they all work very well. You can also customize the mouse buttons and nub in ChromeOS.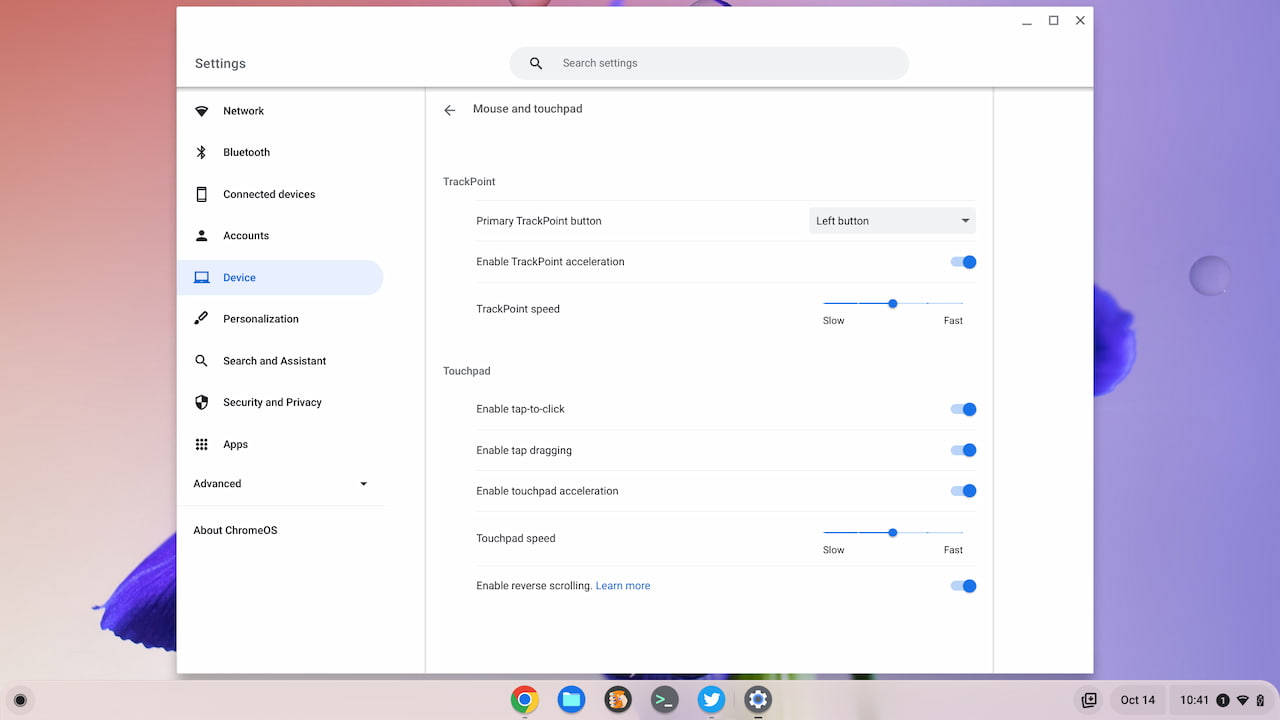 While not the brightest display at 250 nits, the 14-inch 1920 x 1080 panel is sharp with decent color reproduction. I appreciate the matte finish as well, which reduces glare. The 1080p webcam output is crisp and there's a physical shutter cover for privacy. And the round fingerprint sensor melts into the chassis, doubling as a power button.
I really like the red LED on the back of the C14 Chromebook too: It's the "dot" over the "i" of the ThinkPad logo. When closed, the LED lights up if the device is charging.
Beyond that though, I see a few things that could be better or "more" premium.
The screen bezels are plastic, which isn't uncommon. However, either the color or the texture (or both!) of them causes the bezels to jump out. They don't have a cohesive look to the rest of the device, in my opinion. Nor do they make the screen the center of my attention for some reason.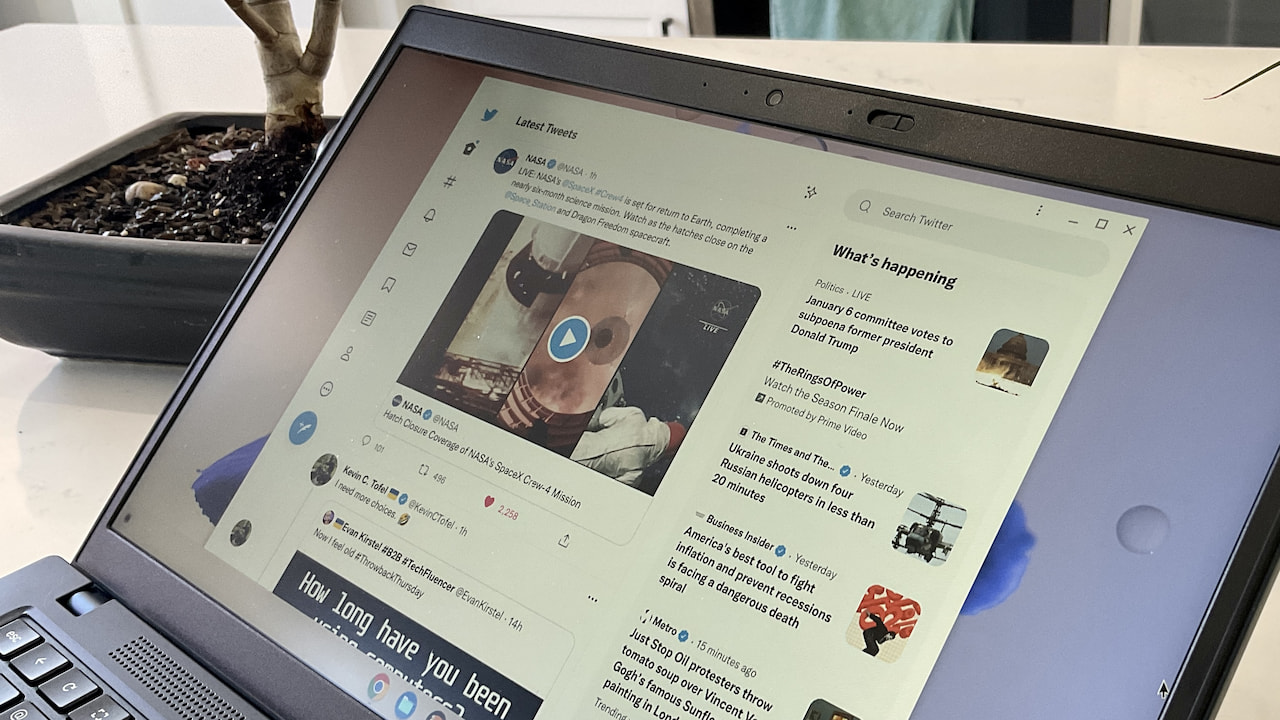 Speaking of plastic, there's more than I'd expect. The thin plastic screen bezels hold the even thinner plastic privacy shutter slider. And clearly, someone else had this review unit prior to me: Part of the plastic side chassis near the headphone jack is missing.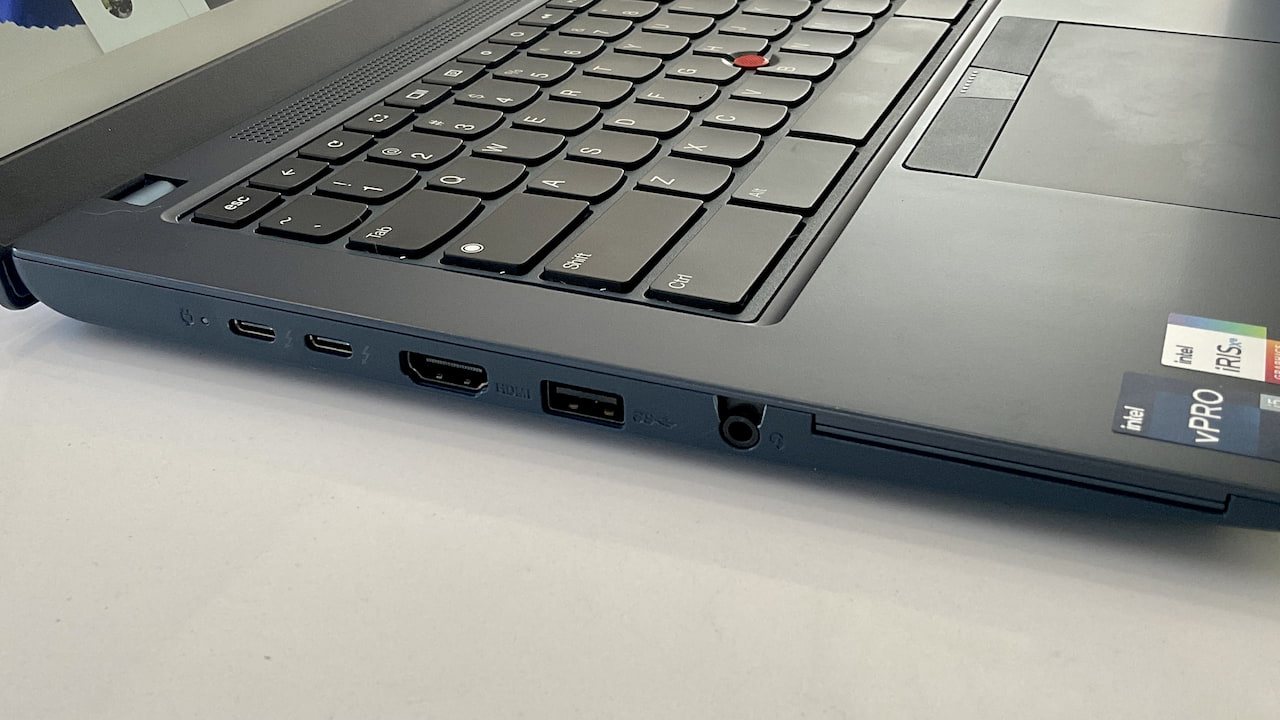 These are mainly minor concerns and opinions. I just figured for the cost, the Lenovo ThinkPad C14 Chromebook quality would rival that of the HP Elite Dragonfly Chromebook. In ways it does, and in other ways it falls a little short.
Early usage observations of the Lenovo ThinkPad C14 Chromebook
In no particular order, here are some things I've noticed when using the ThinkPad C14 for my own workflow. Again, these are just my first impressions with limited use.
Unsurprisingly, this keyboard and trackpad are fantastic. I personally think it's a better input experience than Google's Pixelbook line of laptops, although just by a smidge.
I wish the display was a little brighter. I have to keep the brightness level around 70% in most rooms of my house to work comfortably. I'm curious how that will affect battery life.
The two speakers above the keyboard, near the display, are reasonably good so far. After watching some movie trailers and listening to some tunes, my early take is that they're above average.
The fingerprint sensor is fast and accurate. No issues there.
I noticed there isn't a volume rocker or buttons; you'll need to use the keyboard to quickly adjust the sound volume. An alternative is the volume slider in ChromeOS Quick Settings.
I'm not a fan of both USB Type-C ports on the left side of the chassis. Those are flanked by a full-sized HDMI port and a USB Type-A. The right side of the chassis has a large fan exhaust area, which surely impacted port location choices.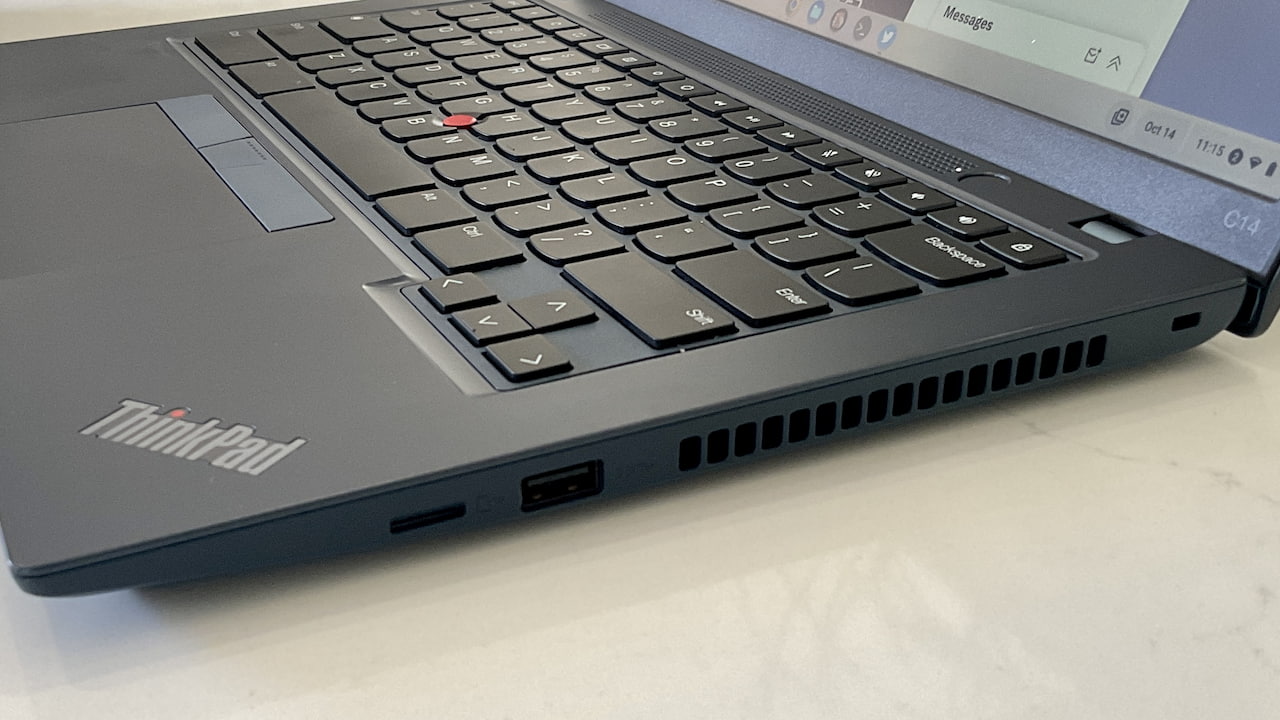 From a performance perspective, the C14 Chromebook is easily keeping up with anything I throw at it: web apps, a dozen browser tabs, an Android game, and using VS Code in Linux. One quick Octane benchmark showed little difference from the other 12th gen Intel Chromebooks I've tested. However, Octane doesn't test multi-threading which is where the chipset in the C14 should shine.
Even though there are new cloud gaming Chromebooks, I noticed that Nvidia's GeForce Now gaming app is pre-installed. This may not be unique to the C14. However, I tested it and it worked perfectly, as I expected.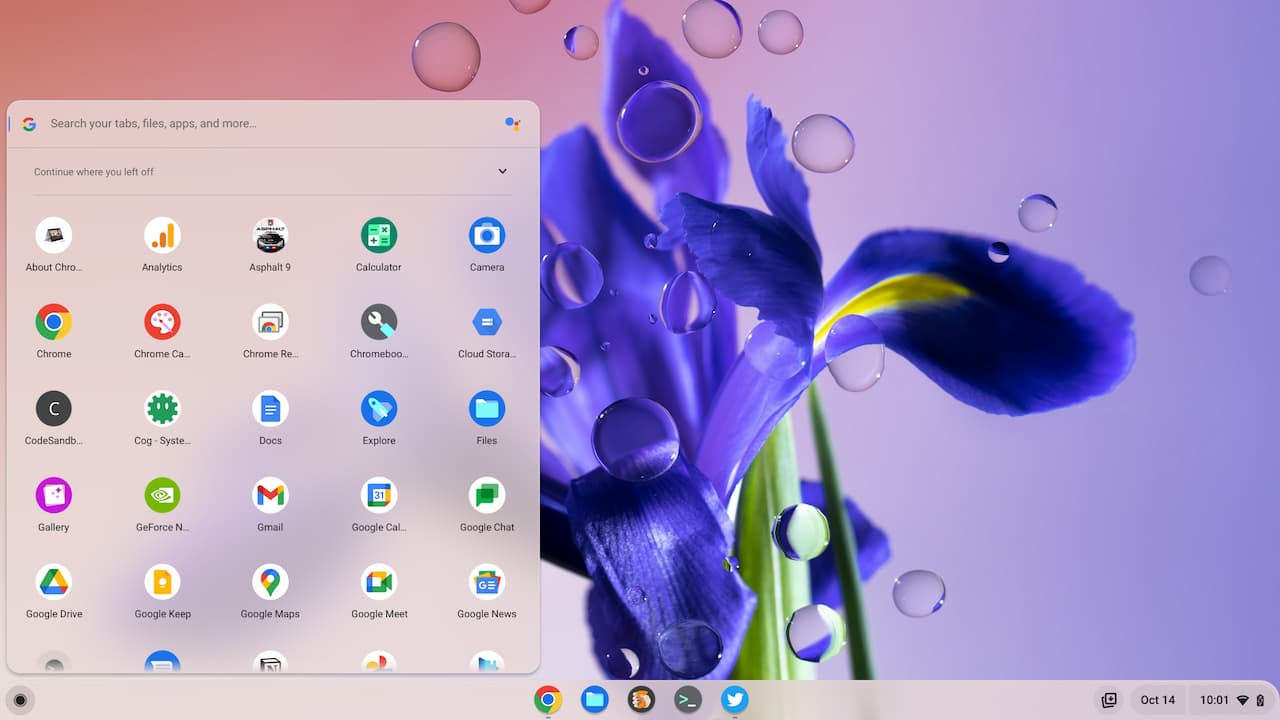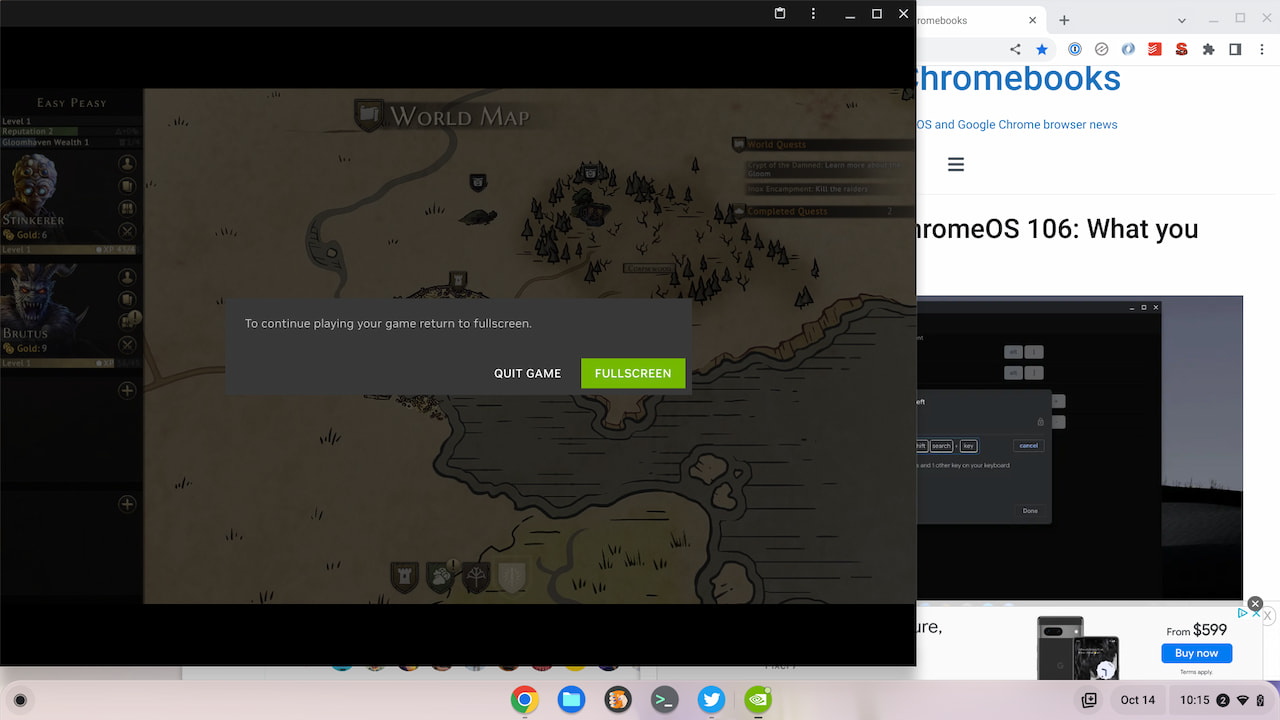 Overall, Lenovo put together a nice, mostly premium package here. And I have little doubt that it can perform well enough for nearly any Chromebook user. The 8 GB of memory could be limiting for a full-time developer but that's a niche Chromebook audience.
I'm not quite as enamored by the Lenovo ThinkPad C14 Chromebook as I was with the HP Dragonfly. At least not at first glance. Don't misunderstand me: It's a nice, attractive Chromebook with the ThinkPad input experience. However, there are just a few little places where I feel a corner was cut or at least trimmed down to make me say "WOW!".
I'll be using this loaner Chromebook as my full-time device for at least a week. That will help me better evaluate the overall experience, battery life, and value proposition. Stay tuned for my review and drop any specific questions in the comments.
About the author
Kevin C. Tofel has covered technology since 2004. He's used ChromeOS since Google debuted the CR-48 in 2010, reviewing dozens of Chromebooks since then. He worked for Google's Chrome Enterprise team from 2016 to 2017, supporting the launch of Android app support. In his free time, he uses Chromebooks to learn software engineering at
Launch School
. In 2019, Kevin joined the CS Curriculum Committee at his local community college.
Liked this content? Subscribe for the free, weekly newsletter