Lenovo ThinkPad C14 Chromebook review: Potent, pricey power
I've used the Lenovo ThinkPad C14 Chromebook daily for at least two weeks. I thoroughly enjoyed every minute of that time, right from the start. This is a premium-designed, high-performing Chromebook and it really doesn't have any major flaws. There are a few minor ones though, which I'll share in this Lenovo ThinkPad C14 Chromebook review.
Solid hardware and a fantastic keyboard
Although most of the shortcomings I perceive in the Lenovo ThinkPad C14 Chromebook are small hardware bits, it's an overall very nice device. Yes, there's some plastic involved in the materials, but that helps keep the weight down to 3.5 pounds. I wouldn't call it light and slim for a 14-inch laptop, but it's not chunky and heavy either.
That 14-inch display is closer to average than it is great. Yes, 1920 x 1080 resolution is appreciated (and expected) but the 250 nits of brightness is a bit of a letdown. With a list price of $1,019, I'd like to see at least 300 nits of brightness, if not more. This model doesn't have a touch-capable screen either. Since I don't use Android apps often, I don't mind. You might.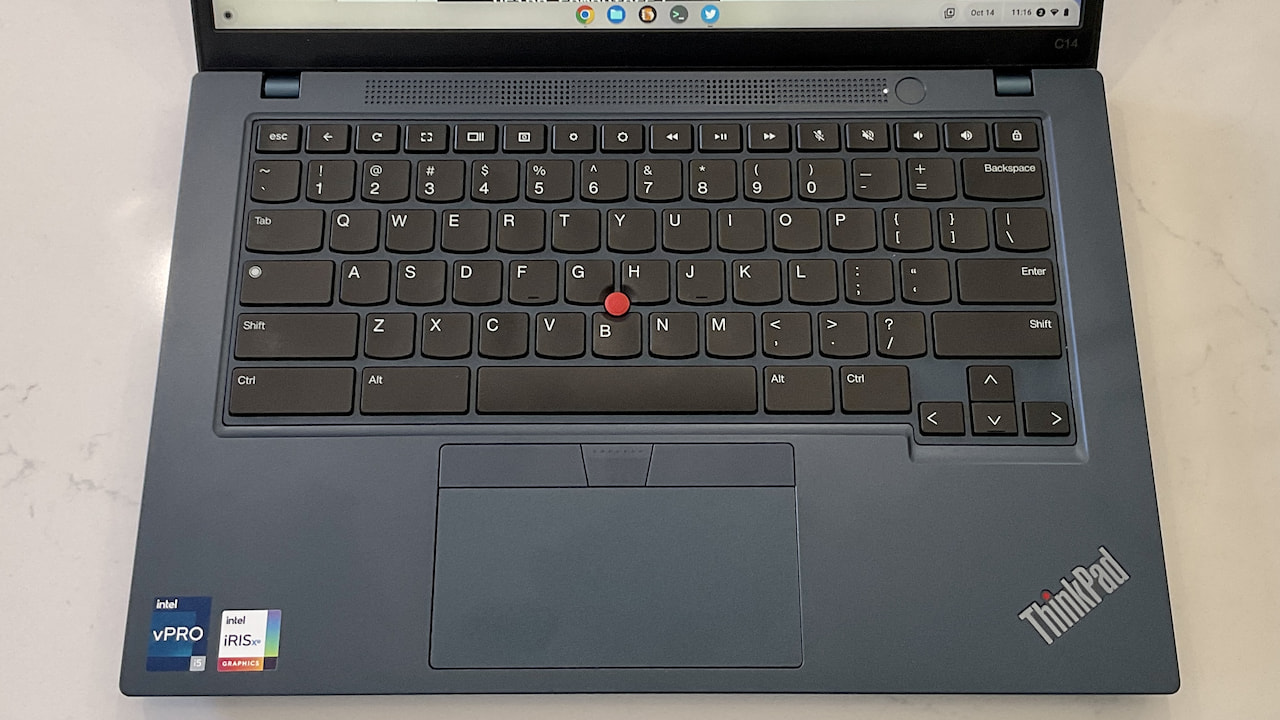 The legendary ThinkPad keyboard is a star on the C14. I have zero complaints about it and I wish other Chromebooks had keyboards this good. Originally, I felt the Pixelbook Go was my pick as best. After two weeks with the ThinkPad C14? There's a new top dog for me. The keypress and travel are a joy. And there's far less keyboard backlight bleed as compared to most other Chromebooks, including my Spin 714. There's also the pointing stick and three trackpad buttons; all of these are configurable. They work well but my preferred input method is to use multi-touch input on the trackpad. I'd say the trackpad isn't far behind the excellent haptic one on the HP Elite Dragonfly Chromebook.
Before I forget: Like the HP model, the ThinkPad C14 Chromebook has extra top-row keys. So if you're a user of function keys beyond F10 or F12, you've got more to choose from.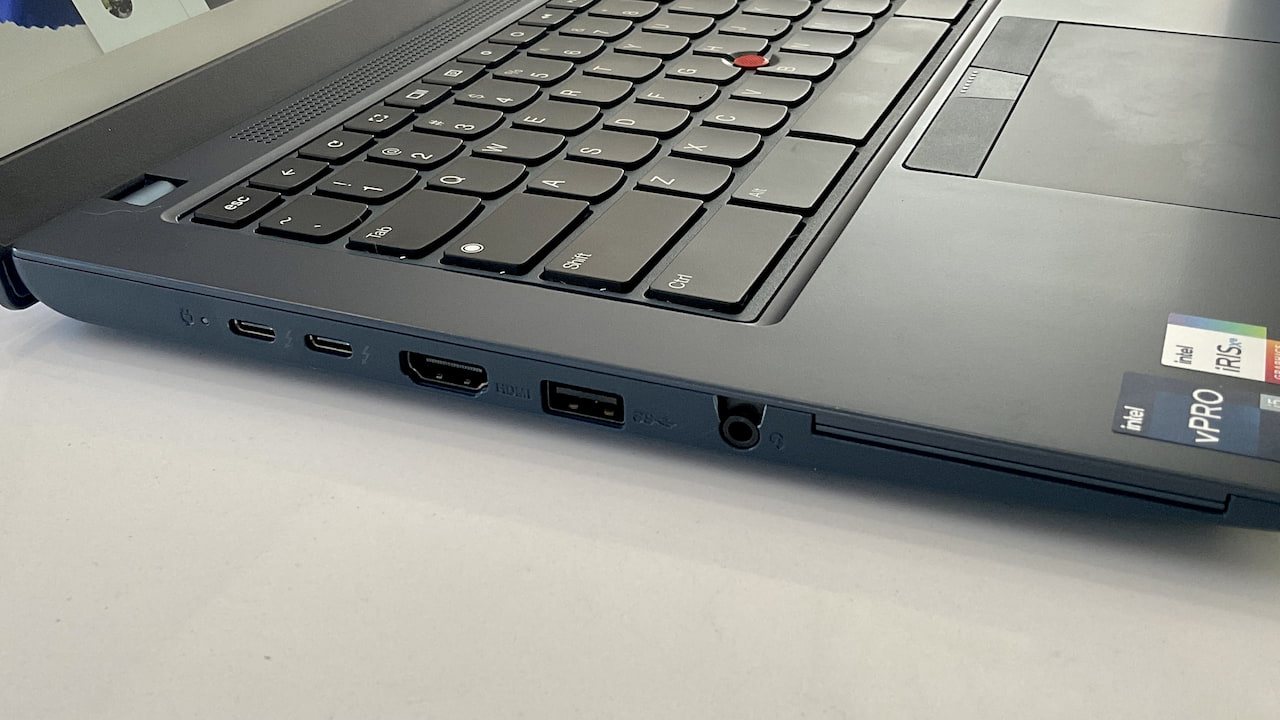 The typical range of ports available on the ThinkPad: Two USB Type-C, two Type-A (which is one more than most Chromebooks have), HDMI out, a microSD card reader, and a headphone/mic jack. Even with the extra Type-A, I have to ding Lenovo for putting both Type-C ports on the left side. Spreading them out on the right and left of a device for charging should be table stakes these days. The power button doubles as a fingerprint reader and it hasn't failed me yet.
And I'd consider the top-firing speakers to be above-average. I've used them for video calls, Steam gaming, and watching movies. There's some bass but keep your expectations in check. The 1080p camera (with a privacy shutter) is also quite good. I wish it did a better job at dealing with light levels, but in the right light, it's crisp and clear.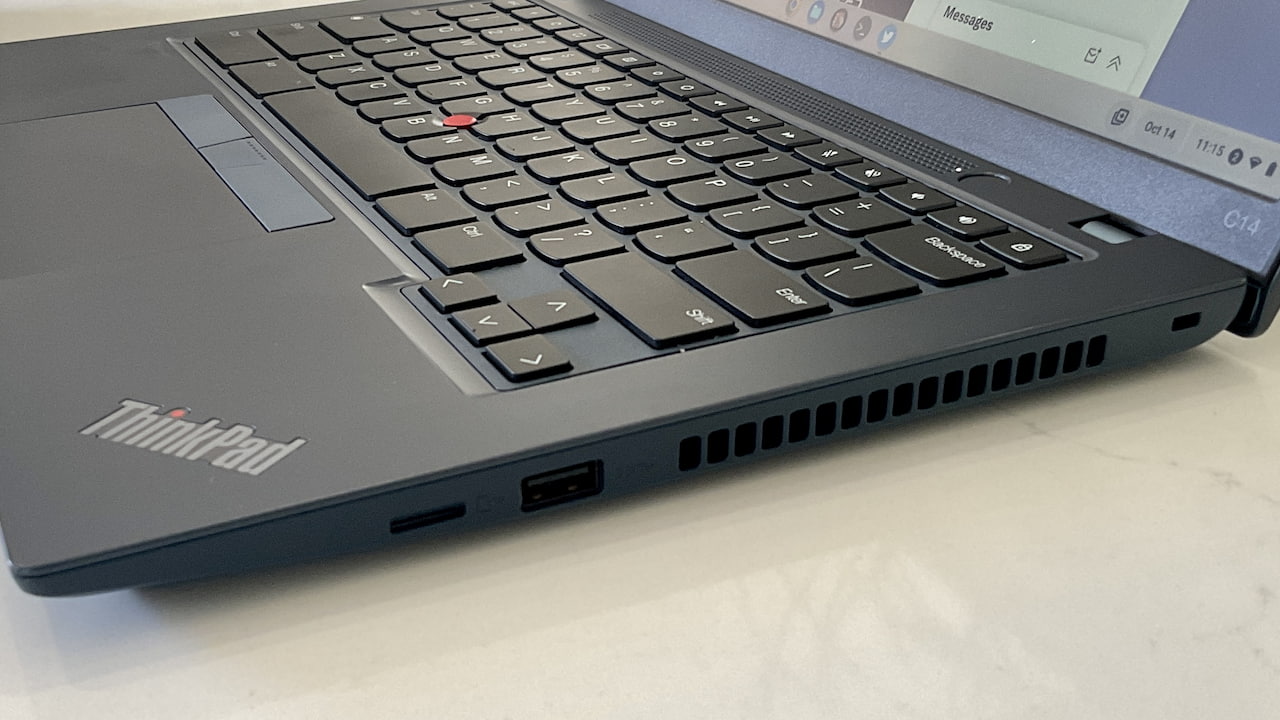 Note that there is a fan in the Lenovo ThinkPad C14 Chromebook and the exhaust takes up half of the right chassis. I've felt a little warmth there but when the fan runs, which isn't often or at all for typical tasks, it's quiet. That fan and the higher-powered Intel chip do contribute to more power consumption of course. Even so, on a typical ChromeOS-heavy day (meaning no or little Linux use), I can eke out 8 hours of use.
I should also mention that this model has a Cat9 LTE radio inside. I didn't want to sign up for a service plan as I don't own an LTE Chromebook that can take advantage of it. However, if you do use this feature, know that it will eat up more battery power than the Wi-Fi radio.
Here's a full rundown on the Lenovo ThinkPad C14 Chromebook specs:
CPU
12th-gen Intel Core i5-1245U Processor with vPro, up to 4.4 GHz,
10 cores / 12 threads
GPU
Intel Iris Xe
Display
14-inch IPS 1920 x 1080 display, anti-glare finish, 16:9 aspect ratio,
250 nits brightness, external monitor support at
4k at 60Hz over HDMI / 5K at 60Hz over USB Type-C
Memory
8 GB DDR4x-4266 MHz memory
Storage
256 GB NVMe M.2 storage,
microSD card reader
Connectivity
802.11ax (2×2) WiFi 6E, Bluetooth 5.2,
LTE Cat9 support
Input
Backlit keyboard, multitouch trackpad, ThinkPad pointing nub,
1080p FHD RGB webcam with privacy shutter, Dual-array microphones
Ports
2 USB Type-C 3.2 / Thunderbolt 4 ports, 2 USB Type-A,
HDMI output, headphone/microphone jack
Battery
57 WHr battery with Rapid Charge, claimed run-time of up to 11 hours
Weight
3.44 pounds
Software
Chrome OS automatic updates through June 2030
The ThinkPad C14 Chromebook is a top performer
ThinkPad C14 Performance is excellent, as you'd expect if you compare processors in the latest 12th gen Intel Chromebooks. Well aside from the gaming models, that is.
While Asus and HP have chosen the Intel Core i3-1215U processor with fewer cores, the Lenovo ThinkPad C14 Chromebook has the Intel Core i5-1245U inside. That slightly trumps the Core i5-1235U in my Acer Chromebook Spin 714 as well.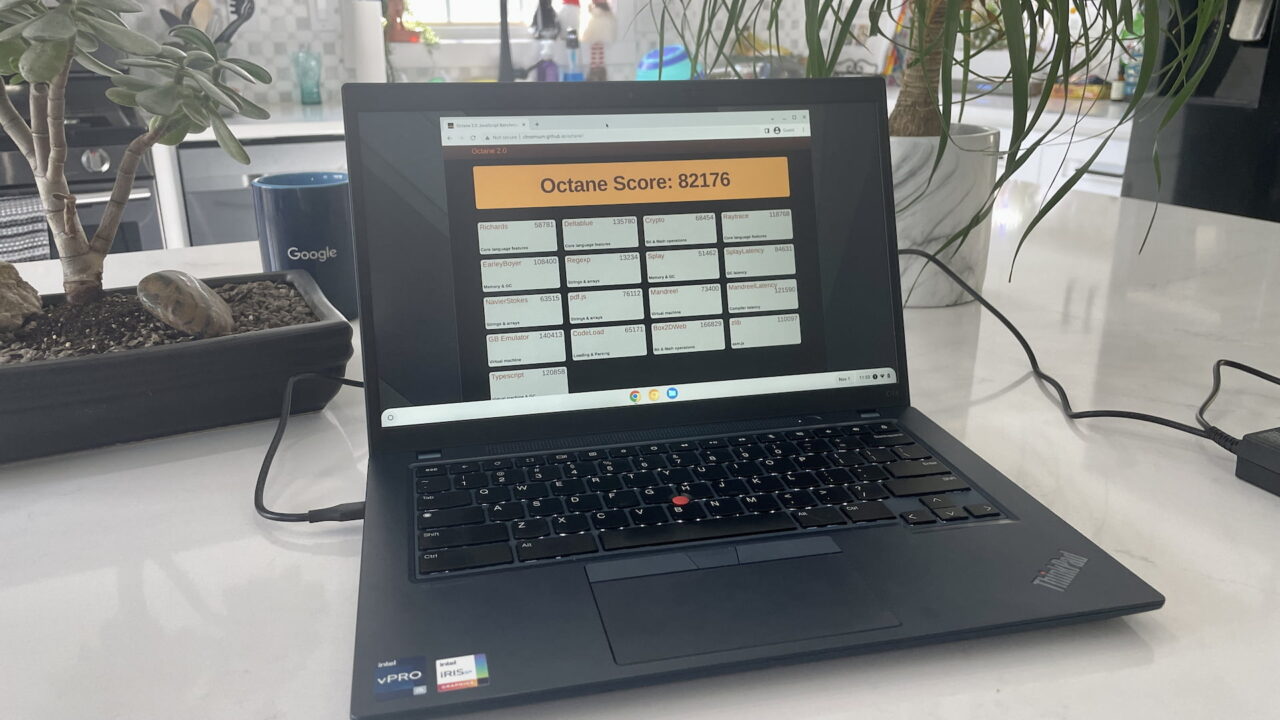 Does this matter for typical day-to-day ChromeOS use? Not really based on my experience. You'd mainly benefit from long, intensive multi-threaded CPU tasks. Put another way: Unless you're building a Linux package on your Chromebook, you're not likely to see a huge performance difference among these devices. They're all plenty fast.
As you can see from the below benchmarks, there's a large performance uplift from the previous generation Intel Core i3, however. I like to include a prior-generation model in my testing for potential upgraders.
Test
Lenovo ThinkPad C14 Chromebook
12th gen Core i5
HP Elite Dragonfly Chromebook
12th gen Core i5
Acer Chromebook Spin 714
12th gen Core i5
Lenovo Flex 5i
11th gen Core i3
Speedometer 1.0
419
412
430
311
Speedometer 2.0
250
240
251
176
JetStream 2
235.295
222.375
227.924
151.88
Basemark 3.0
1,435.07
1,387.51
1,392.81
1,179.9
Octane 2.0
82,176
77,747
78,533
55,360
Higher numbers are better
Like the other 12th gen Intel Chromebooks the Lenovo ThinkPad C14 Chromebook can handle ChromeOS, Android, or Linux tasks with ease. "Power users" and developers will be satisfied although some might want more than 8 GB of memory. For how I use a Chromebook, which is divided by web apps and coding in the Linux environment, I have no complaints.
One more thing about the Lenovo ThinkPad C14 Chromebook…
Earlier I said most of my nitpicks were hardware related. The one that isn't is the elephant in the room: That $1,019 price tag.
I would not purchase this device at full price. Then again, I don't recommend purchasing any Lenovo Chromebook at full price. Why? Because the company typically has rotating sales that can save you a significant amount.
For example, this exact same Chromebook can be had right now for $611.40, which is a huge 40 percent discount. And at that price, the entire equation changes. I'd wholeheartedly recommend the C14 any time the price is $800 or less. I feel that's the line where the value proposition starts to fade because you can get very similar performance from competing devices. Even if you pay the list price for them.
Should you buy the Lenovo ThinkPad C14 Chromebook?
Here's how I see it if you want a 12th gen Intel Chromebook, again, ignoring the gaming models since I haven't used them yet.
I'd take the Acer Chromebook Spin 714 at $729 (or less, when on sale) and give up the ThinkPad input, which is the star of the show. That would get me very comparable performance, USB Type-C ports on both sides of the laptop, and a much brighter (360 nits), higher resolution (1920 x 1200) screen. With touch and stylus support, I should add.
However, depending on the discount, the C14 is more appealing from the looks and input perspectives. When on sale, it's a more compelling purchase compared to the Spin 714.
If the Lenovo ThinkPad C14 Chromebook is on your wish list, I can understand why. Just grab it during a sale and I think you'll be far happier with it.