Chromebook buyers on a budget will soon have two more options. The new HP Chromebook 15a is a 15.6-inch laptop with entry level 12th gen Intel processors. No, the Intel Pentium N200 or N305 chipsets won't perform like a beefy Core i5 or i7. But for everyday Chromebook use cases, they ought to suffice.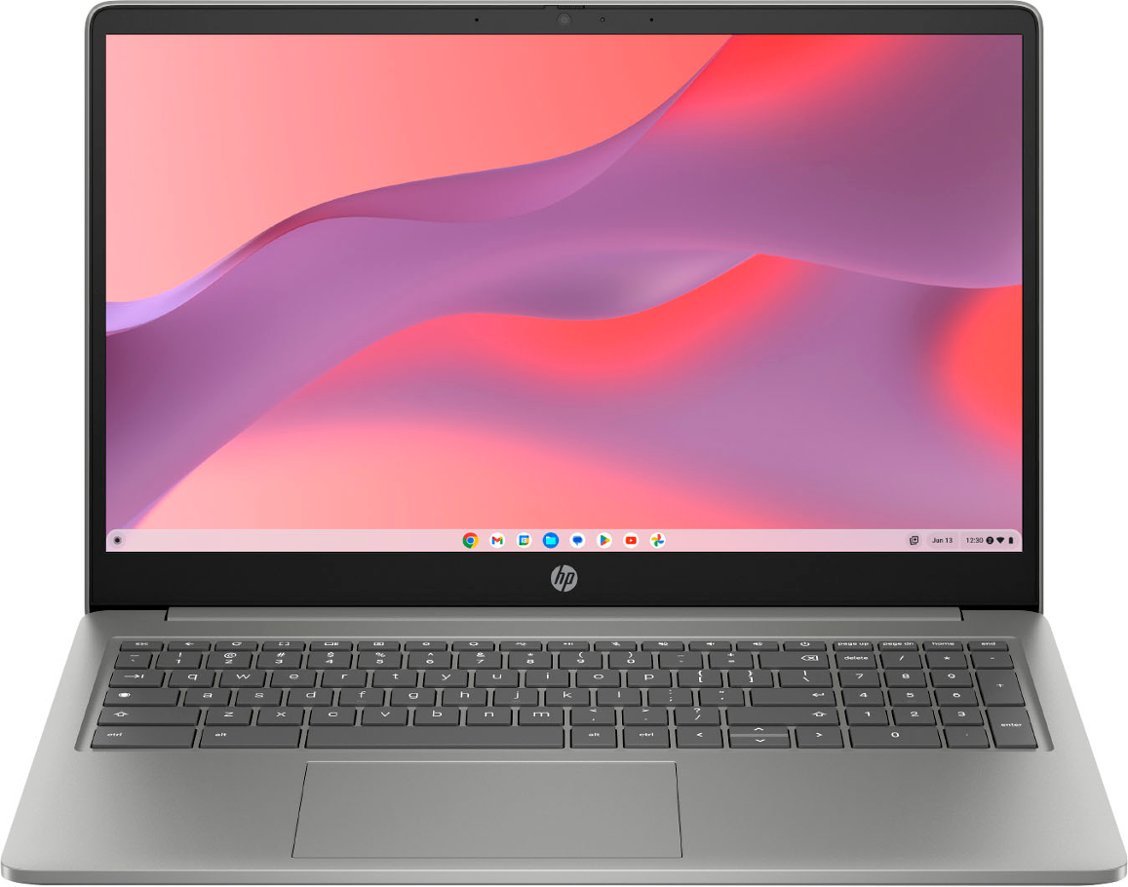 New HP Chromebook 15a has some compromises
This pair of HP Chromebook 15a devices, first spotted by Chrome Unboxed, are built to a budget. And that's OK. Even at the entry level, HP laptops are relatively solid. But you will find some corners cut to keep the pricing down. The Pentium N200 will cost $399, while the Core i3-N305 option sets you back $100 more. Both are showing as "coming soon" at the above BestBuy links.
What kind of cut corners are we talking about?
The base model uses a non-touch, 15.6-inch screen with 1366 x 768 resolution and 250 nits of brightness. At this price point, I could understand the lack of touch and the mediocre screen brightness. That resolution though? It's hard pass for me and I wouldn't recommend it to anyone else either.
Spreading what's slightly better than a 720p resolution across a rather large 15.6-inch display isn't going to look crisp at all. The $499 model spreads much better 1920 x 1080 resolution in the same screen space. Sorry, no luck on getting touch capabilities or more brightness though.
There's a 720p webcam to match the lower resolution display on the base model as well. If you want a 1080p front camera sensor, you'll want the $499 model. That configuration also bumps your storage speeds.
It has 128 GB of UFS storage, which is full-duplex. Slower eMMC storage is half-duplex, for reference. Neither is as quick as the latest NVMe drives, but this is to be expected for entry level Chromebooks. And it's far faster than eMMC. The base model has 64 GB of eMMC storage, however, so it's slower and half the capacity.
Both configurations include a microSD card slot and with fast DDR5-4800 memory, which is solid and not what I would have expected. That's a win over slower DDDR4-3200 memory, which is a staple inside most Chromebooks sold in the last few years.
I'm not 100% certain if either comes with a backlit keyboard at this point. The specs of the lower priced model says yes (and no), but that's not the case for the higher priced version, which says no. Yet, it appears that there are backlit keyboard controls in the images of both models.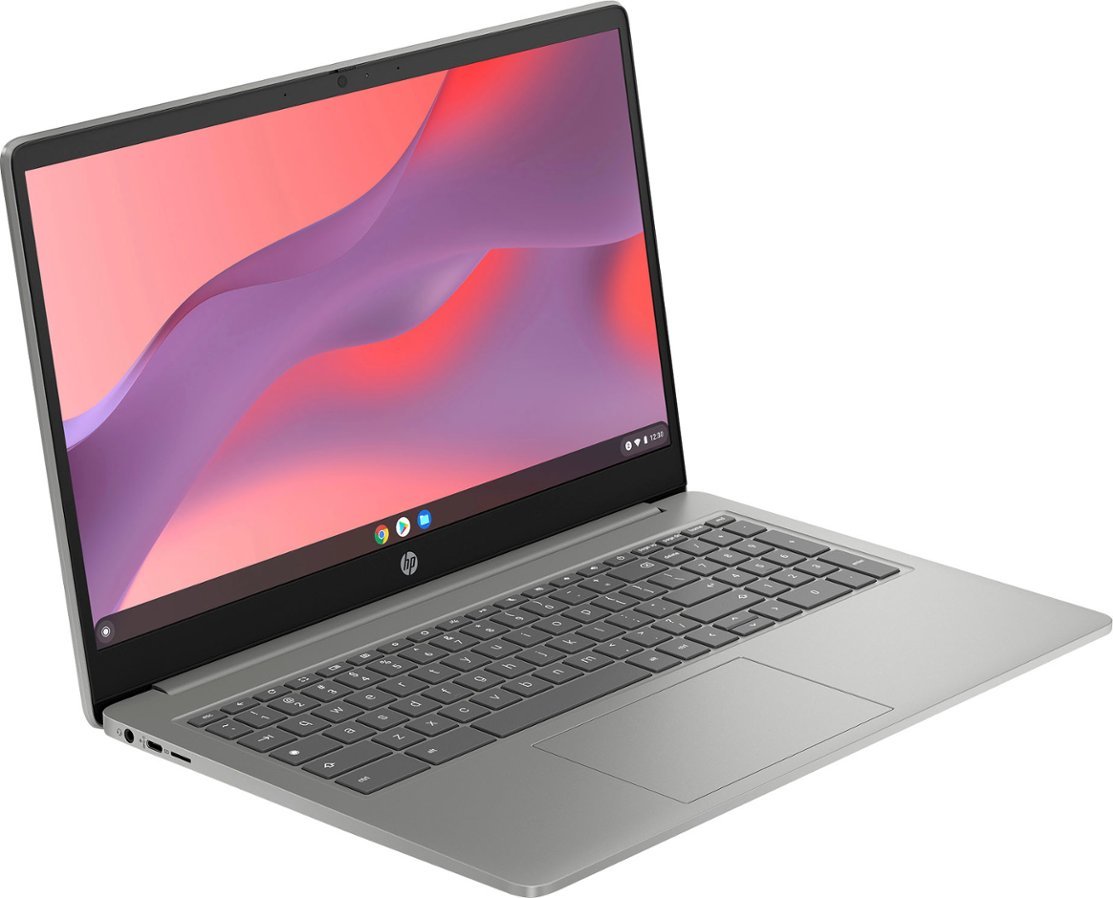 What else is in the new HP Chromebook 15a?
The two new HP Chromebook 15a models have integrated wireless connectivity, of course. We're talking Wi-Fi and Bluetooth here, although the listings don't specify which versions. I'd expect at least WiFi 6 and Bluetooth 5.2; anything more is another win. There is a privacy shutter for the camera on both models. Or you can eventually use the upcoming system-wide privacy features coming to ChromeOS as a kill-switch for these. I'd always opt for a physical shutter, given the option.
Each Chromebook has a microphone / headphone jack and a trio of USB ports. You'll get a pair of USB Type-C 3.1 and one USB Type-A 3.1 jacks to use. Good on HP for splitting the Type-C ports between the left and right sides. I've seen far more expensive Chromebooks that have the Type-Cs on the same side, which isn't ideal.
Regardless of which model you choose, you'll be carrying around a 3.8 pound () Chromebook. That's actually not too bad given the screen size. It also suggests a fair amount of plastic parts in the chassis and keyboard deck. Remember though, the HP Chromebook 15a is a large screen, budget option.
Are there better options?
I'm looking forward to taking one or either of these clamshell devices for a spin. Mainly because I haven't used the 12th gen N-series CPUs yet. I don't expect performance miracles, of course, but I'd like to get a performance baseline. And I want to see how the lower power chipsets affect battery life. There's no data on the expected runtime yet, unfortunately.
Unless you want or need that large of a screen, there are better, smaller options out there at similar prices.
The Acer Chromebook Vero 514 will perform much better and has other bells and whistles too, for example. And I might be biased because I bought one, but the Acer Chromebook Spin 714 from last year can often be found on sale between $499 and $529, down from its $729 price tag. You could even spend less and get the big screen. The Lenovo 5i Chromebook has a full 16-inch display and beefier 12th gen Intel Core i3 processor.
About the author
Kevin C. Tofel has covered technology since 2004. He's used ChromeOS since Google debuted the CR-48 in 2010, reviewing dozens of Chromebooks since then. He worked for Google's Chrome Enterprise team from 2016 to 2017, supporting the launch of Android app support. In his free time, he uses Chromebooks to learn software engineering at
Launch School
. In 2019, Kevin joined the CS Curriculum Committee at his local community college.
Liked this content? Subscribe for the free, weekly newsletter