How to use Android App Streaming on Chromebooks
After announcing Android app streaming on Chromebooks in early 2022, the feature is finally here. Or at least it is for a few select Android phones. I happen to have Google Pixel 7 Pro, which is a supported phone so I set up this new feature. Here's how to use Android app streaming on Chromebooks and what the experience is like. I'm still not sold on it being that useful for me, but I realize that many others will be thrilled when it comes to their Android phone.
What is Android app streaming on Chromebooks?
Before getting to the setup and usage process, it's worth a quick recap on what this feature is. Essentially, if you have a supported Android phone, you can view and use the phone's apps on your Chromebook.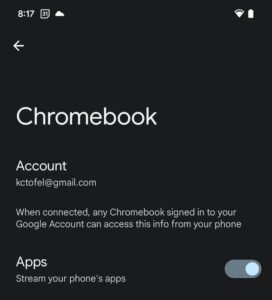 This is different from installing and using Android apps directly on a Chromebook. With app streaming, the software is running on your phone. Your Chromebook will display the phone app like a remote connection to another device. Using a Chromebook, you can open and use the apps on your handset or, receive and act upon phone notifications.
Again, the rollout is currently limited to specific Android devices. A Google Pixel 4A and up will work here as will the Xiaomi 12T, 12T Pro, 13, and 13 Pro handsets. And you need to have Android 13 or better on the supported phone for Android app streaming on Chromebooks as well.
I'm not surprised that Google Pixel phones work here but I didn't expect to see Xiaomi phones. Handsets from this Chinese brand aren't easy to find in the U.S. Perhaps Google is including the Xiaomi line to get some testing input from overseas?
How to setup Android app streaming on a Chromebook
Provided you have a supported handset and Android 13 installed on it, the setup process is rather simple. More so if you already have the ChromeOS Phone Hub enabled and linked to a phone.
I did not, so I first had to click the Phone Hub tray icon on my Chromebook to start the process.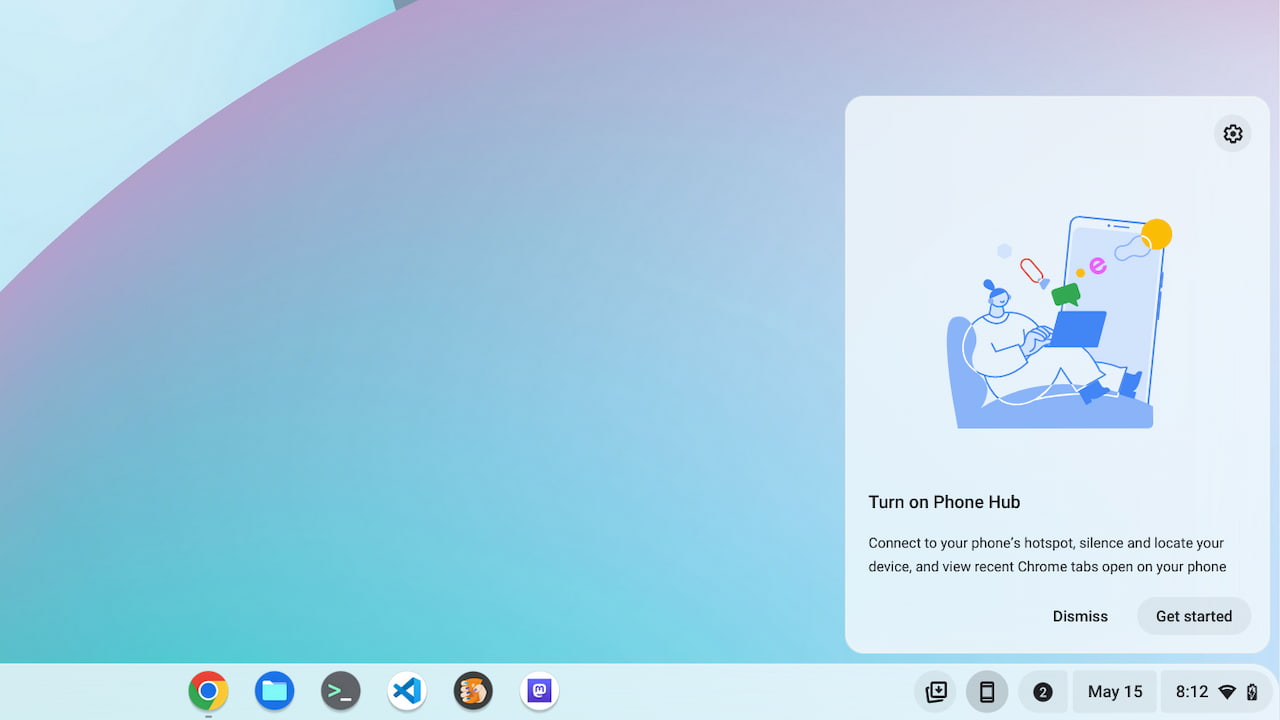 Make sure you have Wi-Fi and Bluetooth enabled for both your Chromebook and your Android phone. This isn't required for Phone Hub, however, it is needed for the Android app streaming. I didn't realize that and I typically don't have Bluetooth enabled on my laptop or my phone. Switching them both on completed the setup process for me.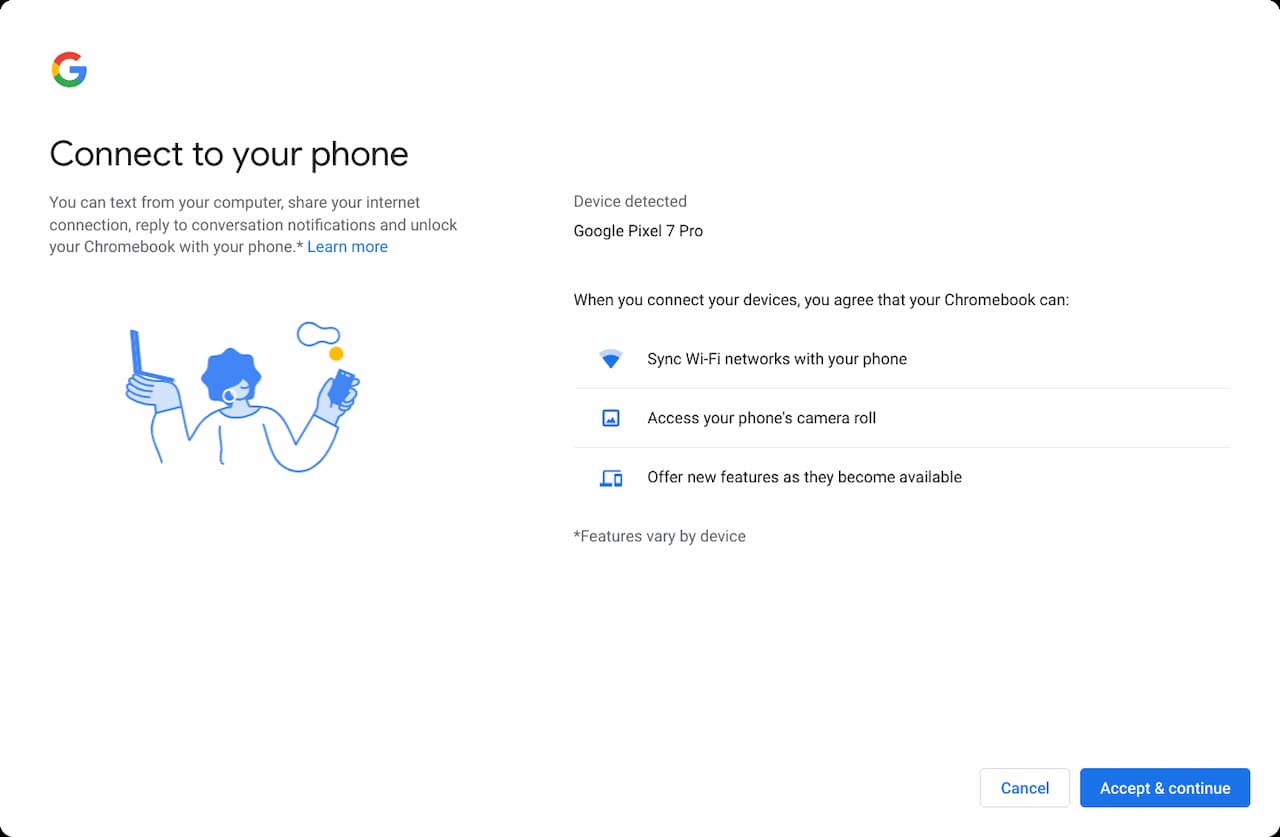 I simply followed the prompts in the above Phone Hub setup process to link my Pixel 7 Pro to my Chromebook. Initially, I didn't see the new "apps" option in my Chromebook settings under the Connected Devices section: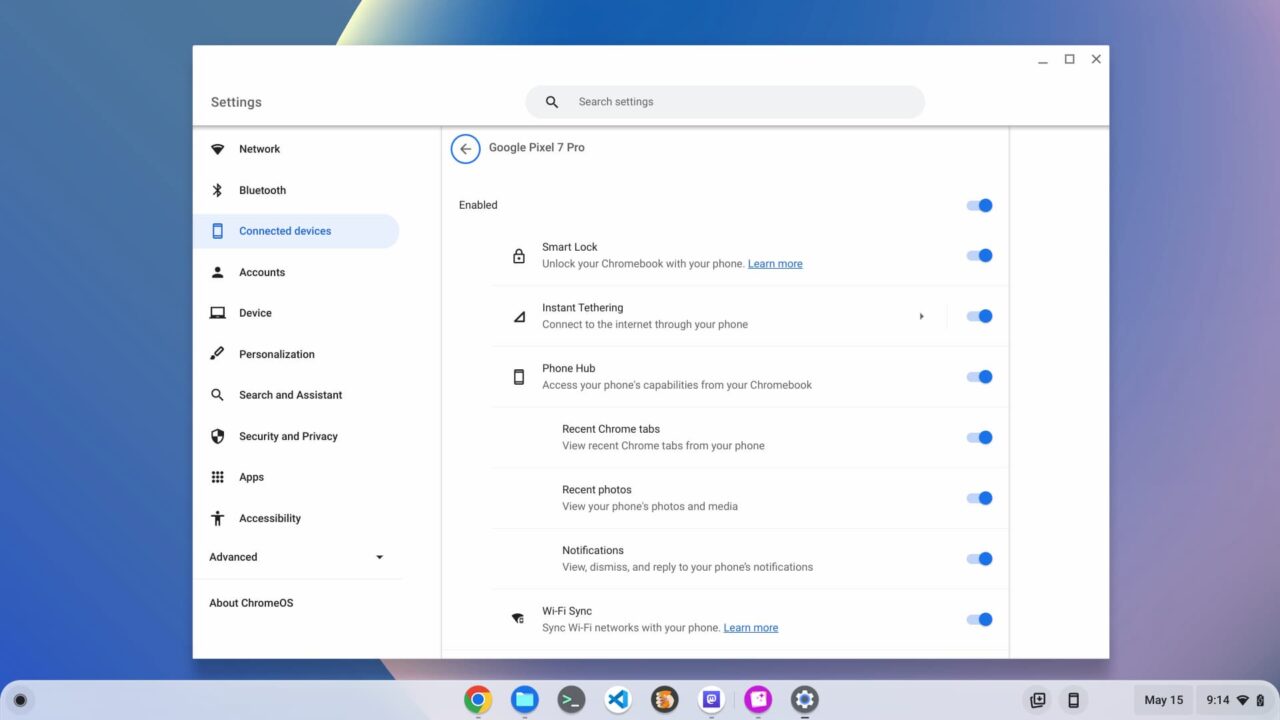 None of my Chromebooks have received the ChromeOS 113 update yet, so it appears ChromeOS 112 doesn't currently support Android app streaming on Chromebooks. I switched over from the Stable Channel to the Beta Channel on my Chromebook to get the new "apps" setting. Personally, I would wait for ChromeOS 113 on your Chromebook rather than do what I did. It's obviously your choice, however.
After moving to the ChromeOS Beta Channel, I then noticed the new option in the Chromebook settings under the Connected Devices tab: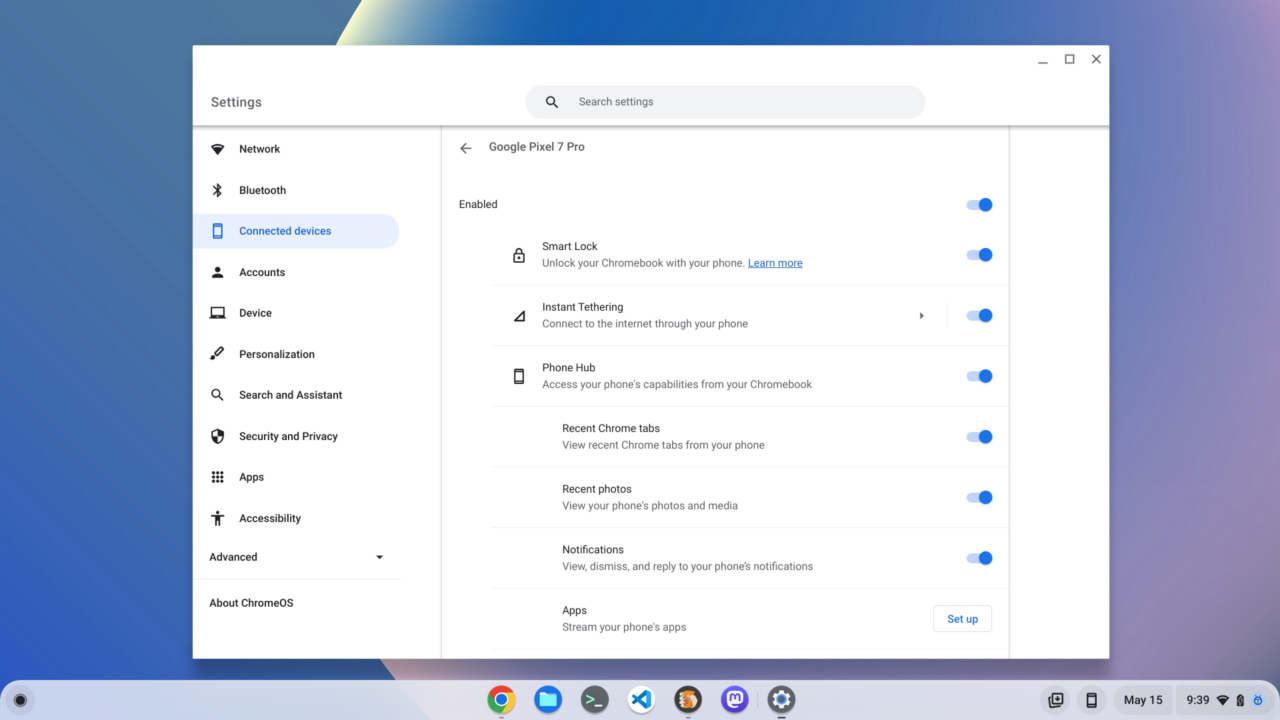 Clicking Apps "Set up" button on the Chromebook settings prompted my phone to ask for app streaming permissions. Grant that and you should be all set.
What's it like to use Android app streaming on a Chromebook?
After the setup process is complete, you can view your recent Android phone apps by clicking the Phone Hub icon on your Chromebook: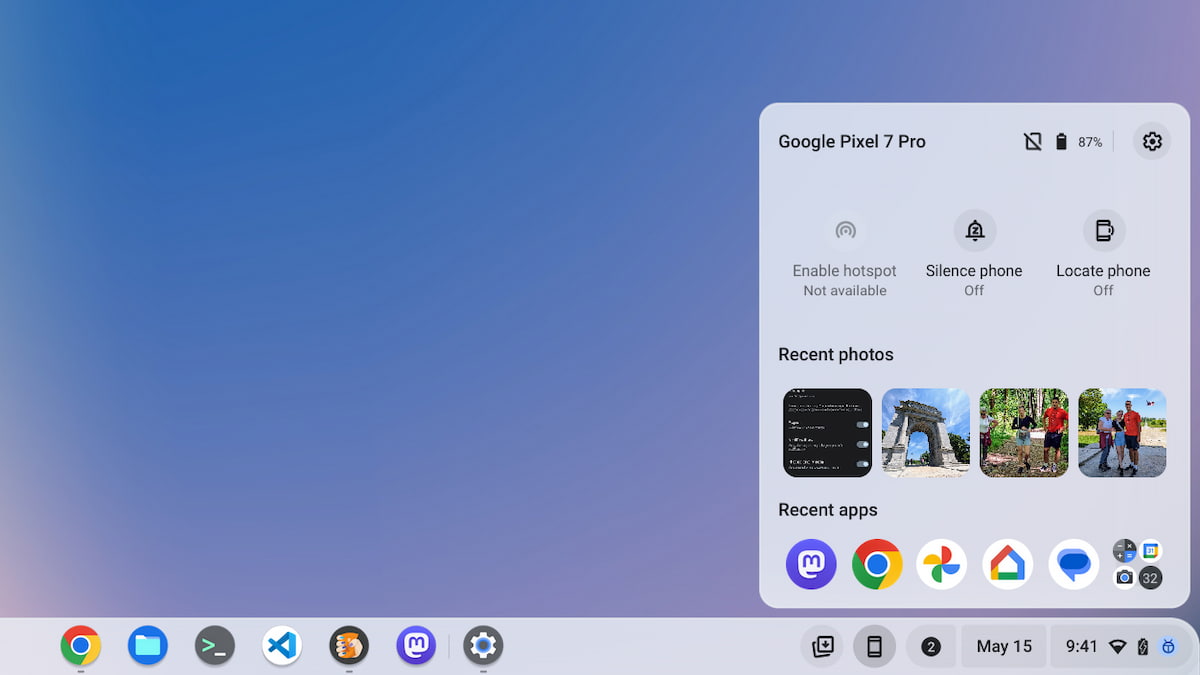 Above you can see that I most recently used the Mastodon mobile app, followed by Chrome and some Google apps. Clicking any of them opens the app on my phone and mirrors it to the Chromebook. Note that the icon all the way to the right is for opening up a menu of all Android apps on your phone.
The open app appears like a mini virtual phone display on your Chromebook. You can fully interact with it, minimize it or move to a previously used app.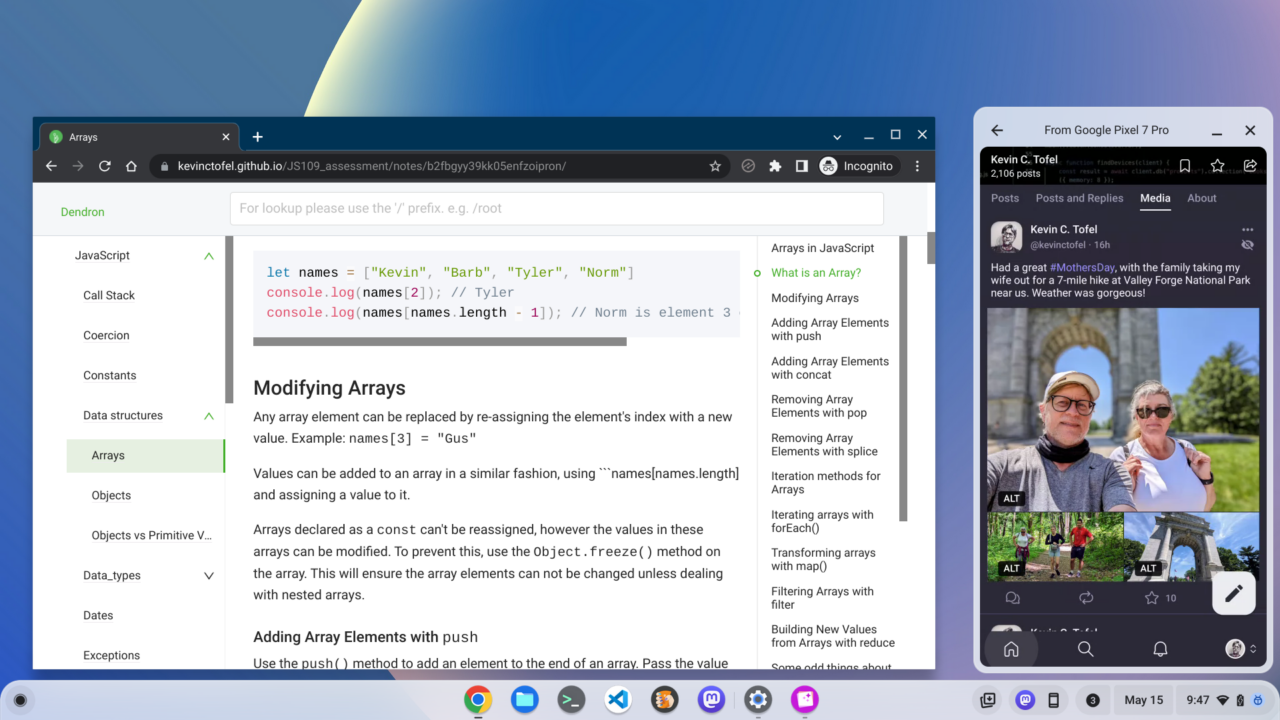 I streamed the Mastodon app from my phone to my Chromebook and it mostly works well. I suspect different apps are going to have different issues and or experiences.
In this case, swiping up and down through a timeline worked fine. However, some of the posts moved left or right as if I was swiping; I couldn't read either full post as a result. Again, experience may be heavily app dependent. I did test a few of the native Google apps and clearly, they're well-optimized for app streaming: I saw no issues.
I still probably wouldn't stream most of my phone apps to a Chromebook. That's just me and it's mainly because either the native Android app on my Chromebook or a better desktop version for Linux is my preference.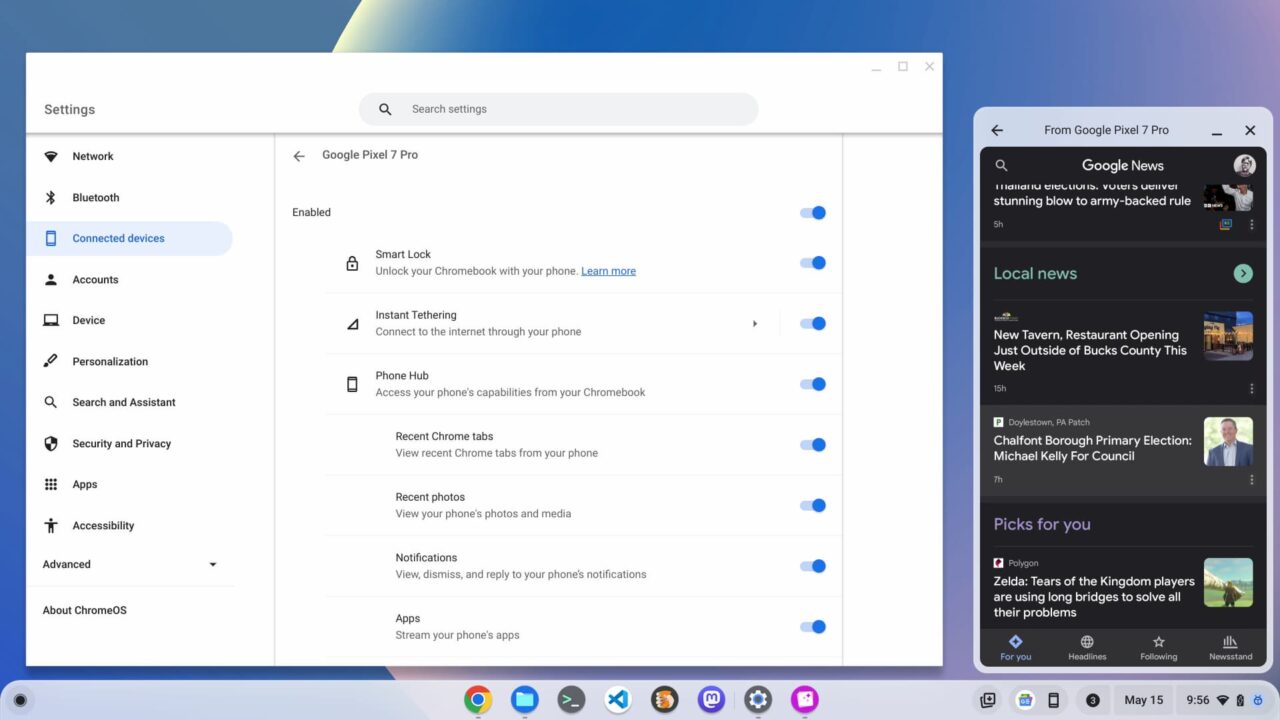 However, I do use the Google News app quite a bit on my mobile devices only. And streaming Google News is a good use case for a quick check of what's happening while on my Chromebook.
While I can view Google News in a browser, I tend to lose a half-hour reading through a stream of long-form stories. So maybe Android app streaming on Chromebooks will work better for me here. I can just skim through headlines to get bite-sized updates. We'll see over time.