Reader question: Which Pixel Slate would be comparable to the Samsung Chromebook Plus?
With the announcement of the Pixel Slate in five different configurations, some folks interested in the newest #MadeByGoogle Chrome device are wondering which to order. Take this question on Twitter, for example:
@KevinCTofel What would be the equivalent as for as speed/power for the Pixel Slate, compared to the Samsung chromebook plus. I want to buy the Slate, but want it to run as well or better than the Plus.

— Peggy McKenna (@mszero) October 15, 2018
My response to Peggy and anyone else in the same situation is: If you have or are thinking of buying the original Samsung Chromebook Plus with an ARM processor, every Pixel Slate option should perform better. That's because even the base Pixel Slate at $599 has an Intel Celeron 3965Y processor, which is more capable and newer (read: faster and more power efficient) as the OP1 chip inside the Samsung Chromebook Plus.
But what if you currently have the Samsung Chromebook Plus v2? That actually has the same Celeron chip as the base Pixel Slate, so performance would be very comparable at that point. Beyond that, every step up in CPU — the m3, i5 or i7 options — should boost Pixel Slate performance accordingly.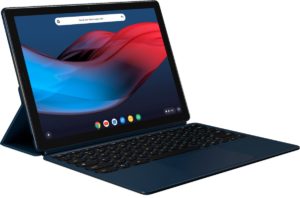 From a cost perspective, buying a Samsung Chromebook Plus v2 is $100 less expensive than the comparable Pixel Slate at $599 for the same performance. Most people will have to factor in the Pixel Slate Keyboard though, which adds another $200 to the final bill.
With the Pixel Slate, you're essentially paying a premium for the form factor of a tablet and need to decide if that's worth it to you when choosing between the two devices. That's essentially the same decision on whether to spend $599 — an extra $100 — for the Samsung Chromebook Plus v2 with integrated LTE radio. You'll pay a premium for the freedom of mobile broadband.
Since I currently use my Pixelbook in tablet or "tent" mode at least 50 percent of the time — the device is my main entertainment machine — I'm willing to pay the premium for the Pixel Slate. I like the idea of having a keyboard-less device for downtime and the ability to pop a keyboard in place when it's time to get work done.