Save $200 on the powerful 2022 Acer Chromebook Spin 714
One of my favorite Chromebooks from 2022, the Acer Chromebook Spin 714, is discounted right now at Best Buy. Normally priced at $729, the $200 discount brings your cost down to $529. This the Chromebook I use daily, having purchased a Spin 714 on a prior $100 off sale. For the cost, you're getting a laptop that can meet nearly any Chromebook use case with performance to spare.
What you get is built upon my Chromebook of the Year for 2021 because this is a mostly improved Acer Chromebook Spin 713.
Most of what you want or need is in the Acer Chromebook Spin 714
I say mostly because even though the speakers moved up from under the Spin 713, they're still just mediocre at best on the Spin 714. The expected microSD card slot is no longer present either. Beyond that though? This is a nice upgrade from an already solid Chromebook.
The 14-inch display is a bit larger and the resolution gets a boost to 1920 x 1200. The 1080p webcam with privacy shutter is a very noticeable upgrade with more clarity and better brightness management. And the 12th gen Intel Core i5 processor just flies through any task.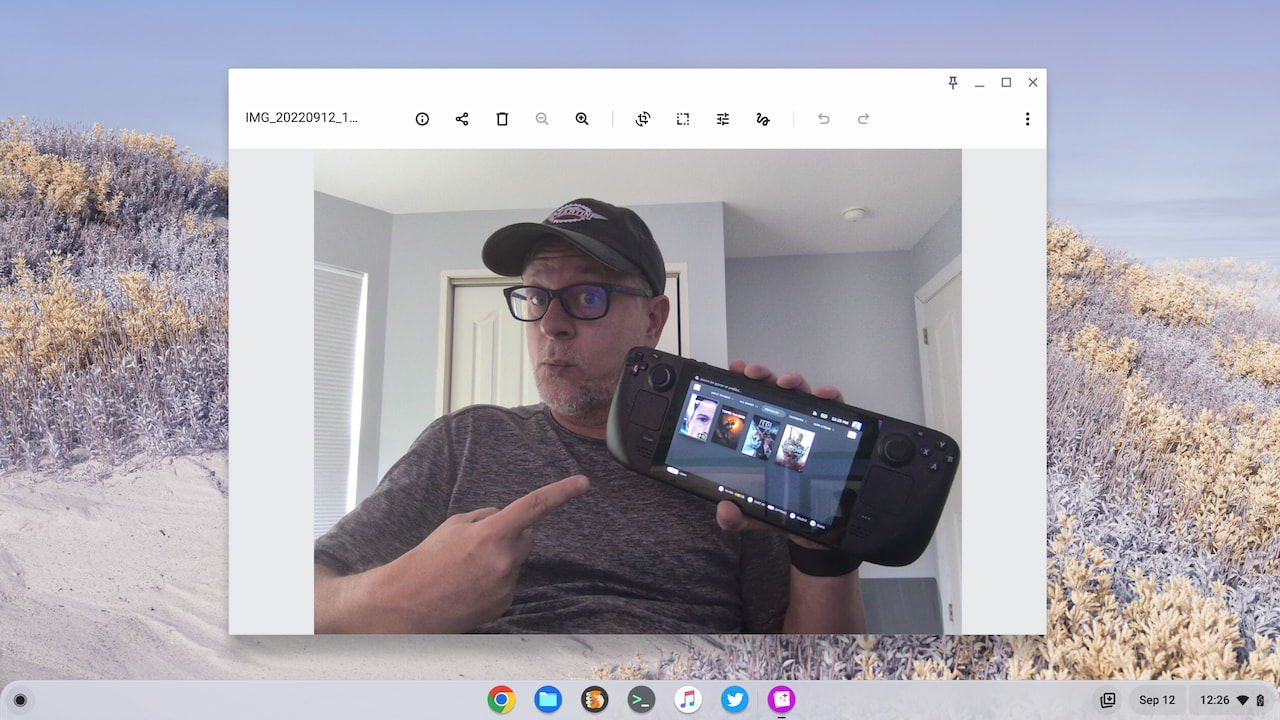 For me, those range between standard web usage for half my day and coding on the Linux desktop for the other half. Coming for a Chromebook with 16 GB of memory, I thought the 8 GB would be limiting. I haven't found that to be the case.
Aside from lacking the microSD card slot and the fingerprint sensor found on other high-end Chromebooks, the Spin 714 has a lot to offer:
CPU
12th-gen Intel Core i5-1235U Processor with vPro, up to 4.4 GHz,
10 cores / 12 threads
GPU
Intel Iris Xe
Display
14-inch IPS 1920 x 1200 display, 16:10 aspect ratio,
340 nits brightness, external monitor support at
4k at 60Hz, 100% RGB color gamut
Memory
8 GB DDR4x-4266 MHz memory
Storage
256 GB NVMe M.2 storage
Connectivity
802.11ax (2×2) WiFi 6E, Bluetooth 5.2
Input
Backlit keyboard, multitouch trackpad, built-in USI stylus
1080p FHD RGB webcam, with privacy shutter, Dual-array microphones
Ports
2 USB Type-C 3.2 / Thunderbolt 4 ports, 2 USB Type-A,
HDMI output, headphone/microphone jack
Battery
3-cell battery expected run-time up to 10 hours
Weight
3.09 pounds
Software
Chrome OS automatic updates through June 2030
The Spin 714 isn't pretty but it's a performer
When it comes to the hardware, build quality, and design, the Acer Chromebook Spin 714 may not win any awards. It's really an iteration on the Spin 713, which itself is an iteration on my old Spin 13.
That's to say you won't see a thin profile compared to more expensive, recent Chromebooks. Aside from a little sculpting here and there, the Spin 714 looks like your basic ChromeOS laptop.
Purely from a benchmark standard, the Spin 714 is fast. In nearly every test, it's the fastest Chromebook I've ever tested, in fact. Every day use further reinforces that thought. And I'm not hearing the sound of a jet engine here either: The fan is relatively quiet when it's running at all.
Whether I'm just using a few browser tabs or a score of them, ChromeOS is zippy on the Spin 714. I can say the same when using Android apps, the Linux container, or any combination of these activities. I'm very impressed with Intel's latest silicon. Other than video playback, I haven't really stressed the Intel Iris Xe graphics. My hope is to do that in the future with Steam gaming support.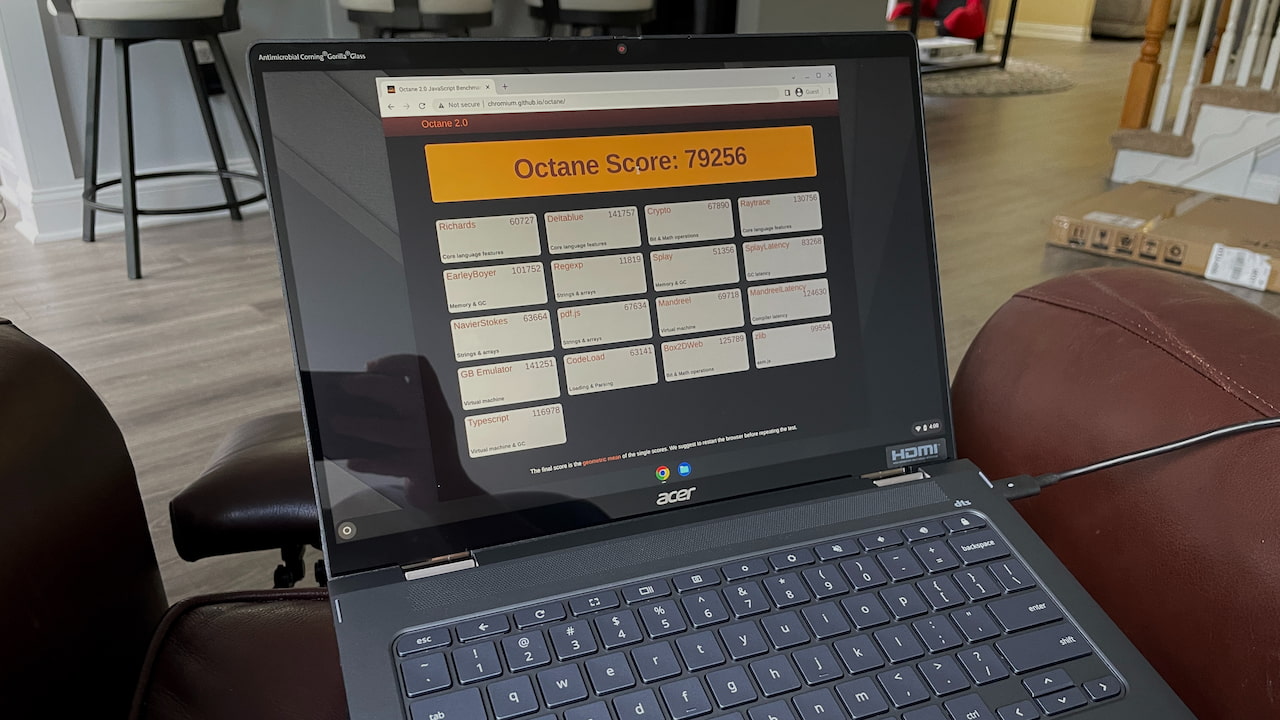 Speaking of benchmarks, here they are for the HP with Core i5, my new Spin 714, a recent 11th gen Intel Core i3 Chromebook, and my old Spin 13:
Test
HP Elite Dragonfly
12th gen Core i5
Acer Chromebook Spin 714 12th gen Core i5
Flex 5i
11th gen Core i3
Acer Spin 13
8th gen Core i5
Speedometer 1.0
412
430
311
179.9
Speedometer 2.0
240
251
176
99.6
JetStream 2
222.375
227.924
151.88
94.436
Basemark 3.0
1,387.51
1,392.81
1,179.9
594.18
Octane 2.0
77,747
78,533
55,360
35,116
Higher numbers are better, results from August 2022 testing
For the non-programmers out there, 8 GB inside the Acer Chromebook Spin 714 is plenty. Unless you keep 40 or more browser tabs open all the time, you'll be just fine with this configuration.
Frankly, I'm surprised at how well the 8 GB of memory is working for my daily activities. That was my only concern when I purchased this laptop. And it's all but gone at this point.
In terms of battery life, you might hit the expected 10 hours of run time. I did not although I got close, with just nearly 9.5 hours of usage in a work day. Most of my tasks were browser based and not too intensive that particular day. So I'm sure the Spin 714 was leaning on the efficiency cores of the Intel Core i5. On what I'd call heavy duty usage days, the battery lasted between 6.5 to 7.5 hours.
For this price the Acer Chromebook Spin 714 is a great option
I won't say the Acer Chromebook Spin 714 is the "best" Chromebook out there. I can't say that about any Chromebook, for reasons I've previously explained.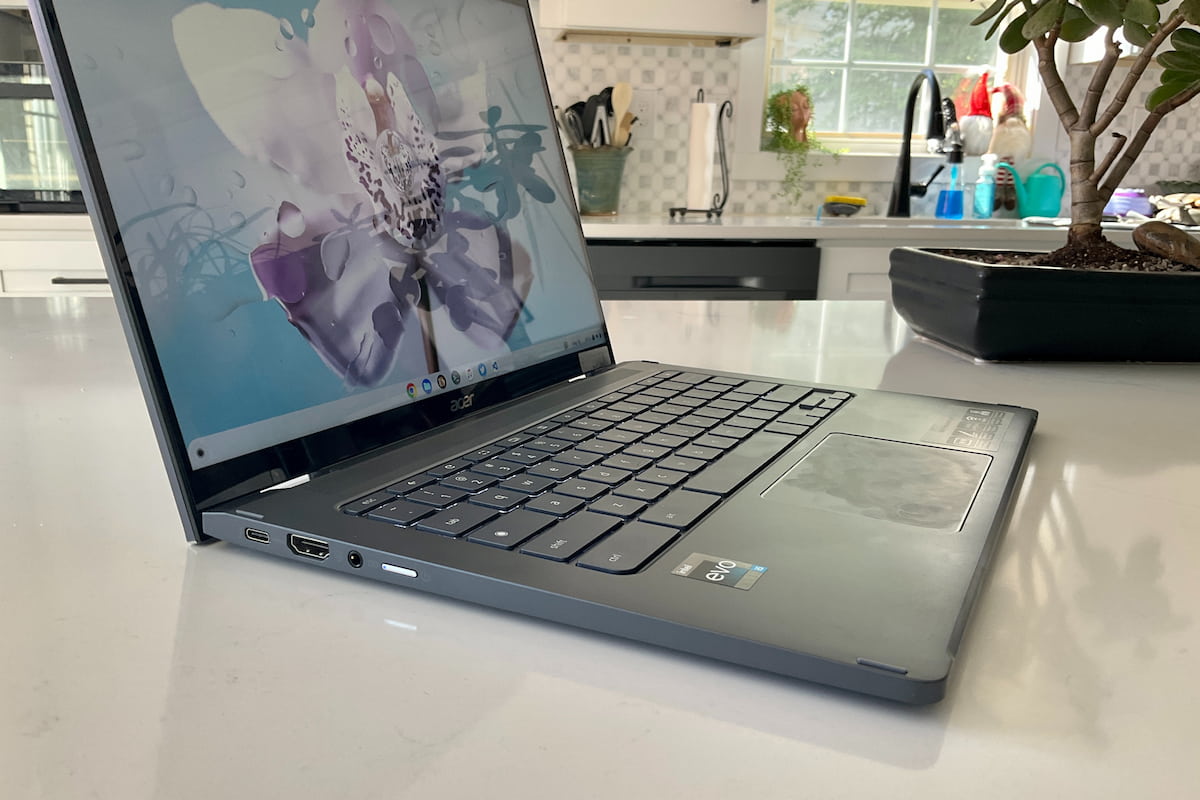 What I can say, after testing many similar devices that will cost you more is: You're getting a lot for your money with this sale price.
Again, the Spin 714 might not look as sleek as a Framework Chromebook or the new HP Dragonfly Pro Chromebook. Those will set you back $400 more, however, right now. And sure, you might find those or similar models on sale at some point. But who knows when and by how much? I doubt they'll be available for less than $799 too.
Other options at this price or less might be one of the several cloud-gaming Chromebooks from Acer, Asus, or Lenovo. They each pack in similar silicon with a larger, faster refresh rate display. And they have RGB keyboards if that's your thing.
If I had to choose all over again though, I'd personally choose the Acer Chromebook Spin 714. No it's not the prettiest of the bunch but it's a solid combination of price, performance and battery life for me. If that sounds good to you, hop on over to Best Buy and order one.